Pacific (Hardcover)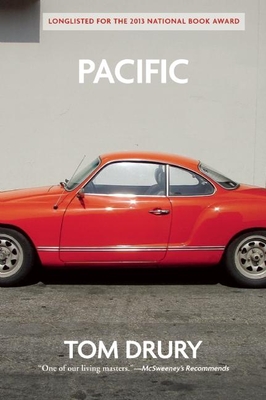 Not available to order
Out of Print. Not available to order.
Description
---
In a triumphant return to the characters that launched his career two decades ago, Tom Drury travels back to Grouse County, the setting of his landmark debut, The End of Vandalism. Drury's depictions of the stark beauty of the Midwest and the futility of American wanderlust have earned him comparisons to Raymond Carver, Sherwood Anderson, and Paul Auster. When fourteen-year-old Micah Darling travels to Los Angeles to reunite with the mother who deserted him seven years ago, he finds himself out of his league in a land of magical freedom. He does new drugs with new people, falls in love with an enchanting but troubled equestrienne named Charlotte, and gets thrown out of school over the activities of a club called the New Luddites. Back in the Midwest, an ethereal young woman comes to Stone City on a mission that will unsettle the lives of everyone she meets--including Micah's half-sister, Lyris, who still fights fears of abandonment after a childhood in foster care, and his father, Tiny, a petty thief. An investigation into the stranger's identity uncovers a darkly disturbed life, as parallel narratives of the comic and tragic, the mysterious and everyday, unfold in both the country and the city.

About the Author
---
Tom Drury is also the author of The End of Vandalism, Hunts in Dreams, The Driftless Area, and The Black Brook. His fiction has appeared in The New Yorker, Harper's Magazine, and The Mississippi Review, and he has been named one of Granta's "Best Young American Novelists."
Praise For…
---
"I like [Drury's] oddball but easygoing rhythm. . . . I like his occasional bouts of absurdity. . . . All great books are strange. Every lasting work of literature since the very weird Beowulf has been strange, not only because it grapples with the strangeness around us, but also because the effect of originality is startling, making even the oldest books feel like brand-new stories. . . . Drury overlays the grand and mythic with the specific and everyday, giving ordinary moments the majesty of legend. . . . [He] gives us the wondrous and engaging stuff of real storytelling, of actual inquiry and investigation into the haunting and jokey puzzles of the world, at a time when so much literature stops short of invoking something larger or spends so much time touting grand themes that it forgets to make something happen. Pacific is a terrific book, and a strange one, as strange as the world and the great literature that helps us make our way through it."Daniel Handler, The New York Times Book Review

"Drury gives his characters the sharpest dialogue I've read in some time. He's interested in people, their odd decisions and their strange perceptions about everyday things. . . . Drury never loses focus. . . . Each new character [he] introduces plucks an intricate web, and the reverberations are felt far and wide. On the surface, Pacific is a disarmingly plain tale about people managing loss. But look closer, and you'll see it's as deep as the ocean it's named after."San Francisco Chronicle

"Elegant, simple prose . . . Drury's fiction is chockablock with . . . tiny epics unfurling and resolving in quick, universally funny vignettes. In Pacific, these center around the characters from his debut, The End of Vandalism, certainly among the funniest, most humane American novels of the last quarter-century. . . . The philosophy in [his] fiction resides somewhere between humanism and absurdism. . . . [Pacific] has a Hollywood audition scene as unsettling, absurd, and deadpan as anything in Sunset Boulevard . . . [and a] pitch-perfect satire of a [student activist group] worthy of Wet Hot American Summer."The Boston Globe

"Some writers are good at drawing a literary curtain over reality, and splashing upon the curtain all colors of their fancies. And then there are the writers who raise the veil and lead us to see for the first time. Tom Drury belongs to the latter, and is a rare master at the art of seeing. Reading Pacific makes me once again fall in love with Drury's words, and his perception of a world that is full of dangers and passions and mysteries and graces."Yiyun Li

"A fine percussive beat sweeps the reader along . . . The always fresh perspective of this one-of-a-kind writer will have you responding like his character who 'laughed with surprise in her heart."Kirkus Reviews

"Uncanny dialogue, deadpan humor, a few morbid twists, and a considerable amount of quirk make [Pacific] an engaging read."Publishers Weekly

"As in his previous masterful novels, Drury weaves carefully metered sentences, deeply felt scenes, and struggling characters into an endlessly entertaining tapestry of human comedy and small-town living."Booklist

"Poetic, clever, and concise . . . Drury-ese [is] a language that exists mostly in dialogue and description, a dry bed of humor built on a sturdy rhythm and benevolently wry observation. . . . If The End of Vandalism provided a world for readers to slow down and catch their breath, Pacific is determined to knock it out of them."New York Observer

"One of the great strengths of Drury's fiction is his ability to suggest the deep funny-sadness of life without sinking to ridicule or bathos. He celebrates quirkiness of speech and habit for its ability to particularize the individual beyond stereotype. Unexpected gestures connect characters and reveal wounds of the heart. . . . Drury invests his characters with a warm-blooded immediacy that demands respect. . . . It's rare to read a novel with so little cliché or convoluted prose, in which the dialogue is both believable and exceptional."Shelf Awareness