Tragedie of Macbeth: A Frankly Annotated First Folio Edition (Paperback)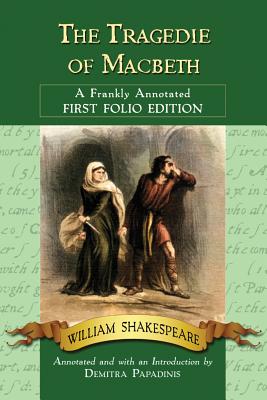 Not available to order
NOT on our shelves now. Usually ships from warehouse in several days.
Description
---
As Shakespeare's works are most accessible when viewed as working theatrical playscripts, "The Tragedie of Macbeth: A Frankly Annotated First Folio Edition" preserves the spelling, capitalization, and punctuation of the First Folio of 1623 while at the same time providing the most comprehensive, revelatory, and plainspoken annotation to date. Based on the principle that Shakespeare's plays were written as popular (and not entirely decent) entertainments aimed at an adult (and not overly refined) audience, this no-nonsense and sexually candid text offers performers, scholars, and anyone with an interest in Shakespeare a unique resource to gain valuable insights into the play, the world in which Shakespeare wrote, and the playhouse in which his plays were produced.
About the Author
---
Demitra Papadinis divides her time between New Hampshire and New York City. She is the founder and Producing Artistic Director of the New England Shakespeare Festival and a founding member of New York City's WildBard! An expert in Unrehearsed Shakespeare/First Folio Cue-Script Technique, she presents workshops and educational programs at schools, colleges, and theatres throughout the country.