My First Korean Dictionary (Paperback)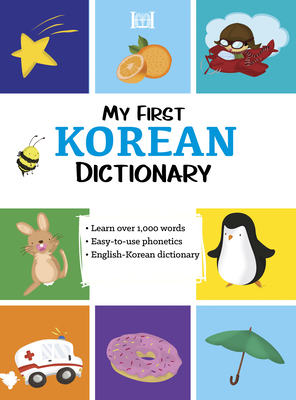 $17.95
ON HAND in at least ONE of our stores. Click through or call for up-to-the-minute availability.
Description
---
Learn Korean with new series from trusted publisher of foreign language study guides, Hippocrene Books
With colorful, eye-catching illustrations to stimulate imagination and curiosity, My First Korean Dictionary is specially designed for children ages 5 to 12. It contains more than 1,000 everyday words (from colors, animals, household items, foods and more)--each illustrated and translated into Korean with accompanying phonetic pronunciation. The illustrations are arranged alphabetically by English word so even young readers can easily search for words. Each one is labeled with clear, bold type and the commonsense pronunciation makes it easy to begin speaking Korean right away
Recent studies suggest that children should begin learning a foreign language before age 10 for best results. This dictionary is a fun, engaging way for parents and grandparents to introduce Korean to young children and grandchildren. Teachers will also find the dictionary useful for students who are learning Korean from kindergarten and up.