Bird Watching for Dummies (Paperback)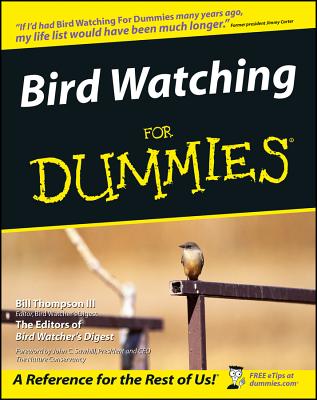 $19.99
ON HAND in at least ONE of our stores. Click through or call for up-to-the-minute availability.
Description
---
Millions of people worldwide enjoy bird watching; it offers them a chance to get back to nature and enjoy the beauty of the outdoors.
Bird Watching For Dummies
covers all the basics of bird watching, leading you on a guided tour of the gorgeous world of birds. From identifying birds by sight and sound to making your own "life list," you'll find all the tips and advice you need right here.
Whether you've been bird watching for years or you're just starting out, Bird Watching For Dummies has all your bases covered. It's full of practical tips and proven advice to make your bird watching experiences as fun and rewarding as possible. It's your first aid kit for finding, identifying, feeding, and even housing birds. Plus, there's more:
Designing a bird-friendly backyard
Purchasing bird feeders, birdhouses, binoculars, clothing, and more
Keeping notes and records of the birds you spot
Joining bird clubs, taking field trips, and attending bird festivals
Booking bird watching tours that fit your budget and expertise
Choosing and using field guides
You won't find a more straightforward and reliable bird watching guide than this one. Written by Bill Thompson III, and the staff of Bird Watcher's Digest, it covers everything from backyard bird watching to field trips across the globe. No matter what your level of experience, this guide offers everything you need for unforgettable bird watching:
Tackling pests and other feeder problems
Bird-friendly gardening tips
Optics and how to use them
Birding by habitat and hotspots
Songs, calls, and non-vocal identifying sounds
Attracting and spotting hummingbirds
Understanding the terminology
Dressing for success
If you need help getting started in your new hobby, or you're an old hand who just wants a quick-and-easy reference, Bird Watching For Dummies is the fun and simple way to stay up on all the latest in the world of bird watching. With unbeatable advice and practical guidance from the experts at Bird Watcher's Digest, this handy resource is the only bird watching guide you need.

NOTE: Birdwatching For Dummies no longer contains a 32 page color insert.
About the Author
---
Bill Thompson, III is the editor of Bird Watcher's Digest and the author of An Identification Guide to Common Backyard Birds. He has edited more than a dozen other bird watching booklets and has a bird watching life list of more than 1,000 bird species worldwide. Bird Watcher's Digest is the oldest and most popular bi-monthly magazine devoted to birds and bird watching enthusiasts around the world.