294 Bad Jokes & 71 Punderful Puns Page-A-Day Calendar 2017 (Calendar)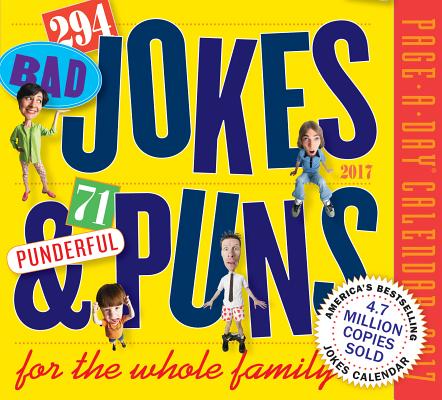 $14.99
ON HAND in at least ONE of our stores. Click through or call for up-to-the-minute availability.
Description
---
How does a snail feel when it loses its shell? A little sluggish.

Da dum! This is the bestselling calendar that supplies class clowns and family jokesters with hundreds of jokes, puns, and riddles that are so, so bad—yet hilariously funny. Here is day after day of knock-knocks, lawyer jokes, chicken jokes, bar jokes, dad jokes, doctor jokes, and more. What happened when the students' shoelaces got tangled together? They went on a class trip. Guffaws, groans, and belly laughs guaranteed.
About the Author
---
Workman Publishing Company has been producing award-winning calendars, cookbooks, parenting guides, and children's titles, as well as gardening, humor, self-help, and business books, since 1968. From our What to Expect® pregnancy and parenting series and Page-A-Day® Calendars to the iconic 1,000 Places to See Before You Die® and Brain Quest® children's products, our wide range of high-quality non-fiction titles and products inspire, educate, and entertain readers around the globe.