Cure Your Child with Food: The Hidden Connection Between Nutrition and Childhood Ailments (Paperback)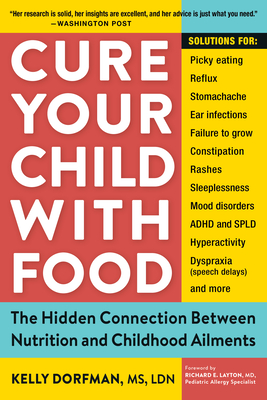 $18.65
Temporarily Unavailable
Description
---
Grounded in cutting-edge science, Cure Your Child with Food reveals the hidden connections between nutrition and chronic childhood ailments, and gives parents the simple, straightforward solutions they need to help their children thrive.

Discover how zinc deficiency can cause picky eating and affect growth. The panoply of problems caused by dairy and gluten. How to cure sleep disorders with melatonin, hyperactivity with magnesium, anxiety with fish oil.

Kelly Dorfman, a nutritionist whose typical patient arrives at her practice after seeing three or more specialists, gives parents the tools to become nutrition detectives themselves. She shows how to recalibrate children's diets through the easy E.A.T. program, and how to get kids off drugs—antibiotics, laxatives, Prozac, Ritalin—and back to a state of natural well-being.

"In her terrific book, Kelly Dorfman clearly explains how to decipher the clues to nutritional disorders that affect the body and brain. Parents will find it packed with sound advice and useful information." —Maurine Packard, MD, pediatric neurologist

A Nautilus Book Award Gold winner.
 
About the Author
---
Kelly Dorfman, MS, LND, specializes in finding nutritional solutions to common ailments. She writes for the Huffington Post, is a columnist for Living Without magazine, and has been featured in and written dozens of articles on health and nutrition. In addition, she lectures on diet and health around the country and has appeared on CNN and Fox News. Her practice is located outside of Washington, D.C.
Praise For…
---
"In her terrific book, Kelly Dorfman clearly explains how to decipher the clues to nutritional disorders that affect the body and brain. Parents will find it packed with sound advice and useful information." —Maurine Packard, MD, Pediatric Neurologist, New York-Presbyterian Hospital/Weill Cornell Medical Center

"Nutrition is the key to so many underlying issues in child development and behavior. This book is a great resource for any parent." —Natalie Geary, MD, Pediatrician and co-author of The Food Cure for Kids

"Dorfman does an excellent job of outlining how nutrition can affect a child's development and when to turn to other medical approaches; she persuasively argues for greater knowledge from pediatricians and specialists. Recommended."
—Library Journal

"Her research is solid, her insights are excellent and her advice is just what you need."
—Washington Post

"Informative and inspiring. . . . Offers solutions that can change the lives of children and their families."
—Kirkus Reviews

"This fascinating and potentially life-changing advice reveals that nutrition isn't a simple matter of finishing one's broccoli. Food has a significant impact on a child's health and well-being, and Dorfman helps parents ensure that the impact is positive."
—Publishers Weekly
 
"Important advice for parents . . ."
—CNN
 
"Nutritionist Kelly Dorfman's book gives parents the tools they need to be nutritional detectives and help their children thrive."
—USA Weekend
"This book is a wealth of easy-to-read information for parents—or anyone wondering whether food could be causing their health problems."
—Gluten Intolerance Group Magazine
"Dorfman does an excellent job of outlining how nutrition can affect a child's development and when to turn to other medical approaches; she persuasively argues for greater knowledge from pediatricians and specialists. Recommended."
—Library Journal

"Her research is solid, her insights are excellent and her advice is just what you need."
—Washington Post

"Informative and inspiring. . . . Offers solutions that can change the lives of children and their families."
—Kirkus Reviews

"This fascinating and potentially life-changing advice reveals that nutrition isn't a simple matter of finishing one's broccoli. Food has a significant impact on a child's health and well-being, and Dorfman helps parents ensure that the impact is positive."
—Publishers Weekly
 
"Important advice for parents . . ."
—CNN
 
"Nutritionist Kelly Dorfman's book gives parents the tools they need to be nutritional detectives and help their children thrive."
—USA Weekend
"This book is a wealth of easy-to-read information for parents—or anyone wondering whether food could be causing their health problems."
—Gluten Intolerance Group Magazine