James Baldwin: Living in Fire (Revolutionary Lives) (Hardcover)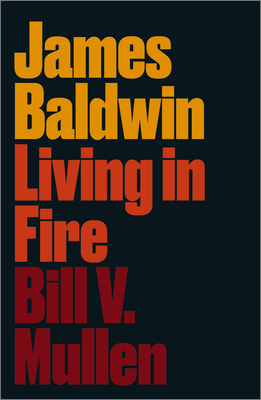 $27.00
ON HAND in at least ONE of our stores. Click through or call for up-to-the-minute availability.
Description
---
In the first biography of James Baldwin in over a decade, Bill Mullen celebrates the personal and political life of the great American writer who refused to shy away from the fire. As a lifelong radical, anti-imperialist, black queer advocate, feminist and pro-Palestinian, the life and writing of James Baldwin (1924-1987) has been an inspiration to generations and his words continue to resonate through our culture at large. Mullen explores how Baldwin's life and work channel the long history of the African-American. Fighting towards what he hoped would be a post-racial society, Baldwin's philosophy was tragically ahead of its time. As racist and reactionary forces rise across the world, this is an essential guide to the life and legacy of one of America's most important radical voices.
About the Author
---
Bill V. Mullen is Professor of American Studies at Purdue University. He is co-editor with Ashley Dawson of Against Apartheid: The Case for Boycotting Israeli Universities (Haymarket, 2015). He is the author of W.E.B. Du Bois: Revolutionary Across the Color Line (Pluto Press, 2016).
Praise For…
---
Mullen gives us a fresh view of an iconic American literary and revolutionary figure, particularly when it comes to his solidarity with Palestine – a dangerous and unpopular position at the time – which underscores the depth of Baldwin's courage and moral fortitude. This book is an essential contribution to the body of literature examining James Baldwin's extraordinary life.
— Susan Abulhawa, author of 'Mornings in Jenin' (Bloomsbury, 2010), founder of Playgrounds for Palestine
A scrupulous biography
— Publishers Weekly
Finally, Bill V. Mullen presents the James Baldwin we've been waiting for: the revolutionary, fierce internationalist, queer theorist, anti-imperialist, anti-Zionist, incisive dialectician, and perhaps the most dangerous thinker of the 20th century. If you want to know the real Baldwin, the uncompromising critic and visionary realist possessed of Fanonian optimism, Gramscian pessimism, and Lordean love, this is the book to read, the book we desperately need.
— Robin D. G. Kelley, author of 'Thelonious Monk: The Life and Times of an American Original' (Free Press, 2008)
A truly fresh, exciting, comprehensive biography that richly appreciates Baldwin's profound relevance both historically and in this moment.
— Michele Elam, William Robertson Coe Professor, Stanford University, author of 'Race, Work and Desire in American Literature 1860-1930' (Cambridge University Press, 2003)
A fresh, incisive, and uplifting biography
— Kirkus
An incisive, timely exposition of Baldwin's political and intellectual evolution. The historically grounded account of Baldwin's critical synthesis of the major strains of black radicalism that we have long needed.
— James Smethurst, Professor of Afro-American Studies at the University of Massachusetts Amherst, author of 'The African American Roots of Modernism: Reconstruction to the Harlem Renaissance' (Univ. of North Carolina Press, 2011)
An admirably tempered appraisal, in clear and sturdy prose, that will vivify for a new generation the strength and moral clarity of Baldwin and his writing.
— Alan Wald, author of 'The New York Intellectuals: The Rise and Decline of the Anti-Stalinist Left from the 1930s to the 1980s' (Univ. of North Carolina Press, 1987)
Bill Mullen's biography of James Baldwin offers us a truly internationalist and radical reading of an author whose work is only today being fully appreciated for its ability to place America within its empire, and the black struggle at the fore of a global imperative to remake our societies.  We need this urgent biography and we should be grateful Mullen's has delivered it. How politically transformative can love be? James Baldwin loved black people, and he offered this love amid the violence and hate and massive expropriation of black life as a demonstration under duress of what might be possible for all of us. It takes a radical sensibility like Bill Mullen's to draw out for us the revolutionary potential of such a love promised by Baldwin, but held in abeyance until we deserve to feel its wealth. This biography is a step on that road to radical love as a way of life.
— Stefano Harney, co-author of 'The Undercommons: Fugitive Planning and Black Study'
James Baldwin: Living in Fire' is one of the most important publishing events of this political age. Lucidly and compellingly written, it updates and recontextualizes our knowledge of the complex, humane brilliance of Baldwin. It draws out Baldwin's importance not only for the ages, but most urgently for our present day. It is a book that angers, moves, and inspires. An indispensable weapon for any activist fighting today's ranging fires.
— David Palumbo-Liu, Louise Hewlett Nixon Professor and Professor of Comparative Literature at Stanford University; author of 'The Deliverance of Others: Reading Literature in a Global Age' (Duke University Press, 2012)