The Lost Art of Gratitude: An Isabel Dalhousie Novel (Large Print / Paperback, Large Print)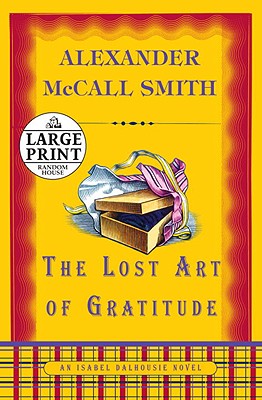 $23.95
Temporarily Unavailable
Description
---


ISABEL DALHOUSIE - Book 6

Nothing captures the charm of Edinburgh like the bestselling Isabel Dalhousie series of novels featuring the insatiably curious philosopher and woman detective.  Whether investigating a case or a problem of philosophy, the indefatigable Isabel Dalhousie, one of fiction's most richly developed amateur detectives, is always ready to pursue the answers to all of life's questions, large and small.

Isabel's son, Charlie, is now of an age—eighteen months—to have a social life, and so off they go to a birthday party, where, much to Isabel' s surprise, she encounters an old adversary, Minty Auchterlonie, now a high-flying financier. Minty had seemed to Isabel a woman of ruthless ambition, but the question of her integrity had never been answered. Now, when Minty takes Isabel into her confidence about a personal matter, Isabel finds herself going another round: Is Minty to be trusted? Or is she the perpetrator of an enormous financial fraud? And what should Isabel make of the rumors of shady financial transactions at Minty's investment bank?

Not that this is the only dilemma facing Isabel: she also crosses swords again with her nemesis, Professor Dove, in an argument over plagiarism. Of course her niece, Cat, has a new, problematic man (a tightrope walker!) in her life. And there remains the open question of marriage to Jamie—doting father of Charlie.

As always, there is no end to the delight in accompanying Isabel as she makes her way toward the heart of every problem: philosophizing, sleuthing, and downright snooping in her inimitable—and inimitably charming—fashion.
About the Author
---
ALEXANDER MCCALL SMITH is the author of the international phenomenon The No. 1 Ladies' Detective Agency series. He is professor emeritus of medical law at the University of Edinburgh in Scotland and has served on many national and international bodies concerned with bioethics. "From the Hardcover edition."
Praise For…
---
Praise for the Isabel Dalhousie Series:

"Alexander McCall Smith, a fine writer, paints his hometown of Edinburgh as indelibly as he captures the sunniness of Africa. We can almost feel the mists as we tread the cobblestones."
—The Dallas Morning News

"The literary equivalent of herbal tea and a cozy fire . . . Invite[s] readers into a world of kindness, gentility, and creature comforts. McCall Smith's Scotland [is] well worth future visits."
—The New York Times

"Alexander McCall Smith's assessments of fellow humans are piercing and profound. [His] depictions of Edinburgh are vivid and seamless . . . His fans are sure to embrace these moral peregrinations among the plaid."
—San Francisco Chronicle