The Last Pass: Cousy, Russell, the Celtics, and What Matters in the End (Paperback)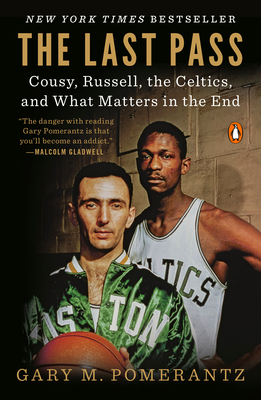 $18.00
ON HAND in at least ONE of our stores. Click through or call for up-to-the-minute availability.
Description
---
The New York Times Bestseller

Out of the greatest dynasty in American professional sports history, an intimate story of race, mortality, and regret

About to turn ninety, Bob Cousy, the Hall of Fame Boston Celtics captain who led the team to its first six championships on an unparalleled run, has much to look back on in contentment. But he has one last piece of unfinished business. The last pass he hopes to throw is to close the circle with his great partner on those Celtic teams, fellow Hall of Famer Bill Russell, now 84. These teammates were basketball's Ruth and Gehrig, and Cooz, as everyone calls him, was famously ahead of his time as an NBA player in terms of race and civil rights. But as the decades passed, Cousy blamed himself for not having done enough, for not having understood the depth of prejudice Russell faced as an African-American star in a city with a fraught history regarding race. Cousy wishes he had defended Russell publicly, and that he had told him privately that he had his back. At this late hour, he confided to acclaimed historian Gary Pomerantz over the course of many interviews, he would like to make amends.

At the heart of the story THE LAST PASS tells is the relationship between these two iconic athletes. The book is also in a way Bob Cousy's last testament on his complex and fascinating life. As a sports story alone it has few parallels: An poor kid whose immigrant French parents suffered a dysfunctional marriage, the young Cousy escaped to the New York City playgrounds, where he became an urban legend known as the Houdini of the Hardwood. The legend exploded nationally in 1950, his first year as a Celtic: he would be an all-star all 13 of his NBA seasons. But even as Cousy's on-court imagination and daring brought new attention to the pro game, the Celtics struggled until Coach Red Auerbach landed Russell in 1956. Cooz and Russ fit beautifully together on the court, and the Celtics dynasty was born. To Boston's white sportswriters it was Cousy's team, not Russell's, and as the civil rights movement took flight, and Russell became more publicly involved in it, there were some ugly repercussions in the community, more hurtful to Russell than Cousy feels he understood at the time.

THE LAST PASS situates the Celtics dynasty against the full dramatic canvas of American life in the 50s and 60s. It is an enthralling portrait of the heart of this legendary team that throws open a window onto the wider world at a time of wrenching social change. Ultimately it is a book about the legacy of a life: what matters to us in the end, long after the arena lights have been turned off and we are alone with our memories.


On August 22, 2019, Bob Cousy was awarded the Presidential Medal of Freedom
About the Author
---
Gary M. Pomerantz, historian, journalist and Stanford University lecturer, is the author of six nonfiction books on topics ranging from history to sports to civil rights. His first, Where Peachtree Meets Sweet Auburn, on Atlanta's racial conscience, was named a New York Times Notable Book of the Year. He also authored WILT, 1962, about Wilt Chamberlain's legendary 100-point game (a New York Times Editors' List selection), Nine Minutes, Twenty Seconds, about an aviation crash, and The Devil's Tickets about a Jazz Age murder and trial. His most recent book, Their Life's Work, a narrative about the 1970s Pittsburgh Steelers, explores football's gifts and costs. For the past twelve years, he has taught reporting and writing at Stanford's Graduate Program in Journalism.
Praise For…
---
One of the Boston Globe's Best Books of The Year

"The first Gary Pomerantz book I read was his biography of Wilt Chamberlain, which I thought was magnificent. Then I read Where Peachtree Meets Sweet Auburn, which I haven't stopped thinking about. Now I've lost myself in The Last Pass. The danger with reading Gary Pomerantz is that you'll become an addict." —Malcolm Gladwell

"A master class. Students of NBA history are in awe these days, marveling at the depth of Gary Pomerantz's new book. . . . [Pomerantz] is a master of exquisite detail. He has produced two of the finest sports books ever written, on Wilt Chamberlain (Wilt, 1962) and the Pittsburgh Steelers' dynasty (Their Life's Work). For fans of the Warriors, trying to become the first team since those Celtics to reach five straight Finals, there is invaluable perspective on how a great team sustains its brilliance." —San Francisco Chronicle
 
"The Last Pass surely stands as one of the most intriguing sports books in recent memory, and maybe of all time." —Christian Science Monitor

"Professional sports has been a powerful lens for viewing the complexity and challenges created by our nation's history of racial inequality. This fascinating read and sobering exploration of one of the most dominant teams in sports history reveals much about the hope, frustration and legacy of our continuing struggle with racial injustice." —Bryan Stevenson, author, Just Mercy

"The Last Pass does what has become frighteningly rare in sports writing: it hypnotizes you with a great narrative." —Mike Wilbon, ESPN

"An unbelievable read . . . A really deep dive into not only what matters most, but also the NBA as it has evolved and become more inclusive and progressive." —Brad Stevens, head coach of the Boston Celtics

"An important statement about America's social consciousness a half-century ago, and our own today. But it is also a dual biography of the two men who dominated Boston sports at a time when the Red Sox were pitiful, the Bruins even worse and the Patriots unworthy of discussion in polite company." —David Shribman, The Wall Street Journal

"Basketball fans will want to read this exciting, affecting book, but even non-sports fans of all ages will enjoy the combination of sports, history, and biography." —Library Journal, starred review
 
"In this eloquent biography…Pomerantz tells a moving story of a pivotal time in basketball history." —Publisher's Weekly

"Pomerantz explores the complicated relationship between Russell and Cousy, both superstars but playing in a world where pervasive racism diminished the contributions of one man while elevating those of another. Cousy sees this dynamic now in a way he didn't then, and his reflections on what happened to Russell and the inadequacy of Cousy's response drive this poignant memoir, the lessons from which extend far beyond sport." —Booklist, starred review
 
"I was certain I knew most everything about the great Russell-Cousy Celtics dynasty – until I sat down and read The Last Pass. The gifted Gary Pomerantz masterfully unearths a mesmerizing subplot to the relationship between two complex Hall of Famers who played side-by-side during one of the most tumultuous racial climates in our country's history. Cousy's candor, steeped with regret over his stilted relationship with Russell, leaps off the pages. A beautifully crafted, compelling story that captures the emotions of celebrated teammates who made history together but, in the sunset of their lives, navigate their legacy alone." —Jackie MacMullan, co-author, When The Game Was Ours
 
"The story of these two great athletes, Cousy and Russell, is really a story about America, about friendship, about grace. Beautifully written, prodigiously reported, and touched throughout with powerful emotion, the book is a marvel of nonfiction writing. The Last Pass ranks with the best books ever written about basketball." —Jonathan Eig, author, Ali: A Life
 
"The author's reportage and research are thoroughly up to the stuff of the standard sports biography, but the narrative acquires its greatest force when, long after the events described, Cousy expresses regret that he didn't do more to support Russell: "I [ran] into literally my first angry black man . . . I think this simply scared me off." Nor has Russell mellowed—and nor should he. A moving, maddening look at a storied partnership that might have been a beautiful friendship as well." —Kirkus

"I've known Bob Cousy for almost 50 years. He's not one for showing or telling who he is. But he showed and told Gary Pomerantz, and the result is this touching book."  —Tom Callahan, author of Arnie: The Life of Arnold Palmer
 
"I can't say I've ever encountered a book quite like this. It's essentially the biography of one famous man consciously rethinking his relationship with another famous man, and issuing an apology. It's also a detailed portrait of the early NBA, and the writing style is exactly what you want—clear, understated, and as efficient as the players he describes. All historical writing should aspire to this." —Chuck Klosterman, author of But What If We're Wrong?
 
"I've always liked a little moss to grow on the statues of legends. What did these people do? Where did they fit? How did it all come out in the end? Here are Bob Cousy and Bill Russell, basketball's version of Babe Ruth and Lou Gehrig, caught in the twilight of their days, preserved in print by Gary Pomerantz. Wonderful. Wonderful. Wonderful." —Leigh Montville, author of Ted Williams: The Biography of an American Hero

"Basketball fans know Bob Cousy as a Hall of Famer. People who know the fight for racial equality know him as one too. In The Last Pass, Gary Pomerantz uncovers Cousy's final testament on race in America. This book goes to the heart of the civil rights struggle. It is as thrilling as any buzzer-beating shot." —Juan Williams, author of Eyes on the Prize: America's Civil Rights Years