Home Fire: A Novel (Paperback)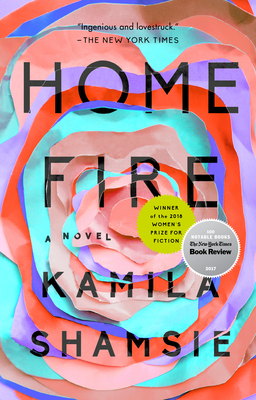 List Price: $18.00
Our Price: $17.00
(Save: $1.00 6%)
August 2017 Indie Next List
---
"One finishes reading Kamila Shamsie's extraordinary Home Fire completely stunned. She has written a brilliant story about two families who share geography and become linked by fate - one that has known exile, death, and family mystery, and another that has adapted to the so-called mainstream. Family, religion, the politics of media, various forms of seduction, and present-day devices all bring themselves to bear in utterly telling form. The U.S., London, Karachi, Syria, and Istanbul all figure into this book, which is of this time and age and beyond. One of the finest writers at work in English today, Kamila Shamsie has written her most heartbreaking, beautiful, necessary book yet."
— Rick Simonson, The Elliott Bay Book Company, Seattle, WA
Winter 2018 Reading Group Indie Next List
---
"Living under the legacy of their jihadist father, the Pasha children know to keep their heads down and mind their business—all the better to avoid scrutiny and suspicion. That is, until one of them commits a devastating and irreparable act of betrayal. Here is a luminous, charged account of an unshakeable familial bond—of the courage to stand, alone, for loved ones and to insist on the truth in the face of rampant rumors and orchestrated fallacies. Here, too, is an incisive and gut-wrenching reminder of the human lives caught in the politics of immigration and nationalism, of who belongs and who doesn't, and of those who fall prey to the idea that there is an us and a them, or an us vs. them."
— Nneoma Amadi-Obi, Politics and Prose Bookstore, Washington, DC
Description
---
"Ingenious… Builds to one of the most memorable final scenes I've read in a novel this century." —The New York Times

WINNER OF THE 2018 WOMEN'S PRIZE FOR FICTION

FINALIST FOR THE 2019 INTERNATIONAL DUBLIN LITERARY AWARD

LONGLISTED FOR THE MAN BOOKER PRIZE

The suspenseful and heartbreaking story of an immigrant family driven to pit love against loyalty, with devastating consequences, from the author of Best of Friends

Isma is free. After years of watching out for her younger siblings in the wake of their mother's death, she's accepted an invitation from a mentor in America that allows her to resume a dream long deferred. But she can't stop worrying about Aneeka, her beautiful, headstrong sister back in London, or their brother, Parvaiz, who's disappeared in pursuit of his own dream, to prove himself to the dark legacy of the jihadist father he never knew. When he resurfaces half a globe away, Isma's worst fears are confirmed.

Then Eamonn enters the sisters' lives. Son of a powerful political figure, he has his own birthright to live up to—or defy. Is he to be a chance at love? The means of Parvaiz's salvation? Suddenly, two families' fates are inextricably, devastatingly entwined, in this searing novel that asks: What sacrifices will we make in the name of love?
About the Author
---
Kamila Shamsie is the author of several previous novels, including Broken Verses and Burnt Shadows. She has been a finalist for the Man Booker Prize, the Orange Prize (twice) and the DSC Prize for South Asian Literature, among other honors, and has been named one of Granta's Best of Young British Novelists and a Fellow of the Royal Society of Literature. She was raised in Karachi and lives in London.
Praise For…
---
Praise for Home Fire:

"Ingenious and love-struck … Home Fire takes flight. … Shamsie drives this gleaming machine home in a manner that, if I weren't handling airplane metaphors, I would call smashing. … Builds to one of the most memorable final scenes I've read in a novel this century." —New York Times

"[U]rgent and explosive … near perfect ... a difficult book to put down." —NPR

"[A] haunting novel, full of dazzling moments and not a few surprising turns...Home Fire blazes with the kind of annihilating devastation that transcends grief." —Washington Post

"Achingly good...[and] shrewdly subversive." —The New York Times Book Review

"This wrenching, thought-provoking novel races to a shattering climax."—People Magazine

"A Greek tragedy for the age of ISIS ...  spare as a fable yet intensely intimate." —Vogue

"A thought-provoking commentary on loyalty, love, justice, politics, terrorism, religion, and family." —Buzzfeed

"Elegant and intense, Kamila Shamsie's seventh novel asks timeless questions about love for and loyalty to family and ideology — and you won't be able to put it down until you reach its unforgettable ending… it's safe to say this is Shamsie at her best." —Shondaland.com

"Pitch perfect...We can expect more great work from this audaciously talented author." —New York Journal of Books

"Her last, perfect word serves as a contemporary, against-all-odds, global prayer… Shamsie's latest is a compelling, stupendous stand-out to be witnessed, honored, and deeply commended."—Christian Science Monitor

"A cross-continental novel about civil disobedience that tackles political and emotional matters with equal assurance." —Time Magazine

"Shamsie's timely fiction probes the roots of radicalism and the pull of the family." —O, the Oprah Magazine

"A blaze of identity, family, nationalism, and Sophocles' Antigone." —Vanity Fair

"Stunning...every fall reader who picks this up will be mesmerized by Shamsie's enchanting prose—and they'll definitely fall in love with these unforgettable characters."—Redbook Magazine

"So good that it will break your heart."—WAMC, "The Roundtable"

"An absorbing and incisive study of race and roots, attachment and affiliation — to a cause, a country, a person, a family — which encompasses five fascinatingly divergent viewpoints… timely and incendiary." —Minneapolis Star-Tribune

"All of Shamsie's novels are deeply moving and morally complex, leading to the kind of rich reading experience most of us hope for in every novel we pick up. Her newest has all of that and more." —San Francisco Chronicle

"Astonishingly accomplished, melding classic story with text messages and contemporary headlines, and Shamsie makes every devastatingly unknown compassionately known." —St. Louis Post-Dispatch

"Shamsie's newest bestseller unpacks the controversial subjects of love, humanity, and extremism with due care." —Brit + Co

"Intelligent, phenomenally plotted, and eminently readable." —Bitch

"Remarkable… [an] engrossing work of literature, one not only important to current political conversation, but also that holds timeless truths and a story that never grows old." —Chicago Review of Books
 
"Shamsie's prose is, as always, elegant and evocative. Home Fire pulls off a fine balancing act: it is a powerful exploration of the clash between society, family and faith in the modern world, while tipping its hat to the same dilemma in the ancient one." —The Guardian

"Home Fire is about love, loyalty, and sacrifice — and it makes the headlines we read every day hit home in a way that will inspire any reader to fight for what's right." —Bustle

"Shamise's incredibly moving story addresses the conflict between what we feel to be right versus what the law tells us is right, and what we will sacrifice in the name of family." —Real Simple

"Engrossing… The timely novel—critically hailed on both sides of the Atlantic, and long-listed for the prestigious Man Booker Prize—engages questions of bigotry, nationalism and national identity."—Pittsburgh City Paper

"[A] powerful story of the complexities of love, family and state in wartime …timely and tragic, with an unforgettable ending." —BBC.com

"Home Fire is Shamsie's seventh and most accomplished novel. The emotionally compelling plot is well served by her lucid storytelling, and she digs into complex issues with confidence… As this deftly constructed page-turner moves swiftly toward its inevitable conclusion, it forces questions about what sacrifice you would make for family, for love." —BookPage

"It's only 250-odd pages, but Home Fire feels sprawling, almost epic...This is sensitive material, and Shamsie is aware of the nuances. She doesn't let anyone off the hook...powerful." —The Daily Telegraph

"Remarkable …a provocative work which will inspire the admiration of many but may at the same time infuriate readers expecting a more black and white depiction of terrorists versus non-terrorists, Muslims versus non-Muslims, the role of the state versus the rights of the civilian. It takes a brave writer to tackle these subjects in such a nuanced fashion and a fearless one to recognise that there is enough blame for all parties." —The Irish Times

"Moving and thought-provoking." —The Millions, Most Anticipated

"An Odyssey of the imagination … incredibly convincing." —BBC Radio 4

"Gut-wrenching and undeniably relevant to today's world… In accessible, unwavering prose and without any heavy-handedness, Shamsie addresses an impressive mix of contemporary issues, from Muslim profiling to cultural assimilation and identity to the nuances of international relations. This shattering work leaves a lasting emotional impression."—Booklist, starred

"Memorable...salient and heartbreaking, culminating in a shocking ending."—Publisher's Weekly

"Two-time Orange Prize nominee Shamsie (A God in Every Stone) has written an explosive novel with big questions about the nature of justice, defiance, and love." —Kirkus Reviews

"One pays it the highest compliment one can pay fiction; it makes you think. Uncomfortably." —The Times

"utterly contemporary and deeply original too."  —The Standard
 
"Home Fire is everything literary fiction should be — an exciting, beautiful, profound novel of lasting value that deserves laurels." —The Spectator

"Propulsive and unfailingly elegant... [Shamsie's] brave and brilliant novel strongly suggests that the only way to counter hate-filled fundamentalism is with a fundamentalism of love." —Sunday Times

"Home Fire left me awestruck, shaken, on the edge of my chair, filled with admiration for her courage and ambition." —Peter Carey, Booker Prize-winning author of Oscar and Lucinda
 
"Shamsie's simple, lucid prose plays in perfect harmony with the heartbeat of modern times. Home Fire deftly reveals all the ways in which the political is as personal as the personal is political. No novel could be as timely." —Aminatta Forna, author of The Memory of Love
 
"A searing novel about the choices people make for love, and for the place they call home." —Laila Lalami, Pulitzer Prize finalist for The Moor's Account
 
"A good novelist blurs the imaginary line between us and them; Kamila Shamsie is the rare writer who makes one forget there was ever such a thing as a line. Home Fire is a remarkable novel, both timely and necessary." —Rabih Alameddine, author of An Unnecessary Woman