Coi: Stories and Recipes (Hardcover)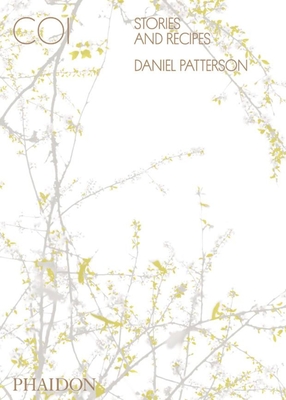 Not available to order
Stock uncertain--should fulfill within 10 days or so
Description
---
"
"An absorbing self‐portrait of an exceptional cook." – Harold McGee
Daniel Patterson is the head chef/owner of Coi in San Francisco, one of America's most celebrated restaurants. Patterson mixes modern culinary techniques with local ingredients to create imaginative dishes that speak of place, memory, and emotion. His approach has earned him five James Beard nominations and winner of the James Beard Award's "Best Chef of the West" 2014, two Michelin stars, and a worldwide reputation for pioneering a new kind of Californian cuisine.
Now, in his new book Coi: Stories and Recipes, Patterson shares a personal account of the restaurant, its dishes, and his own unique philosophy on food and cooking. 70 recipes are featured with narrative essays, including Chilled Spiced Ratatouille Soup; Carrots Roasted in Coffee Beans; Strawberries and Cream with Tiny Herbs; and Lime Marshmallow with Coal‐Toasted Meringue.
This book is beautifully written by Patterson, who is respected for his original food writing in publications such as The New York Times and Lucky Peach, and is also co‐author, along with Mandy Aftel, of Aroma: The Magic of Essential Oils in Food and Fragrance (2004). 150 color photographs by Maren Caruso include atmospheric images of the restaurant and the California landscape. Forewords by Peter Meehan and Harold McGee.
"
About the Author
---
"
Daniel Patterson was born in Massachusetts and moved to California in 1989, where he now has three restaurants: Coi (2006) in San Francisco, Plum (2010) and Haven (2011) in Oakland. He is the winner of many awards, including "Best New Chef" by Food & Wine Magazine, "Chef of the Year" by San Francisco Magazine and James Beard Award for "Best Chef of the West". He has been nominated and won James Beard Awards including "Best Chef: West" in 2013. Coi holds 2 Michelin stars, and is ranked #58 on the San Pellegrino World's Best Restaurants list. He has been published in The New York Times, Food & Wine, Financial Times, San Francisco Magazine and Lucky Peach.
Peter Meehan is a food writer and co‐editor of quarterly food journal Lucky Peach. He has written for many magazines, including Food & Wine, Bon Appétit, and The New York Times, and he has collaborated on a number of cookbooks.
Maren Caruso is a San Francisco native who specializes in food photography. Her work has appeared in more than 75 cookbooks and numerous magazines including Gourmet, Bon Appétit, Sunset Magazine, Cooks_Inc., and Food & Wine. She won the 2013 One Eyeland Photography Award for Fine Art Photographer of the Year.
"
Praise For…
---
"
"Patterson has written a new kind of cookbook. Its three hundred and three pages follow a loose format – one page with a story and a through‐written recipe. . . and on the facing page, a striking photo of the dish. The writing, like his food, is precise, beautiful, and a bit meditative." – The New Yorker
"[Patterson] strikes a balance between communicating techniques with precision and leaving room for cooks to find their own way." – Saveur
"The real draw, however - aside from the beautiful photos – is that Patterson has written the book himself, which is rare for the restaurant chef. His illustrative, bookish style makes for a fun and interesting read." – The San Francisco Chronicle
"The photographs will ease your eyes, and the text will take your wanderlust straight to the kitchen." – Library Journal
"Pure, unadulterated inspiration. Each recipe is accompanied by a thought‐provoking essay and gorgeous photos." – Tasting Table
"Coi: Stories and Recipes is just that – a cookbook wrapped around a rich narrative with one of our great restaurants at its heart. Daniel Patterson is a wonderful writer and an even better chef. The pages provide evidence of both." – Thomas Keller, The French Laundry
"One of the most highly anticipated releases of 2013, Coi also happens to be Phaidon's first big, shiny chef book with an American chef." – Eater.com
"Patterson's book leaves you feeling enchanted – you get lost in his vivid stories about being a chef, in the spreads of captivating images of the Bay Area and in his candid and beautiful recipes. We need more non‐conformist chefs like Patterson, and more thoughtful cookbooks like his." – Amanda Hesser, co‐founder, Food52
"One of the greatest chefs and most innovative, provocative and important voices in food today. He is also a terrific and thought provoking writer. Daniel Patterson is both discovering and redefining what 'American Food' really means." – Anthony Bourdain
"Daniel grafts the region's local identity to a transcending original impulse, making him one of the most thought provoking food voices in the world." – Chad Robertson, Tartine
"Coi is so much more than its recipes. Daniel has found the perfect way to show the process of creation of dish from the point of inspiration to the final plated masterpiece. It is like watching a dish come to life on the pages of Coi. This is such an exceptionally beautiful book." – Ludo Lefebvre, Trois Mec and judge, The Taste
"Coi: Stories and Recipes is, first and foremost, a tale about finding one's soul in the kitchen." – C: California Style
"