D.O.M.: Rediscovering Brazilian Ingredients (Hardcover)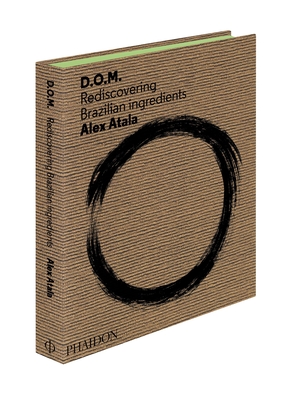 Not available to order
Stock uncertain--should fulfill within 10 days or so
Description
---
"
"Whenever I see that Dos Equis commercial – 'the most interesting man in the world' – I always think, no, that's not true. The most interesting man in the world is Alex Atala." – David Chang
"A cuisine unlike anything I've ever had in my life." – Daniel Humm, Eleven Madison Mark
At D.O.M. in São Paulo, widely regarded as one of the world's best restaurants, you won't find the traditional staples of fine dining on the menu. For the past 15 years, acclaimed chef Alex Atala – a native of Brazil and the only chef named one of TIME magazine's 100 Most Influential People in the World in 2013 – has refused to import any ingredients traditionally found in the European kitchens where he once trained. Instead, Atala scours the lush bounty of the Amazon for indigenous produce and proteins, crafting a cuisine that is steeped in classical techniques yet distinctly and uniquely Brazilian.
D.O.M.: Rediscovering Brazilian Ingredients is Atala's first major cookbook. Here, he offers an in‐depth look at the products and creative process that make up his innovative cuisine. The book features 65 recipes such as Fresh Heart of Palm with Scallops and Coral Sauce; Lightly Toasted Black Rice with Green Vegetables and Brazil Nut Milk; Lamb Hind Shanks with Yam Puree and Pitanga; and Priprioca, Lime, and Banana Ravioli. 150 stunning color photographs bring each dish to life and reveal the lush, vibrant landscapes of Atala's Brazil. The result is an immersive experience that transports readers into the streets of São Paulo and the rain forests of Amazon. Also featuring an introduction by chef Alain Ducasse, D.O.M.: Rediscovering Brazilian Ingredients explores the mind of one of the world's best chefs as he captures flavors that can be found nowhere else in the world.
"
About the Author
---
"
A creative chef, Alex Atala is known in Brazil and throughout the world for exploring, through classical techniques, the gastronomical possibilities of Brazilian ingredients. Atala began his career when he was 19 in Belgium, at the Ecole Hoteliere de Namur. In France he worked at Jean Pierre Bruneau's Michelin 3‐star restaurant, and staged at Hotel de la Cote D'Or with Chef Bernard Loiseau. In 1994 he returned to São Paulo, where his performance in several establishments around the city attracted the attention of journalists and gourmands. He opened D.O.M. restaurant in 1999. In 2009 Atala opened his second restaurant, Dalva e Dito, to critical acclaim.
"
Praise For…
---
Featured on the Netflix documentary series Chef's Table
"Atala [...] is not one to play by the rules. His first cookbook is [an] anthropological exploration of the people and rich bounty of his homeland. Beautifully photographed [...] inventive recipes make it an evocative introduction to a country on the culinary up."—Conde Nast Traveller
"The Amazon is having a moment as the gastro hotspot du jour thanks mostly to Brazilian super chef Alex Atala. Get your hands on his new book and impress with pineaple served with ants (you heard us)..."—The Stylist
"The photography in D.O.M. is stunning..."—Eater National
"D.O.M.: Rediscovering Brazilian Ingredients, a sumptuous new cookbook that Atala hopes will propel Brazilian food onto the world's culinary stage."—ABCNews
"A stunning, page-turning tome? Nothing short of a feast for the eyes."—DuJour.com