Dragons, Heroes, Myths & Magic: The Medieval Art of Storytelling (Hardcover)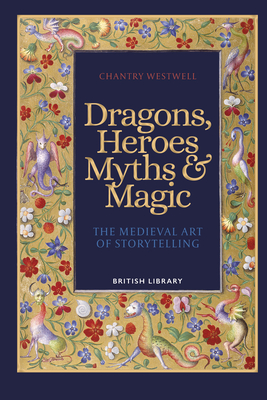 $45.00

NOT on our shelves now. Usually ships from warehouse in several days.
Description
---
Some of literature's most celebrated myths, legends and fables explored, retold and examined alongside the story of the books in which they are held.

Author Chantry Westwell uses her profound knowledge of the British Library's illuminated manuscript collections to explore some of literature's most celebrated stories. Each narrative is accompanied by a series of beautiful illustrations taken from the British Library collections.

Dragons, Heroes, Myths & Magic presents fifty of the very first adventure stories, set out across seven sections, featuring Heroes and Heroines; Epic Battles; Magical Events and Miracles; Villains, Crime and Murder; Quests or Journeys; Animals; and Love Stories. Ranging from long and complex epics developed around historical figures including Charlemagne, King Arthur and Alexander the Great, to smaller, vibrant tales absorbing local characters on the periphery. Marvelously varied, surprising and enlightening, and featuring both the stories and art behind Merlin, Christine de Pisan, Sir Gawain, Renard the Fox, Dante and Beatrice, the Odyssey, Saint Brendon and Tristan and Isolde, this book provides an intimate insight into the medieval mind.

Retelling both familiar and unfamiliar stories from the Middle Ages, Chantry Westwell delves into the deep history of the books and chronicles in which they were preserved. Presented alongside them in full color are some of the most exquisite examples of art to survive from the 8th to the 16th centuries: works of supreme beauty inspired by the stories.
About the Author
---
Chantry Westwell studied modern European and African languages in Cape Town, followed by an MA in Historical Linguistics at Ohio State, and in Medieval Studies at University College London. Her special interest is in Old French and Anglo-Norman romance, on which she has published blog posts and online articles. For the past 12 years she has worked as a volunteer at the British Library, where the magnificent collection of illuminated manuscripts has provided inspiration for this book. She is from Bulawayo, Zimbabwe.