Learn Japanese From Some Guy: Quickly and Easily Master Beginner and Intermediate Level Japanese Grammar (Paperback)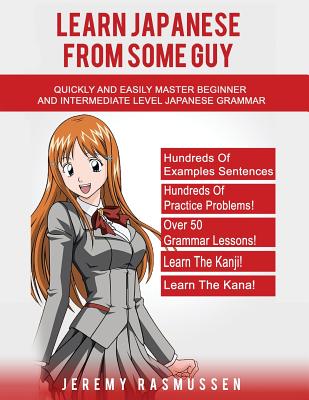 $103.49
Temporarily Unavailable
Description
---
Have you always wanted to learn how to speak, read and write Japanese? Well then,
this
is the perfect textbook for you Hello, my name is Jeremy Rasmussen and I am just
some guy
. I wrote this Japanese grammar textbook for those who have an interest in learning the Japanese language, but may have found it a tad bit overwhelming at first. Being a student of the language myself, this book was written from the perspective of someone who had to personally struggle with the new linguistical concepts and ideas, allowing me to make the learning process
much
more streamlined for the native English speaking student. Inside this book you will find...
Over 400 pages with color-coded example sentences
Example sentences written in both Japanese and the Roman alphabet
English translations for all example sentences
Eighty "Some guy's pro tips," which offer useful or interesting cultural information about Japanese or Japan as a country
Chapter summaries to help reinforce what was learned
Practice problems with answer keys to check your understanding of the material
Who is this book for? Written with both the beginner and intermediate student in mind, this book is perfect for those who are just starting out, or for those who already have some working knowledge of the language and want to solidify what they may already know (while possibly learning a few new things along the way ). This book covers mainly JLPT level 5 and JLPT level 4 material, but sprinkled throughout, you will also some find some JLPT level 3 structures as well. "But Jeremy, you're just some guy..." When I first told people that I wanted to write a Japanese grammar textbook, the most common response was, "But you're not even Japanese. You're just some guy who learned Japanese..." And my response to them was always "That's right I am just some guy. But so what?" The reality is that being a non-native Japanese speaker gives me a better understanding of the difficulties a native English speaker might face and how to better explain the grammatical details of the language more clearly and succinctly than a non-native English speaking person could. I, too, was once a beginner of the Japanese language and have definitely dealt with the frustrations it can bring. That's why I have done my best to provide what I feel are essential beginner/intermediate level grammar structures with simple, easy to understand explanations that will make the rest of your Japanese studying career much less stressful. As a child I always dreamed of being able to play my favorite games in Japanese, or watch and understand my favorite anime. Through a lot of hard work and effort I was finally able to make my dream a reality, and I sincerely hope that I will be able to impart on to you what I picked up along my Japanese learning adventure to help
you
accomplish
your
dreams as well.