Rain in Plural: Poems (Hardcover)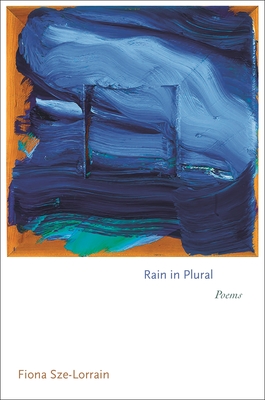 Description
---
The highly anticipated new collection from a poet whose previous book was a finalist for the Los Angeles Times Book Prize
Rain in Plural
is the much-anticipated fourth collection of poetry by Fiona Sze-Lorrain, who has been praised by
The Rumpus
as "a master of musicality and enlightening allusions." In the wholly original world of these new poems, Sze-Lorrain addresses both private narratives and the overexposed discourse of the
polis
, using silence and montage, lyric and antilyric, to envision what she calls "creating between liberties." With a moral precision embracing
us
without eschewing
I
, she rethinks questions of citizenship, the selections of sensory memory, and, by extension, the tether of word and image to the actual. She writes, "I accept the truth in newspapers / by holding the murder of my friends against my chest. // To each weather forecast I give thanks: /
merci
for every outdated // dusk/dawn." Agrippina the Younger, Franz Kafka, Bob Dylan, a butoh performance, an unnamed Raku tea bowl--each has a place here. Made whole by time and its alteration in timelessness, synchrony, coincidences, and accidents,
Rain in Plural
beautifully reveals an elegiac yet ever-evolving inner life.
About the Author
---
Fiona Sze-Lorrain is a poet, translator, editor, and zheng harpist. She is the author of three previous poetry collections, including The Ruined Elegance (Princeton), which was a finalist for the Los Angeles Times Book Prize. She has also translated more than a dozen books of contemporary Chinese, French, and American poetry. She lives in Paris.