Time, Love, Memory: A Great Biologist and His Quest for the Origins of Behavior (Paperback)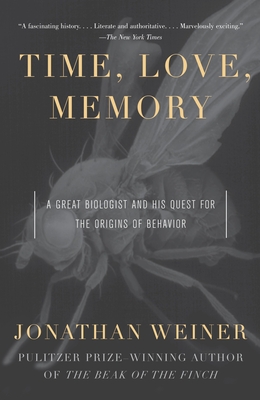 $18.00
Temporarily Unavailable
Description
---
The story of Nobel Prize–winning discoveries regarding the molecular mechanisms controlling the body's circadian rhythm.

How much of our fate is decided before we are born?  Which of our characteristics is inscribed in our DNA? Weiner brings us into Benzer's Fly Rooms at the California Institute of Technology, where Benzer, and his asssociates are in the process of finding answers, often astonishing ones, to these questions. Part biography, part thrilling scientific detective story, Time, Love, Memory forcefully demonstrates how Benzer's studies are changing our world view--and even our lives.

Jonathan Weiner, winner of the Pulitzer Prize for The Beak of the Finch, brings his brilliant reporting skills to the story of Seymour Benzer, the Brooklyn-born maverick scientist whose study of genetics and experiments with fruit fly genes has helped revolutionize or knowledge of the connections between DNA and behavior both animal and human.
About the Author
---
Jonathan Weiner is one of the most distinguished popular-science writers in the country: his books have won the Pulitzer Prize, the National Book Critics Circle Award, and the Los Angeles Times Book Prize. His writing has appeared in The New Yorker, Slate, Time, The New York Times Magazine, The Washington Post, The New Republic, Scientific American, Smithsonian, and many other newspapers and magazines, and he is a former editor at The Sciences. He is the author of The Beak of the Finch; Long for This World; His Brother's Keeper; The Next One Hundred Years; and Planet Earth. He lives in New York, where he teaches science writing at Columbia University's Graduate School of Journalism.
Praise For…
---
"A fascinating history. . . . Literate and authoritative. . . . Marvelously exciting." --The New York Times Book Review

"Fascinating. . . . [A] compelling account of the origins of a scientific revolution [and] a poignant sketch of the scientist-as-artist."        --Newsday

"Weiner shines his formidable science-reporting light indoors. . . . There is no better fly on the wall."        --The Philadelphia Inquirer