The Known Citizen: A History of Privacy in Modern America (Paperback)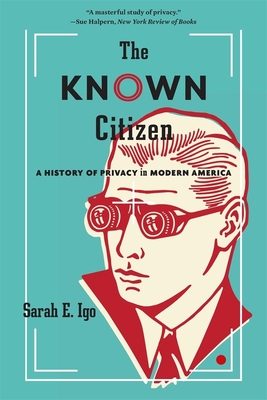 $22.95

ON HAND in at least ONE of our stores. Click through or call for up-to-the-minute availability.
Description
---
A Washington Post Book of the Year
Winner of the Merle Curti Award
Winner of the Jacques Barzun Prize
Winner of the Ralph Waldo Emerson Award
"A masterful study of privacy."
--Sue Halpern,
New York Review of Books
"Masterful (and timely)... A] marathon trek from Victorian propriety to social media exhibitionism...Utterly original."
--
Washington Post
Every day, we make decisions about what to share and when, how much to expose and to whom. Securing the boundary between one's private affairs and public identity has become an urgent task of modern life. How did privacy come to loom so large in public consciousness? Sarah Igo tracks the quest for privacy from the invention of the telegraph onward, revealing enduring debates over how Americans would--and should--be known.
The Known Citizen
is a penetrating historical investigation with powerful lessons for our own times, when corporations, government agencies, and data miners are tracking our every move. "A mighty effort to tell the story of modern America as a story of anxieties about privacy...Shows us that although we may feel that the threat to privacy today is unprecedented, every generation has felt that way since the introduction of the postcard."
--Louis Menand,
New Yorker
"Engaging and wide-ranging...Igo's analysis of state surveillance from the New Deal through Watergate is remarkably thorough and insightful."
--
The Nation