The Old Ways: A Journey on Foot (Hardcover)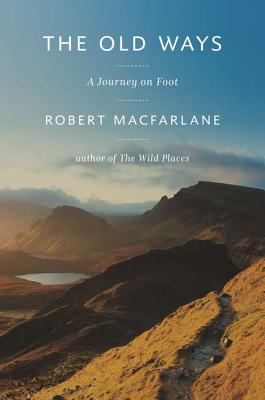 $27.95
Temporarily Unavailable
Staff Reviews
---
If the best books are those that make you itch for something new—or, in
this case, something as ancient as walking—Robert Macfarlane's poetic
travel memoir is certainly one of the best books I've read in a long
time. Tracing his ramblings across moors and seas, up mountains, and
along meandering paths, Macfarlane describes in lush, precise prose a
natural (and human) world that reveals itself leisurely, step by step.
Full of remarkable scenes and a memorable cast of characters, The Old Ways brings to mind recent memoirs like Cheryl Strayed's Wild and
classic nature writing a la Peter Matthiessen. I recommend it with only
one caveat: read it with your hiking boots on; it'll make you want to
get up and go.
— Sparks
Description
---
From the acclaimed author of "The Wild Places," an exploration of walking and thinking
In this exquisitely written book, Robert Macfarlane sets off from his Cambridge, England, home to follow the ancient tracks, holloways, drove roads, and sea paths that crisscross both the British landscape and its waters and territories beyond. The result is an immersive, enthralling exploration of the ghosts and voices that haunt old paths, of the stories our tracks keep and tell, and of pilgrimage and ritual.
Told in Macfarlane's distinctive voice, "The Old Ways" folds together natural history, cartography, geology, archaeology and literature. His walks take him from the chalk downs of England to the bird islands of the Scottish northwest, from Palestine to the sacred landscapes of Spain and the Himalayas. Along the way he crosses paths with walkers of many kinds wanderers, pilgrims, guides, and artists. Above all this is a book about walking as a journey inward and the subtle ways we are shaped by the landscapes through which we move. Macfarlane discovers that paths offer not just a means of traversing space, but of feeling, knowing, and thinking.
About the Author
---
Robert Macfarlane is the author of the prize-winning books "Mountains of the Mind" and "The Wild Places," both of which were "New York Times" Notable Books. He has contributed to "Harper s, Granta, The Observer, The Times Literary Supplement, " and the "London Review of Books." He is a Fellow of Emmanuel College, Cambridge."
Praise For…
---
 
Praise for The Old Ways

"A gorgeous book about physical movement and the movement of memory…To describe Macfarlane as a philosopher of walking is to undersell the achievement of The Old Ways; his prose feels so firmly grounded, resistant to abstraction.  He wears his polymath intelligence lightly as his mind roams across geology, archeology, fauna, flora, architecture, art, literature and urban design, retrieving small surprises everywhere he walks." —The New York Times Book Review
                                                                              

"With a steady command of the literature and history of each place he visits, [Macfarlane] tries 'to read landscapes back into being.' His sentences bristle with the argot of cartographers, geologists, zoologists, and botanists." —The New Yorker

                                                                             
"A quiet, serious book, purposeful and carefully made, and, as always with Macfarlane, written in a prose at once so thick and rich you want to sink into it bodily and so fresh it threatens to bear you aloft." —slate.com


"Macfarlane seems to know and have read everything, he steadily walks and climbs through places that most of us would shy away from and his every sentence rewrites the landscape in language crunchy and freshly minted and deeply textured. Surely the most accomplished (and erudite) writer on place to have come along in years." —Pico Iyer
   
"Luminous, possessing a seemingly paradoxical combination of the dream-like and the hyper-vigilant, The Old Ways is, as with all of Macfarlane's work, a magnificent read. Each sentence can carry astonishing discovery." —Rick Bass
   
"In Macfarlane, British travel writing has a formidable new champion… Macfarlane is read above all for the beauty of his prose and his wonderfully innovative and inventive way with language…he can write exquisitely about anywhere."—William Dalrymple, The Observer
   
"[An] extraordinary book…it has made me feel that I myself am always walking some eternal track, sharing its pleasures and hardships with unaccountable others, treading its immemorial footprints, linking me with all the generations of man and beast, and connecting in particular the visionary author of the book, as he unrolls his sleeping bag beneath the stars, with this bemused reviewer beside the fire."—Jan Morris, The Telegraph
   
"Every Robert MacFarlane book offers beautiful writing, bold journeys, and an introduction to places and authors you have never heard of before but wish you had always known about. But The Old Ways is different: somehow larger, more subtle, lingering in the mind and body just a bit stronger. With its global reach and mysterious Sebaldian structure, this is MacFarlane's most important book yet." —David Rothenberg
   

"In this intricate, sensuous, haunted book, each journey is part of other journeys and there are no clear divisions to be made…the walking of paths is, to [Macfarlane], an education, and symbolic, too, of the very process by which we learn things:  testing, wandering about a bit, hitting our stride, looking ahead and behind." —Alexandra Harris, The Guardian
   
"[Macfarlane] is gripped by a vision of the earth as a network of paths, dating from far back in prehistory…from the very first page…you know that the most valuable thing about The Old Ways is going to be the writing…it is like reading a prose Odyssey sprinkled with imagist poems." —John Carey, The Sunday Times
   
"A book about what we put into landscape, and what it puts into us. If you submit to its spell you finish it in different shape than you set out:  a bit wiser, a bit lonelier, a bit happier, a whole lot better informed." —Sam Leith, The Spectator