Let Me Tell You What I Mean (Hardcover)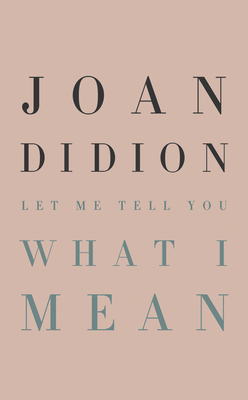 $23.00
Coming Soon. Pre-Order Now!
Description
---
Twelve early pieces never before collected that offer an illuminating glimpse into the mind and process of Joan Didion.

Mostly drawn from the earliest part of her astonishing five-decade career, the wide-ranging pieces in this collection include Didion writing about a Gamblers Anonymous meeting, a visit to San Simeon, and a reunion of WWII veterans in Las Vegas, and about topics ranging from Nancy Reagan to Robert Mapplethorpe to Martha Stewart.

Here are subjects Didion has long written about -- the press, politics, California robber barons, women, the act of writing, and her own self-doubt. Each piece is classic Didion: incisive and, in new light, stunningly prescient.
About the Author
---
JOAN DIDION is the author of five novels, ten books of nonfiction, and a play. Her book, The Year of Magical Thinking, won the National Book Award in 2005. She lives in New York.

HILTON ALS is the author of The Women and White Girls. He is a staff writer for The New Yorker and teaches at Columbia University.
Praise For…
---
"A slender, highly satisfying collection . . . In an appreciative introduction, New Yorker theater critic Hilton Als praises Didion as "a carver of words in the granite of the specific." Stylistic precision and the "energy and shimmer" of her prose are fully evident in this volume of previously uncollected pieces . . . All reveal the author's shrewd, acerbic critical eye . . . Didion's rejection from Stanford elicited an essay about college as consumption, and her skewering of consumption and artifice recur as themes—for example, in her observation of the ways women stage themselves for portrait photographs. Several particularly revealing essays focus on writing." —Kirkus 
 
"This wide-ranging essay collection from Didion showcases her strengths as a short form writer . . . The pieces trace Didion's development as an essayist and offer glimpses of late-20th-century social history . . . As always, the writing is captivating . . . Didion fans new and old will be delighted." —Publishers Weekly
 
"[A] dozen arresting, mind-tuning, previously uncollected essays in this exhilarating and instructive gathering spanning several decades . . . [Writing is] a voyage of discovery for Didion, conducted via meticulous observation and assiduous questioning of what she thinks and how her investigations make her feel. We see this at work in her responses to a reunion of the WWII 101st Airborne Division during the Vietnam War and a photo shoot with Nancy Reagan, and in profiles of Robert Mapplethorpe and Martha Stewart. Didion is both porous and steely, self-deprecating and in command. With a perceptive foreword by Hilton Als, who discerns the "uncanny" in Didion's exacting work, this an illuminating and inspiring addition to the influential Didion canon." —Donna Seaman, Booklist