The New Bantam-Megiddo Hebrew & English Dictionary, Revised (Paperback)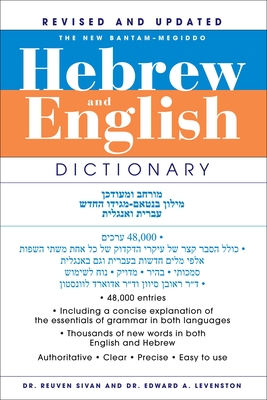 $18.00
ON HAND in at least ONE of our stores. Click through or call for up-to-the-minute availability.
Description
---
•Clear
• Precise
• Easy to use

The convenient, comprehensive, popular one-volume English/ Hebrew, Hebrew/English Dictionary
Now updated for the first time in thirty-five years
Thousands of new words in science, technology, and culture


•Tables of English irregular verbs
•Tables of the Hebrew noun and all forms of the Hebrew verb
About the Author
---
Sivan Reuven, PhD, was a Jerusalem-born author, translator and instructor at Israeli universities and teachers' colleges.

Edward A. Levenston, PhD, was associate professor emeritus of English language at the Hebrew University.

Ioram Melcer has translated a wide range of prominent works into Hebrew, from Rudyard Kipling, to Salman Rushdie. He lives in Jerusalem.