Dune: House Corrino (Prelude to Dune #3) (Abridged / Audio cassette)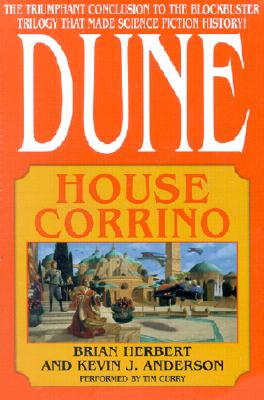 Not available to order
Hard to Find. Not available to order.
Other Books in Series
This is book number 3 in the Prelude to Dune series.
Description
---
At last, the explosive final chapter in The New York Times bestselling trilogy of prequels that ignited listener-and bookseller-passion for Frank Herbert's epic world, DUNE.

With DUNE: HOUSE ATREIDES, Brian Herbert and Kevin J. Anderson rewarded the legions of fans who thought the final tale of their beloved saga had been told, penning not just a national bestseller, but an instant classic. It was no small feat to follow that success with DUNE: HOUSE HARKONNEN, the rare sequel that was as well received as its predecessor, and was named a New York Times Notable Book.

Now, continuing to work from Frank Herbert's extensive outlines, journals, and notes from brainstorming sessions, these authors have crafted DUNE: HOUSE CORRINO, the third novel in this trilogy of prequels.

Here, fans will see how the rivalry began between Duke Leto of House Atreides and Baron Vladimir of House Harkonnen. The actions that made heros of Duncun Idaho and Gurney Halleck. The events surrounding the birth of Jessica's first child, Paul. And the desperate decision that created one of the universe's most hated tyrants: Padishah Emperor Shaddam Corrino.


About the Author
---
Brian Herbert and Kevin J. Anderson collaborated on the celebrated two previous books in the trilogy, and are both acclaimed authors in their own right.
Praise For…
---
Praise for the Dune novels of Brian Herbert and Kevin J. Anderson:

Dune: House Harkonnen

"Succeeds admirably."
— The New York Times Book Review

"The second Dune series is proving to be more accessible and just as entertaining as the original."
— The Oregonian

"Extraordinarily well-developed and continually fascinating."
— Kirkus Reviews

"Entertaining ... page-turning ... Dune fans will enjoy visiting familiar places and encountering familiar characters."
— Contra Costa Times

Dune: House Atreides

"Rich interweaving of politics and plotting made the Dune novels special. And Dune: House Atreides does its predecessors justice."
— USA Today

"A spirited and entertaining adventure ... The real pleasure here comes from watching the authors lay out the plot threads that will converge in Dune."
— The Philadelphia Inquirer

"[The] authors have woven a web of plots and ideas every bit as complex and compelling as the original Dune novels."
— St. Petersburg Times

"A rousing story."
— New York Post


From the Hardcover edition.