Finding Nouf (Paperback)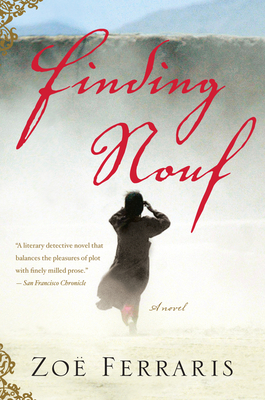 $16.99

NOT on our shelves now. Usually ships from warehouse in several days.
Description
---
Zoë Ferraris's electrifying debut of taut psychological suspense offers an unprecedented window into Saudi Arabia and the lives of men and women there.

When sixteen-year-old Nouf goes missing, along with a truck and her favorite camel, her prominent family calls on Nayir al-Sharqi, a desert guide, to lead a search party. Ten days later, just as Nayir is about to give up in frustration, her body is discovered by anonymous desert travelers. But when the coroner's office determines that Nouf died not of dehydration but from drowning, and her family seems suspiciously uninterested in getting at the truth, Nayir takes it upon himself to find out what really happened to her.

The only problem? He has no access to the women who knew Nouf best, and to gain that access, he must rely on a woman.

Fast-paced and utterly transporting, Finding Nouf offers an intimate glimpse inside a closed society and a riveting literary mystery.
About the Author
---
ZOË FERRARIS was born in Oklahoma. She moved to Saudi Arabia in the aftermath of the first gulf war to live with her then husband and his extended family of Saudi-Palestinian Bedouins, who had never welcomed an American into their lives before. She has an MFA from Columbia University and lives in San Francisco.
Praise For…
---
Finding Nouf is an astounding feat of storytelling, a gripping novel that also explores with unsparing, sympathetic insight how the men and women of Saudi Arabia's new generation struggle with their modernizing yet still traditional society. —Azadeh Moaveni, author of Lipstick Jihad

Finding Nouf is my favorite kind of mystery: an unlikely detective guiding us through an unfamiliar world. Ferraris uses the genre smartly, setting an unsolved murder in a society that is complex, veiled, and itself full of mystery and intrigue.
—David Ebershoff, author of The 19th Wife

Zoë Ferraris's novel lifts the veil on the repressed personal lives of Saudi Arabia's rich, giving us unparalleled insight into daily life in an oft-caricatured culture—and a great mystery. Her detective, Nayir al-Sharqi, is a sharp desert guide, and one might say that in her writing Ferraris follows a similar profession. —Matt Beynon Rees, author of The Collaborator of Bethlehem

The mystery that preoccupies Finding Nouf keeps you turning its pages, while its characters linger with you long after you've finished. Katya and Nayir's unconventional partnership argues for the virtues of reconciliation even as it throws off sparks. Finding Nouf is a compelling and deeply humane book.—Anita Amirrezvani, author of The Blood of Flowers

Finding Nouf combines the ancient mysteries of the desert with sleek literary prose. This deeply original work is entrancing, stylish, and utterly compelling. —Diana Abu-Jaber, author of Crescent

Ferraris offers up a fascinating peek into the lives and minds of devout Muslim men and women while serving up an engrossing mystery ... Highly recommended.
Library Journal

A finely nuanced first novel offering an exceptionally balanced look at male and female perspectives.
Kirkus Reviews

With her debut novel, Zoe Ferraris makes a wonderful contribution to the burgeoning genre of ethnographic literary crime fiction. -- Financial Times

"Ferraris writes with authority on how Saudi insiders and outsiders alike perceive the United States ... With equal authority, she stakes her own claim on the world map, opening Saudi Arabia up for mystery fans to reveal the true minds and hearts of its denizens." Los Angeles Times

"The author's canny move using the tried-and-true murder mystery format allows her to sketch a trenchant portrait of Saudi society within an engaging yarn." Minneapolis Star-Tribune

"Finding Nouf, Zoe Ferraris's engrossing debut novel, yanks the veil off Saudi Arabian culture while unraveling a compelling murder mystery." The Oregonian

What truly sets this book apart from a detective novel is its prose.
The San Francisco Chronicle

Offers a fascinating glimpse inside domestic Saudi Arabia...a page-turning thriller..."Finding Nouf" turns out to be a great beach read. Cleveland Plain Dealer —