Harry Potter and the Goblet of Fire: The Illustrated Edition (Harry Potter, Book 4) (Hardcover)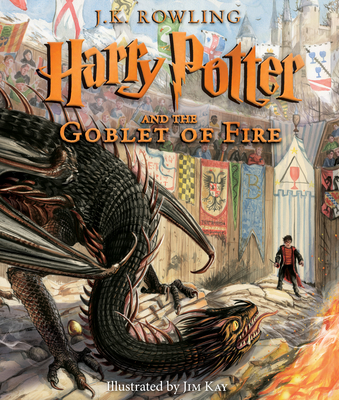 Other Books in Series
This is book number 4 in the Harry Potter series.
Description
---
The fourth book in the beloved Harry Potter series, now illustrated in glorious full color by award-winning artist Jim Kay. With over 150 illustrations!Harry Potter wants to get away from the pernicious Dursleys and go to the International Quidditch Cup with Hermione, Ron, and the Weasleys. He wants to dream about Cho Chang, his crush (and maybe do more than dream). He wants to find out about the mysterious event involving two other rival schools of magic, and a competition that hasn't happened for a hundred years. He wants to be a normal, fourteen-year-old wizard. Unfortunately for Harry Potter, he's not normal - even by wizarding standards. And in this case, different can be deadly.With over 150 dazzling illustrations from Jim Kay, this new fully illustrated edition of the complete and unabridged text of Harry Potter and the Goblet of Fire is sure to delight fans and first-time readers alike.
About the Author
---
J.K. ROWLING is the author of the enduringly popular, era-defining Harry Potter seven-book series, which have sold over 600 million copies in 85 languages, been listened to as audiobooks for over one billion hours and made into eight smash hit movies. To accompany the series, she wrote three short companion volumes for charity, including Fantastic Beasts and Where to Find Them, which went on to inspire a new series of films featuring Magizoologist Newt Scamander. Harry's story as a grown-up was continued in a stage play, Harry Potter and the Cursed Child, which J.K. Rowling wrote with playwright Jack Thorne and director John Tiffany.
In 2020, she returned to publishing for younger children with the fairy tale The Ickabog, the royalties for which she donated to her charitable trust, Volant, to help charities working to alleviate the social effects of the Covid 19 pandemic. Her latest children's novel, The Christmas Pig, was published in 2021.
J.K. Rowling has received many awards and honours for her writing, including for her detective series written under the name Robert Galbraith. She supports a wide number of humanitarian causes through Volant, and is the founder of the international children's care reform charity Lumos. J.K. Rowling lives in Scotland with her family.
Jim Kay won the Kate Greenaway Medal in 2012 for his illustrations in
A Monster Calls
by Patrick Ness. Jim studied illustration at the University of Westminster and since graduating has worked in the archives of Tate Britain and the Royal Botanic Gardens at Kew. Jim has produced concept work for television and contributed to a group exhibition at the Victoria and Albert Museum in London. He now lives and works in Northamptonshire, England, with his wife.
Praise For…
---
Praise for Jim Kay's illustrations:
"I love seeing Jim Kay's interpretation of Harry Potter's world, and I feel honored and grateful that he continues to lend his talent to it." -- J.K. Rowling
"It's all that an old-fashioned book aficionado could wish for . . . Is this, one wonders, the sort of book found at Diagon Alley's Flourish and Blotts or in the Hogwarts library? Kay's illustrations, freshly re-envisioning the story, range from spot images to dramatic double page spreads, all pulsating with color and vitality. This gorgeous volume is sure to please all, from Harry Potter neophytes to longtime fans." -- New York Times Book Review
Praise for Jim Kay's illustrations:
"I love seeing Jim Kay's interpretation of Harry Potter's world, and I feel honored and grateful that he continues to lend his talent to it." -- J.K. Rowling
"It's all that an old-fashioned book aficionado could wish for . . . Is this, one wonders, the sort of book found at Diagon Alley's Flourish and Blotts or in the Hogwarts library? Kay's illustrations, freshly re-envisioning the story, range from spot images to dramatic double page spreads, all pulsating with color and vitality. This gorgeous volume is sure to please all, from Harry Potter neophytes to longtime fans." -- New York Times Book Review