Marbled, Swirled, And Layered: 150 Recipes and Variations for Artful Bars, Cookies, Pies, Cakes, and More (Hardcover)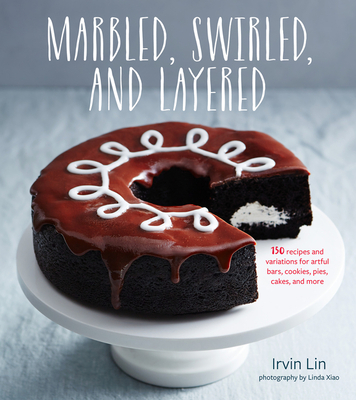 $33.00
Temporarily Unavailable
Description
---
Incredible desserts with layers and swirls of flavor that are beautiful and delicious--inside and out

When you marble, layer, and swirl doughs, batters, toppings, or frostings, good looks and good taste come together in one total package. Irvin Lin, creator of the popular blog Eat the Love, shows how these techniques open the door to inventive flavor combinations that look as fantastic as they taste. Bakers of all levels will enjoy recipes ranging from easy brownies and bars to brunch-worthy muffins and morning buns to show-stopping cakes and tarts: cinnamon spiral icebox cookies, pistachio-swirl brownies, triple-chocolate pie, multicolored "Neapolitan" layer cake, and more. Lin offers variations to suit any taste (more than 150 recipes total) plus baking and decorating tips throughout on topics like making your own all-natural food coloring, rolling up jelly roll–style cakes, and discovering the magic of browned butter. Readers (and eaters) are sure to ooh and ahh over every dazzling dessert at first glance—and then again at first bite. 
About the Author
---
IRVIN LIN is an IACP Award−winning photographer and nationally recognized blogger (www.eatthelove.com) who has made the transition from graphic designer and art director to baker, food writer, recipe developer, and professional photographer.
Praise For…
---
"My goodness, this cookbook! It's filled to the brim with recipes for the most splendidly beautiful cakes, cookies, breads, and tarts I think I've ever seen. My eyes kept getting wider and wider as I turned every page—both the flavor combinations and the photos are out of this world. Irvin Lin has most definitely outdone himself. This book is a triumph!" —REE DRUMMOND, New York Times best-selling author of The Pioneer Woman Cooks "Irvin Lin gives home-baked treats a twist, ramping them up with a range of contemporary flavors that are sure to surprise and delight. From beer-battered brownies to smoky butterscotch taking a classic cake to the next level, I can't wait to mix, stir, and bake my way through Marbled, Swirled, and Layered!" —DAVID LEBOVITZ, author of My Paris Kitchen   "Leave it to Irvin to hit it out of the park with Marbled, Swirled, and Layered. Every recipe is an inspiration! I want to make, and eat, every. single. one." —ELISE BAUER, founder of Simply Recipes   "Irvin is not only an accomplished and creative baker, he is a generous teacher. Home cooks will find all of the tips and techniques necessary to feel supported and comfortable—as well as inspired—in the kitchen. No one should miss the recipe variations! I love the modern versions of traditional recipes, great new flavor combinations, and—of course—the invitation to use flavorful flours other than wheat!" —ALICE MEDRICH, author of Flavor Flours and Chewy Gooey Crispy Crunchy Melt-in-Your-Mouth Cookies   "Irvin Lin is a master at creative baking. I've admired his Eat the Love blog for the delicious goodies and lovely storytelling. I'm excited to see desserts with such interesting flavor combinations in his first cookbook. They are truly works of art!" —LORI LANGE, author of The Recipe Girl Cookbook and founder of RecipeGirl.com   "If the old aphorism 'Life is uncertain. Eat dessert first' is true—and I believe it is—then Marbled, Swirled, and Layered should be the cookbook every sweet-loving baker reaches for first. Between its sinfully delicious covers are recipes for some of the most luscious, tempting desserts ever. I dare you not to lick the pages." —DAVID LEITE, publisher of the James Beard Award–winning website LeitesCulinaria.com   "Love this book. It's packed with all the style and brilliance that made Irvin Lin such a must-read food writer online. This book is all about incorporating big flavors into your baking with style: swirling, studding, and supercharging recipes to a magical effect. Cakes are cut to reveal extraordinary fillings or sliced to show beautiful marbling. Cookies and bars offer striking geometric effects. Recipes are easy enough to encourage, but with enough intricacy to keep you interested and, yes, impress friends and family. Five-star baking at its best." —DAN LEPARD, food writer and baker   "This book is captivating. The recipes are unique, but more so, they are carefully crafted. The ingredients were chosen to complement each other to create the most magical experience. I found myself smiling as I read this book. The combination of amazing recipes and entertaining words makes it one of my favorites!" —AMANDA RETTKE, best-selling author   "I couldn't be more excited for Marbled, Swirled, and Layered. Irvin's recipes are so unique and his flavor combinations —