The American Heritage Student Dictionary (Hardcover)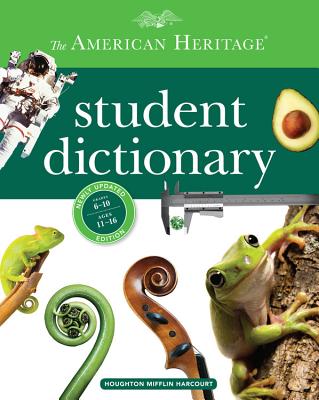 Not available to order
Stock uncertain--should fulfill within 10 days or so
Description
---
The American Heritage Student Dictionary is the authoritative reference work for students in grades 6-10. Published in a completely revised new edition in 2012, with thousands of new words and senses, it now has been updated further for 2016, making it an ideal guide to the words today's students need to know.

Known for its straightforward, clearly written definitions, The American Heritage Student Dictionary includes over 67,000 words and 32,000 example sentences. Its distinctive features include up-to-the-minute vocabulary such as avatar, prequel, and selfie, geographical and biographical entries, hundreds of full-length quotations from acclaimed young-adult authors, 2,000 color illustrations, and over 400 feature notes that offer in-depth information on usage, word history, synonyms, and science terms.

With clear, comprehensible definitions and lively page design, The American Heritage Student Dictionary provides a powerful platform for developing a more sophisticated vocabulary.
About the Author
---
THE EDITORS OF THE AMERICAN HERITAGE DICTIONARIES are a team of professional lexicographers with advanced degrees in various scholarly fields. The editors familiarize themselves with the vocabulary in specific subject areas, collect materials on new developments and usage, and work with expert consultants to ensure that their publications are accurate and up-to-date.