Fairest: A Memoir (Hardcover)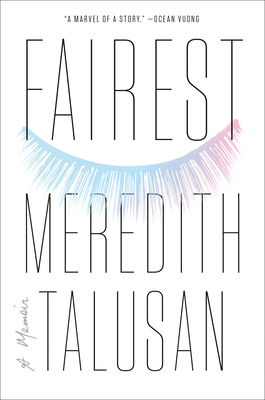 $27.00
Temporarily Unavailable
Description
---
Finalist for the 2021 Lambda Literary Award for Transgender Nonfiction

"Talusan sails past the conventions of trans and immigrant memoirs." --The New York Times Book Review

"A ball of light hurled into the dark undertow of migration and survival." --Ocean Vuong, author of On Earth We're Briefly Gorgeous

A love story with the heart of Austen classics and a reflective journey of becoming that shift our own perceptions of romance, identity, gender, and the fairness of life.

Fairest is a memoir about a precocious boy with albinism, a "sun child" from a rural Philippine village, who would grow up to become a woman in America. Coping with the strain of parental neglect and the elusive promise of U.S. citizenship, Talusan found comfort from her devoted grandmother, a grounding force as she was treated by others with special preference or public curiosity. As an immigrant to the United States, Talusan came to be perceived as white, and further access to elite circles of privilege required Talusan to navigate through the complex spheres of race, class, sexuality, and queerness. Questioning the boundaries of gender, Talusan realized she did not want to be confined to a prescribed role as a man, and transitioned to become a woman, despite the risk of losing a man she deeply loved. Throughout her journey, Talusan shares poignant and powerful episodes of desirability and love that will remind readers of works such as Call Me By Your Name and Giovanni's Room.
About the Author
---
Meredith Talusan is an award-winning author and journalist who has written for The Guardian, The New York Times, The Atlantic, The Nation, WIRED, SELF, and Condé Nast Traveler, among many other publications, and has contributed to several essay collections. She has received awards from GLAAD, The Society of Professional Journalists, and the National Lesbian and Gay Journalists Association. She is also the founding executive editor of them., Condé Nast's LGBTQ+ digital platform, where she is currently contributing editor.
Praise For…
---
Selected as a Most Anticipated Book of 2020 by:
O: The Oprah magazine
Bitch
The Millions
LitHub
Electric Lit
BuzzFeed
The Rumpus
Paste 
Asian Journal

One of O magazine's Best LGBTQ Books 2020

People Pick for June

One of Logo/NewNowNext's "11 Queer Books We Can't Wait to Read This Spring"

"By painting her life in such exquisite detail, Talusan breathes new life into the well-worn body of the transgender life story, showing the reader deep wells of complexity where, in a less truthful or less talented writer's hands, oversimplification and cliché might reign."
—The Boston Globe

"A marvel of a story wrought with near-archeological precision and deep inquiry into history, hope, joy and human redemption. An artist's statement that offers new ways to think and feel in bodies cast ashore, Fairest is a ball of light hurled into the dark undertow of migration and survival. It is also funny, utterly alive, and fashioned with care and hope."
—Ocean Vuong, author of On Earth We're Briefly Gorgeous

"A searching, rigorously self-examining memoir, Fairest grapples beautifully and seriously with questions of gender, race, colorism, migration, colonialism, queerness, privilege, class, and belonging.  A debut luminous with insight."
—R.O. Kwon, author of The Incendiaries

"Fairest is a powerful panoptic memoir which frames the totality of a life being lived, not just the fractions of it. It's a love story, a queer story, an immigrant story, an American story, a coming of age story—a revolutionary story. A most necessary and important book in a world which aims to other us from not just who we are, but who we are meant to become." 
—Amber Tamblyn, author of Era of Ignition

"Meredith Talusan has written a truly brilliant memoir with sparkling sentences, navigating incredibly complex questions of privilege with ease and candor. Everything here feels true and necessary--a rare literary accomplishment. I'll recommend this book to my queer family and my Arkansan family alike, and to students who want to know why we continue to believe in the power of memoir." 
—Garrard Conley, author of Boy Erased

"Fairest is a deeply humane, beautifully powerful memoir that resists easy categorization. It is a story, after all, about Talusan's heroic refusal to accept simplistic and harmful narratives about the body--as a trans person, an immigrant to America, and a white-skinned Filipina. Talusan's acrobatic feat here is to create an accessible and sophisticated negotiation of identity on a national and geopolitical scale that hews beautifully to a nuanced, coming-of-age story of love and loss and finding oneself in the wreckage that will surely resonate with readers of all backgrounds. A gorgeous and necessary memoir." 
—Thomas Page McBee, author of Man Alive and Amateur

"Meredith Talusan's Fairest is a story of crossing boundaries—of race, of gender, of convention. In this wise and brilliant memoir, she travels from one side of the globe to the other—but more profoundly, she takes us to the center of her passionate, fiery heart. Fairest is a gorgeous, gnarly addition to the canon of transgender memoir."
—Jennifer Finney Boylan, author of She's Not There and Good Boy

"Gorgeously written, exquisitely perceptive, and flagrantly new, Fairest tells of a life in pursuit of beauty— of the flesh, of literature and music, and the beauty of becoming one's self in all complexity. Meredith Talusan's coming of age story is also a coming of identity, as she navigates her life first as a gay man, then as a trans woman, and always as a white-passing, albino Filipino-American, refracted through the eyes of others and ultimately through her own. There is much to learn here about identity, and so very much pleasure in the written word." 
—Alex Marzano-Lesnevich, author of The Fact of a Body

"Talusan is one of the most stellar essayists writing today, and one of the very best at examining the many different meanings of transition."
—O: The Oprah Magazine

"An award-winning journalist tells the story of how she came to terms with a complex identity that forced her to navigate issues of gender, race, and class…. The author examines queer otherness with relentless honesty, and she investigates how accidental whiteness did not automatically lead to the fairest outcomes, either for herself or others. A captivatingly eloquent memoir."
—Kirkus

"This elegant memoir examining whiteness, womanhood, and the shaping of identity will resonate with readers of any community, LGBTQ or not."
—Publishers Weekly, starred review

"Meredith Talusan's Fairest is a poignant, powerful, poetic triumph of a book. Talusan breaks up and remakes her world, expands and contracts time; her childhood in the Philippines as a sensitive child with albinism; her gender transition; her bildungsroman as an essayist; her staggering reflections on race, class, and sexuality. Especially salutary is the incisive final essay, 'Lady Wedgwood'–an honest, heartbreaking honoring of a love that ran its course, a love that enfolds and enfloods despite its ending."
—Mira Assaf Kafantaris, The Millions

"In this 'journey across gender,' Talusan communicates the captivating story of what it means to be true to one's self"
—Bethanne Patrick, The Washington Post

"Talusan masterfully traces the narrative of her life"
—Los Angeles Review of Books

"tender, fierce and illuminating"
—Kim Hubbard, People

"Fairest is a beautiful, riveting read. Perfect for these times."
—Washington Blade

"In this coming-of-age memoir, Talusan writes of her extraordinary life — from being raised in the Philippines with albinism to immigrating to America, being seen as white, attending Harvard and transitioning to a woman. Gender, race, identity, love, art. It's no wonder Talusan's book is a finalist for the 2021 Lambda Literary Award for Transgender Nonfiction."
—CNN.com

"The title Fairest takes on many forms in Meredith Talusan's debut memoir….Talusan gives a stellar and engrossing account of her immigration and transition, inviting us to consider what looks like 'fairness' in our own personal lives."
—Esquire