What You Have Heard Is True: A Memoir of Witness and Resistance (Hardcover)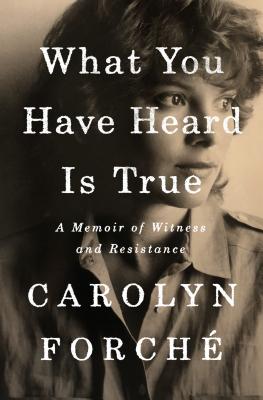 $28.00
Temporarily Unavailable
Description
---
2019 National Book Award Finalist

"Reading it will change you, perhaps forever." —San Francisco Chronicle

"Astonishing, powerful, so important at this time." --Margaret Atwood

What You Have Heard is True is a devastating, lyrical, and visionary memoir about a young woman's brave choice to engage with horror in order to help others. Written by one of the most gifted poets of her generation, this is the story of a woman's radical act of empathy, and her fateful encounter with an intriguing man who changes the course of her life.

Carolyn Forché is twenty-seven when the mysterious stranger appears on her doorstep. The relative of a friend, he is a charming polymath with a mind as seemingly disordered as it is brilliant. She's heard rumors from her friend about who he might be: a lone wolf, a communist, a CIA operative, a sharpshooter, a revolutionary, a small coffee farmer, but according to her, no one seemed to know for certain. He has driven from El Salvador to invite Forché to visit and learn about his country. Captivated for reasons she doesn't fully understand, she accepts and becomes enmeshed in something beyond her comprehension.

Together they meet with high-ranking military officers, impoverished farm workers, and clergy desperately trying to assist the poor and keep the peace. These encounters are a part of his plan to educate her, but also to learn for himself just how close the country is to war. As priests and farm-workers are murdered and protest marches attacked, he is determined to save his country, and Forché is swept up in his work and in the lives of his friends. Pursued by death squads and sheltering in safe houses, the two forge a rich friendship, as she attempts to make sense of what she's experiencing and establish a moral foothold amidst profound suffering. This is the powerful story of a poet's experience in a country on the verge of war, and a journey toward social conscience in a perilous time.
About the Author
---
Carolyn Forché is an American poet, editor, translator, and activist. Her books of poetry are Blue Hour, The Angel of History, The Country Between Us, and Gathering the Tribes. In 2013, Forché received the Academy of American Poets Fellowship given for distinguished poetic achievement. In 2017, she became one of the first two poets to receive the Windham-Campbell Prize. She is a University Professor at Georgetown University. Forché lives in Maryland with her husband, the photographer Harry Mattison.
Praise For…
---
One of New York Times' critic Jennifer Szalai's 10 Best Books of 2019

A New York Times Notable Book

One of Electric Literature's 15 Best Nonfiction Books of 2019

"One recovered incident, person, landscape, and image at a time, the narrative advances, accruing tremendous authority and emotional power. It amounts to almost a shamanistic transmitting of Forché's experience into our own…. What Leonel Gómez was really offering when he lured her down to El Salvador was the chance to become Carolyn Forché. Anyone who reads this magnificent memoir will partake of that luminous transformation." —The New York Times Book Review 

"Astonishing, powerful, so important at this time." —Margaret Atwood, via Twitter

"Extraordinary . . . What You Have Heard Is True challenges us as Americans to see the people arriving at our border not only with empathy but also with the knowledge that their arrival is a manifestation of a shared history—of our shared fate." —Suzy Hansen, The Nation

"Forché vividly evokes her complex relationship with her mentor and with organizers, laborers, and religious leaders whose courage in the face of atrocity taught her that 'resistance to oppression begins when people realize deeply within themselves that something better is possible.'" —The New Yorker

"Once Forché's story gathers momentum, it's hard to let the narrative go…Riveting…intricate and surprising." — The New York Times
 
"Poets write the best memoirs, and Carolyn Forché's What You Have Heard is True is no exception. A lyrical and pristinely disturbing recounting . . . no less stunning than her poetry—sharp, unsparing, and never looking away." —Vox

"Indispensable...unflinching...Forché offers up a vast human landscape of terror, desperation and perseverance that stretches far beyond mere borders. It's more documentary than self-portrait, more camera than mirror. Reading it will change you, perhaps forever." —San Francisco Chronicle

"Gripping . . . 'I could just as well write my poetry from the quiet of my own study,' Forché writes, 'but I had known since childhood that human suffering demanded a response, everywhere and always.' A portrait of the artist as political and poetic ingenue, What You Have Heard Is True is just such a response, a riveting account of how she made good on that conviction. It bears eloquent witness to injustice and atrocity and to how observing them shaped a fearless poet." —The Washington Post

"Extraordinary . . . Written with a thriller writer's knack for narrative tension and a poet's gorgeous sentences and empathy . . . Though it took Forché half a lifetime to fully share what she saw — this time is also more cryptically recalled in her second book of poems, The Country Between Us(1982) — now is precisely when we need to see it." –NPR
 
"Her memoir traces her journey from political innocence to experience, and, in doing so, offers a model to others who might take the same journey . . . She remembers as much as possible, and the resulting memoir, once read, is difficult to forget." — The Atlantic

"In [Forche's] poetry, and in her extraordinary memoir of the period that would shape it, she demands an ethics of engagement with the self, the state, language and its aesthetics. She searches for humanity in each little grain of truth with complete conviction and remarkable courage." — The New Statesman 

"Carolyn Forché proves she's just as talented a memoirist as she is a poet in this enthralling read demonstrating the visceral power of empathy." — Paste

"A lyrical, potent book . . . Remarkable." —Los Angeles Times

"Why would a naïve 27-year-old American poet, who speaks Spanish brokenly and knows nothing about the isthmus of the Americas, accept the invitation of a near-stranger to join him in El Salvador, on the brink of war? And why would this rumored lone wolf/communist/CIA operative/world-class marksman/small-time coffee farmer invite her? Those questions animate Forché's dramatic memoir about her transformation into an activist for peace, justice, and human rights. Forché vividly recounts how she became enmeshed with the mysterious, politically charged man and with clergy and farmworkers as violence ensued, in a fierce narrative punctuated with short prose poem vignettes that she notes are 'written in pencil.' —The National Book Review

"In this galvanizing memoir, [Forché] recounts her political awakening under fire with a poet's lyrical acuity and a storyteller's drama…. Forché recounts her frightening and transformative encounters with scorching specificity and portrays her brilliant and courageous mentor and other resistance fighters with wonder and gratitude. This clarion work of remembrance, this indelible testimony to a horrific battle in the unending struggle for human rights, justice, and peace, stands with the dispatches of Isabel Allende, Eduardo Galeano, Pablo Neruda, and Elena Poniatowska." — Booklist, starred review

"In this searing, vital memoir, Carolyn Forché at last reveals the dark stories behind her famous early poems: she brings alive the brutality, complexity and idealism of El Salvador in the late 1970s, a time of revolution that echoes all too painfully in the present. What You Have Heard Is True, a riveting and essential account of a young woman's political and human awakening, is as beautiful as it is painful to read." —Claire Messud, author of The Burning Girl

"Carolyn Forché asks us not only to hear, but to see, the scale of human and moral devastation in El Salvador. For those of us who are citizens and residents of the United States, Forché's powerful, moving, and disturbing memoir also demands that we recognize our country's responsibility for the atrocities committed by the El Salvadoran military. As is the case with her poetry, Forché's nonfiction asserts the need for truth—in our politics, in our writing, in our witnessing." —Viet Thanh Nguyen, author of The Sympathizer

"What You Have Heard Is True is as much an enthralling account of a life marked by an encounter as it is a document of a time and place. Carolyn Forche's urgent and compelling memoir narrates her role as witness in an especially explosive and precarious period in El Salvador's history. This incredible book shapes chaos into accountability. It marries the attentive sensibility of a master poet with the unflinching eyes of a human rights activist." —Claudia Rankine, author of Citizen

"Carolyn Forché's beautifully rendered story of the intimate and often harrowing encounters that shaped her life is a testament to her singular gifts as a poet of extraordinary courage and grace. Forché does more than just bear witness to a world corrupted by politics and violence; she listens and acts, and in doing so she has created a work of art forged by her faith in language and justice, a story that is haunting and indelible, urgent and timeless." —Dinaw Mengestu, author of All Our Names

"This luminous book stands beside the memoirs of Pablo Neruda and Czeslaw Milosz in its account of a poet's education, the struggle of a great artist to be worthy of her gifts. Carolyn Forché's prose is shamanic: it sees both the surface of things and their inner workings, it animates the inanimate world." —Garth Greenwell, author of What Belongs to You 

"Carolyn Forché is a legendary poet, a great American voice of conscience who has given courage to many of us for the past several decades. Here, she shares with us what few writers ever share: a story of how, by trial of fire at the beginning of the horrific war in El Salvador, she found her voice. Both an account of the education of a great contemporary writer, and a spell-binding story of a journey and friendship, this book is first and foremost a call to action. It asks us to pay attention in a time of our own turmoil. It shows us just how to do what we as a nation so desperately need to do: to remove the blindfold and open our eyes." —Ilya Kaminsky, author of Deaf Republic
 
"Carolyn Forché, a poet renowned for her exposure of the barbarisms in our time, has now given us the motivation for her life-work. The book is right on time, though it took decades to write. Now while we are creating a festering, wounded border in America, and a pit of crime and cruelty, this book shows us how such a thing happened, not from the US point of view, but through the eyes of the oppressed. Forché has revived the role of a poet in the modern world." —Fanny Howe, author of Second Childhood

"Episode by episode, dodging death squads, Forché builds a story filled with violence and intrigue worthy of Graham Greene around which a river of blood flows—doing so, unstanched, with the avid support of America's leaders." —Kirkus Reviews