Golden Gates: The Housing Crisis and a Reckoning for the American Dream (Paperback)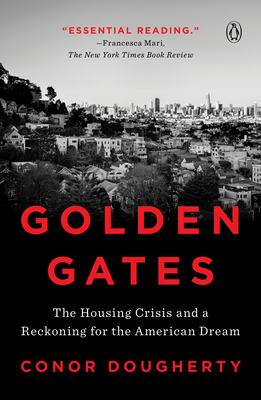 $18.00
Coming Soon. Pre-Order Now!
Description
---
A Time 100 Must-Read Book of 2020 
A New York Times Book Review Editors' Choice 
Named a top 30 must-read Book of 2020 by the New York Post
Named one of the 10 Best Business Books of 2020 by Fortune
Named A Must-Read Book of 2020 by Apartment Therapy 
Runner-Up General Nonfiction: San Francisco Book Festival
A Planetizen Top Urban Planning Book of 2020
Shortlisted for the Goddard Riverside Stephan Russo Book Prize for Social Justice

A stunning, deeply reported investigation into the housing crisis

Spacious and affordable homes used to be the hallmark of American prosperity. Today, however, punishing rents and the increasingly prohibitive cost of ownership have turned housing into the foremost symbol of inequality and an economy gone wrong. Nowhere is this more visible than in the San Francisco Bay Area, where fleets of private buses ferry software engineers past the tarp-and-plywood shanties where the homeless make their homes. The adage that California is a glimpse of the nation's future has become a cautionary tale.

With propulsive storytelling and ground-level reporting, New York Times journalist Conor Dougherty chronicles America's housing crisis from its West Coast epicenter, peeling back the decades of history and economic forces that brought us here and taking readers inside the activist uprisings that have risen in tandem with housing costs. 

To tell this new story of housing, Dougherty follows a struggling math teacher who builds a political movement dedicated to ending single-family-house neighborhoods. A teenaged girl who leads her apartment complex against their rent-raising landlord. A nun who tries to outmaneuver private equity investors by amassing a multimillion-dollar portfolio of affordable homes. A suburban bureaucrat who roguishly embraces density in response to the threat of climate change. A developer who manufactures homeless housing on an assembly line.

Sweeping in scope and intimate in detail, Golden Gates captures a vast political realignment during a moment of rapid technological and social change.



About the Author
---
Conor Dougherty is an economics reporter at The New York Times. He previously spent a decade in New York covering housing and the economy for The Wall Street Journal. He grew up in the Bay Area and lives with his family in Oakland.
Praise For…
---
"Dougherty, Bay Area native and an economics reporter for The New York Times, is the exact right person to unpack the causes and consequences of housing cost insanity. Golden Gates is a beautifully written piece of long-form journalism, as Dougherty takes us beyond the macroeconomic and policy forces that undergird the SF area housing crisis and introduces us to the people trying to solve a likely unsolvable problem." —Joshua Kim, Inside Higher Ed

"Dougherty investigates and interviews residents who share their own stories that prove that some gates may not ever be open for all—and that must change." —Gina Vaynshteyn, Apartment Therapy's Must-Read Books of 2020

"[A] striking book about the history and politics of the dire housing shortage in San Francisco. [Dougherty] nimbly, and with significant humanity, covers a lot of ground." —Time

"Skillfully exploring everything from the yes in my backyard (YIMBY) movement, which promotes more housing development, to anti-gentrification activism, the normalization of homelessness, and the factors that have made it so prohibitively expensive to build anything new . . . [Golden Gates] look[s] squarely at the politics of trying to respond to this disaster. By examining the inertia and ineffectiveness of political leaders who largely agree on what needs to be done, [Dougherty] makes a sobering case for how and why our politics have failed. While not so much a book of specific policy prescriptions, Golden Gates helps clarify why we have a housing crisis in the first place." —Rachel M. Cohen, The Nation 

"The Bay Area's housing crisis is about more than exorbitant prices, and its multifaceted nature is reflected in the variety of stories Dougherty tells." —Sasha Perigo, Curbed 

"Deeply reported and complete...The beat-by-beat developments of California's decades-long growth of income inequality are presented with sharp detail and an even, measured tone. Like Matthew Desmond's Evicted (also excellent, and a great pairing with this book), Golden Gates makes a broader argument by staying very tight on the story of a series of people, rather than policy." —Kevin Nguyen, author of New Waves

"Sweeping… a subtle appeal against tribalism"—The New Yorker

"For a compelling and accessible overview of [California's] housing crisis, there is no better book than Conor Dougherty's Golden Gates: Fighting for Housing in America. Mr. Dougherty…has a gift for telling the stories of people struggling to overcome California's housing dysfunction: the teenager fighting a rent increase that would displace her family; the three brothers who share one room in a house that is already home to seven other people; the enterprising builder who assumes massive regulatory risk to experiment with modular housing; the Catholic nun who tangles with real-estate investors to buy up apartment buildings and deed-restrict them as forever affordable. Absorbed in these narratives, the reader hardly realizes he is receiving an education on the political economy of California's housing market."—Brandon Fuller, The Wall Street Journal 

"There's an epochal feel to Golden Gates. Oakland-based New York Times economics reporter Dougherty captures his native Bay Area—wracked by growing pains, in generational flux—at an inflection point. The crucible for much of this strife: housing . . . Like the best nonfiction, it anatomizes an esoteric subculture to illuminate larger truths. . . . Comparisons of expository journalism to Michael Lewis should be made sparingly (many are the wannabes. . .), but Golden Gates evokes the Berkeley nonfiction master tonally and thematically." —Stephen Phillips, San Francisco Chronicle 

"Golden Gates is both an empathetic portrait of all sides—legislators, developers, pro-housing and anti-gentrification activists—as well as a masterly primer on the fight for new construction in California… Dougherty expertly explains the confluence of microeconomic and historical forces that have created a housing shortage so severe…essential reading"—Francesca Mari, New York Times Book Review

"Dougherty, like many good reporters, doesn't traffic radical solutions or broad panaceas, but instead tells the story of housing in all its complexity. And, with it, he tells the story of people who have fought pyrrhic battles for the dignity of a roof over their heads." —Nicholas Cannariato, NPR 
 
"[A]n excellent new book by The New York Times writer Conor Dougherty – dispenses with ideology to offer some economic sense on a genuine crisis…quirky characters and genuine plot twists make the policy wonkery more effective. In an election year filled with fantastical policy promises, Dougherty's thoughtful take on a hot-button issue seems downright radical."—Anna Szymanski, Reuters

"[T]he housing crisis is utterly gripping in Dougherty's hands, told as it is through the lens of individuals in San Francisco struggling with rising rents, housing scarcity, and poverty. Through zippy prose and deep reporting, Dougherty . . . explains why housing has become unaffordable and how we can solve the problem—that is, if we want to." —Adrienne Westenfeld, Esquire 

"Golden Gates is and will be the definitive account of a distinctive moment in American urban history." —Planetizen

"Zoning policy is about as sexy as a four-hour municipal land-use hearing, so it's no mean feat that Dougherty is able to transmute regulatory minutiae into a breezy, character-driven narrative that illustrates the central reason so many cities are so damn expensive." —Christian Britschgi, Reason 

"Compelling stories . . . Dougherty illustrates how highly polarized and divisive the debates about housing have become, even in the liberal Bay Area. . . . His balanced lens helps readers gain a sense of both the pressing need for affordable housing and the formidable political challenges to creating it." —Ingrid Ellen, Public Books 

"Dougherty's new book provides a comprehensive account of the origins of California's housing crisis, illuminating the many places where it hides in plain sight—in contract cities, in tax law, in shifting cultural trends, in structural economic transformations, as well as in the annals of policy and planning. Dougherty applies a similarly wide lens to the diverse activists who have emerged to challenge the housing status quo, leaving readers hopeful for the future of a broader housing movement—if perhaps also a bit overwhelmed by it… Golden Gates is at its best as a history, whose breadth demonstrates the impossibility of silver-bullet housing solutions." —Benjamin Schneider, City Lab 

"The housing crisis has many facets, which Dougherty admirably chooses to explore. His time spent with a nun-turned-real-estate investor attempting to stave off evictions of poor people is heartrending…The questions of what gets built where — and who lives where — are not just at the center of local politics, but at the center of our lived experiences. In his treatment of the first, Dougherty offers a work as good as the previous standard on San Francisco politics, Richard E. DeLeon's 1992 book Left Coast City. But in Dougherty's rendering of how a new generation of city dwellers has come to the realization that something is deeply wrong with how our housing system works and that it falls to them to fix it, his book has no equal." —Scott Lucas, BuzzFeed
 
"[A] deeply human story of how our democracy has evolved — so very imperfectly — to create a massive shortfall of housing, especially in and around San Francisco, and how a varied cast of characters are seeking to address that crisis. No matter where you stand in the housing debate, Dougherty will persuade you that, looked at through someone else's eyes — someone very sympathetic, at that — your prescriptions are the problem, rather than the solution." —Felix Salmon, Axios

"Any­one seek­ing a po­lit­i­cal rem­edy to the hous­ing prob­lem would do well to read Con­or Dougherty's Golden Gates: Fighting for Housing in America, a pains­tak­ing­ly re­searched and pen­etrat­ing an­aly­sis of the eco­nom­ic and po­lit­i­cal for­ces behind America's most dys­func­tion­al hous­ing mar­ket: San Francisco… Dougherty does not shy away from the complexity of his subject matter, and he illuminates the many contradictions of national and local housing policies." —Chris Serres, Star Tribune

"A stunning, well-researched look at different aspects of the Bay Area housing crisis." —Mackenzie Dawson, The New York Post

"Compelling reporting…Dougherty was the right reporter in the right place to capture the human stories at the heart of this dreadful irony." —Justin Slaughter, Bookforum

"Dougherty probes the fight from multiple angles, recounting the history of housing restrictions, efforts to promote growth under Governor Pat Brown, and contemporary machinations of developers, politicians, and priced-out tenants to cope with a broken system…An engrossing survey of one city's housing politics." —Booklist  

"Conor Dougherty's lucid first book tells this important story, zeroing in on San Francisco… Dougherty reveals few outright villains here. Instead, what emerges is a system that has not yet accepted the reality of the people who live within it. Dougherty's propositions for how to make housing more fair are sane and ought to influence a debate or two in years to come." —John Freeman, Lit Hub 
 
"Incisive, character-driven debut…Dougherty expertly weaves these individual stories into his overarching assessment of urban policy, and makes a convincing case for 'mixed' housing solutions that balance affordability, availability, and profit. Readers who assume there's no solution to sky-high rents in America's big cities should consult this detailed and optimistic counter-narrative."—Publishers Weekly
 
"Economics reporter Dougherty's first book identifies housing as a profound American social and economic challenge which also influences other problems, from educational gaps and racial disparity to climate change…well-reported and well-documented, not to mention fascinating, treatment of a topic that Dougherty convincingly argues is critical to equity and stability in America…Recommended for renters, owners, developers, and policymakers alike." —Library Journal
 
"Illustrate[s] how the crisis plays out in people's lives and the forces driving the housing market… like Matt Desmond's Evicted did a few years ago… Dougherty's purpose isn't to draw conclusions and point to solutions, but his in-depth reporting provides the reader with a more nuanced understanding of the forces at work in today's high cost housing markets." —Chris Herbert, managing director of the Harvard Joint Center for Housing Studies

"Golden Gates is a careful consideration of the Bay Area's slow-burning housing crisis and deepening socioeconomic cleft, and a finely reported exploration of some more recent accelerants: political infighting, arcane policy, the strictures and incentives of capitalism, and, of course, the rapid growth and ascendance of Silicon Valley tech corporations. With precision, insight, and flashes of humor, Conor Dougherty delivers intimate glimpses of a region in transition, and a sobering reminder that San Francisco, these days, is not so much an exception as a harbinger of the future for America's cities." —Anna Wiener, author of Uncanny Valley

"The cost of buying a single-family home or even renting a small apartment in a convenient, desirable location is one of the most pervasive conundrums facing Americans today. Perhaps no other phenomenon drives income inequality as starkly as housing…While Dougherty provides plenty of macro-level research about housing across the nation—and especially in San Francisco—the major strength of the narrative occurs at the micro level . . . poignant and thought-provoking . . . A readable, eye-opening exploration." —Kirkus  

"Golden Gates is a terrific work of explanatory journalism. If you want to understand the colliding forces that have turned the San Francisco Bay Area into a housing powder keg and threaten to engulf many more cities across the country, you need to read this book." —John Carreyrou, New York Times bestselling author of Bad Blood

"How do we solve a problem like California, with its three-hour commutes and sky-high rents? Deeply-reported and fast-paced, Golden Gates introduces you to the people fighting for and against affordable housing in one of the world's hottest real estate markets. In following the clashes between political leaders, tenant activists, developers, and working families, Dougherty brings a novel perspective to one of the nation's most urgent problems." — Matthew Desmond, author of Evicted: Poverty and Profit in the American City
 
"California has always led the nation—and right now, California's struggles with housing affordability, homelessness, and displacement offer a sober window into the near future of every American city. With sharp writing and exhaustive reporting, Conor Dougherty gets to the heart of the matter with a comprehensive look at the Bay Area, home to both a storied legacy of progressive activism and the highest current rents in the world. How did this happen, and what will happen when it comes to your city? Dougherty weaves a hypnotic tale of both progress and decline in Golden Gates." —Caille Millner, author of The Golden Road: Notes on my Gentrification and San Francisco Chronicle columnist  

"America's economic success is badly hampered because overly expensive housing stops Americans from moving to our new lands of opportunity like Silicon Valley. Conor Dougherty has written an insightful and engaging book explaining why housing has become unaffordable in so many places. This vivid, insightful book provides a peerless guide to the fierce political battles over new construction that will help determine the future of our society. This book is a must-read for anyone who cares about the future of America's cities." —Ed Glaeser, author of Triumph of the City