Lights All Night Long: A Novel (Hardcover)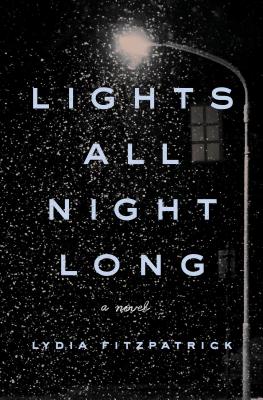 $27.00
Temporarily Unavailable
April 2019 Indie Next List
---
"The courage of youth and the beauty of faith are crystallized in this story of love, loss, and acceptance. Ilya and his older brother, Vladimir, may have been thick as thieves, but while Ilya's high marks in school offered him a way out of their depressing Russian town, Vladimir's path has led to more illicit activities. Now, as Ilya navigates his new life in Louisiana, he is determined to save his brother, who is accused of murder back in Russia. Lydia Fitzpatrick's stunning debut brings these vastly different cultures to life and imbues every scene with empathy and understanding. A brilliant and thrilling novel that shouldn't be missed!"
— Luisa Smith, Book Passage, Corte Madera, CA
Summer 2020 Reading Group Indie Next List
---
"Exchange student Ilya has just arrived in the balmy heat of Louisiana from the frozen tundra of Russia. Smart, hardworking, and thoughtful, Ilya considered this journey to be the opportunity of a lifetime. But he can't seem leave his home behind, or the brother he would do anything to save. In Lights All Night Long, Lydia Fitzpatrick juggles a coming-of-age tale, a murder mystery, and a social commentary on addiction, drug use, and corruption. And it works. Beautifully. She somehow manages to avoid all the predictable tropes of each to create this sparkling world full of hope, friendship, and the power of family in all its forms."
— Erin Ball, Third Place Books, Lake Forest Park, WA
Description
---
A gripping and deftly plotted narrative of family and belonging, Lights All Night Long is a dazzling debut novel from an acclaimed young writer

"A luminous debut. . . . It's hard not to read the book in a single sitting."--The Los Angeles Times

"Lights All Night Long is utterly brilliant and completely captivating. . . . One of the most propulsive, un-put-downable literary novels I've read in ages."--Anthony Marra, author of A Constellation of Vital Phenomena

Fifteen-year-old Ilya arrives in Louisiana from his native Russia for what should be the adventure of his life: a year in America as an exchange student. The abundance of his new world--the Super Walmarts and heated pools and enormous televisions--is as hard to fathom as the relentless cheerfulness of his host parents. And Sadie, their beautiful and enigmatic daughter, has miraculously taken an interest in him.

But all is not right in Ilya's world: he's consumed by the fate of his older brother Vladimir, the magnetic rebel to Ilya's dutiful wunderkind, back in their tiny Russian hometown. The two have always been close, spending their days dreaming of escaping to America. But when Ilya was tapped for the exchange, Vladimir disappeared into their town's seedy, drug-plagued underworld. Just before Ilya left, the murders of three young women rocked the town's usual calm, and Vladimir found himself in prison.

With the help of Sadie, who has secrets of her own, Ilya embarks on a mission to prove Vladimir's innocence. Piecing together the timeline of the murders and Vladimir's descent into addiction, Ilya discovers the radical lengths to which Vladimir has gone to protect him--a truth he could only have learned by leaving him behind.

A rich tale of belonging and the pull of homes both native and adopted, Lights All Night Long is a spellbinding story of the fierce bond between brothers determined to find a way back to each other.
About the Author
---
Lydia Fitzpatrick's work has appeared in the The O. Henry Prize Stories, The Best American Mystery Stories, One Story, Glimmer Train, and elsewhere. She was a Wallace Stegner Fellow at Stanford University, a fiction fellow at the University of Wisconsin-Madison, and a recipient of an Elizabeth George Foundation Grant. She graduated from Princeton University and received an MFA from the University of Michigan. She lives in Los Angeles with her husband and two daughters.
Praise For…
---
"Lights All Night Long is both a mystery and a coming-of-age story that is plot-driven and engaging without ever skimping on character development or straying from the bond between Ilya and Vlad—the true core of the story. It's a heartbreaking read, and one I struggled to put down. Fitzpatrick has crafted an impressive debut that feels transportive yet holds within it an intimate study of the ties that bind us to one another—across families, across continents."—Buzzfeed

"A luminous debut. . . . Fitzpatrick does so many things right in Lights All Night Long, it's hard to believe it's a debut novel. As a mystery, it's paced perfectly, with the novel moving seamlessly back and forth in time between Ilya's life in Russia and his new one in America. Fitzpatrick proves to be an expert in building suspense; it's hard not to read the book in a single sitting. . . . It's tricky to capture the specific, sometimes difficult language that brothers use to let each other know they care, but Fitzpatrick manages to do so perfectly, and it makes their relationship all the more beautiful and affecting. Lights All Night Long is both an expertly crafted mystery and a dazzling debut from an author who's truly attuned to how families work at their darkest moments. . . . An excellent novel from an author who seems to be at the beginning of an impressive career." —The Los Angeles Times
 
 "Formidably accomplished. . . . Fitzpatrick sharply examines the cheapness of life while at the same time flagging up and homing in on various redemptive riches, from brotherly bonds to cross-cultural relations to the pursuit of justice. . . . Few debut novels are so tightly plotted and powerfully written. . . . A gripping, emotional journey."—The Minneapolis Star Tribune

 "A slyly comic, knife-in-the-heart debut novel."—O, The Oprah Magazine

"Lights All Night Long is that rare work of fiction that gathers page-turning momentum from its prose as much as its plot. Fitzpatrick's writing, accessible yet exquisite, relies on surgically precise metaphors for a lot of heavy emotional lifting. . . . Darkly beautiful, melancholic but not bleak, Lights All Night Long is storytelling at its finest. Fitzpatrick has written a compelling novel full of intimately portrayed, easy-to-love characters whose spoiled joys and resurgent hopes will linger with readers." —Bookpage

"Lights All Night Long is as delicious as it is dazzling—a mystery I was tempted to read in one sitting as well as a startling, clear-eyed exploration of what holds us together, regardless of location or distance. Brilliantly conceived and exquisitely observed, Lydia Fitzpatrick's debut shines as brightly as its title."—Chloe Benjamin, author of The Immortalists

"For readers drawn to literary thrills, Lights All Night Long offers drugs, sex, and murder, but this supple, sparkling novel is really about tender souls navigating unfamiliar terrain and human bonds warm enough to thaw snowbanks. The indecipherable language of loss, love, and longing is normally impossible to understand. At last, thankfully, we have Lydia Fitzpatrick to interpret it."—Adam Johnson, winner of the Pulitzer Prize for The Orphan Master's Son
 
"Lights All Night Long is utterly brilliant and completely captivating. Lydia Fitzpatrick writes with cinematic clarity about life on margins of contemporary Russia and America. The result is one of the most propulsive, un-put-downable literary novels I've read in ages."—Anthony Marra, author of A Constellation of Vital Phenomena

"This intricate, capacious, startlingly inventive novel is so vivid, and rings so true, that its characters have taken up permanent residence in my imagination. What an accomplishment."—R.O. Kwon, author of The Incendiaries

"A cross-cultural coming-of-age story that breaks your heart in the best way. Full of tender hopes and hard truths, Lydia Fitzpatrick's first novel marks the debut of a gifted storyteller."—Maggie Shipstead, author of Seating Arrangements

"The bonds of family and homeland—new and old—are tested in this sexy and pensive thriller."—The Observer

"Beyond the brothers' crystalline characterizations, Fitzpatrick gifts her intriguing debut with elegant prose, affecting images, and rich settings."—Booklist (starred review)

"This vivid coming-of-age novel spools out an engrossing mystery amid a tender story about family ties and adopted homes." — Esquire

"A poised, graceful literary debut… An absorbing tale imparted with tenderness and compassion."— Kirkus

"Fitzpatrick's enthralling debut about a 15-year-old Russian exchange student in small-town Louisiana is difficult to stop reading once you start. Well-written. Well-paced. Memorable characters. In the best possible way, this novel is simply very gratifying." — AM NY

"Fitzpatrick's remarkable debut novel is a coming-of-age narrative interwoven with a gripping mystery." — Shelf Awareness

"A glittering debut. . . . The murder mystery is intricate and well-crafted, but the highlight is the relationship between the two brothers—the shy brainiac and the charming addict—and in the smoldering, seething resentment felt by young people. This is a heartbreaking novel about the lengths to which people go to escape their own pain, and the prices people are willing to pay to alleviate the suffering of their loved ones."—Publishers Weekly