Fantomorphia: An Extreme Coloring and Search Challenge (Paperback)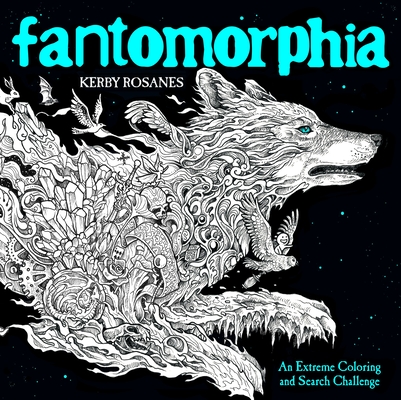 Description
---
A fantastic, single-sided adult coloring book from Kerby Rosanes, the internationally bestselling artist behind Mythomorphia, Animorphia, and Imagimorphia. The perfect stocking stuffer gift for anyone who loves a coloring book challenge!  

A coloring book like you've never seen before—perfect for colored pencils, crayons, or markers!

Fantomorphia is artist Kerby Rosanes's first single-sided coloring book, an amazing adult coloring book challenge featuring his trademark strange and super-detailed images, and perfect for coloring then posting on the wall or framing. 

Kerby works in intricately detailed black-and-white lines to create creatures, characters, patterns, and tiny elements to form massive compositions of mind-boggling complexity. The book invites readers to complete the drawings and find hidden treasures and creatures scattered throughout its pages. Bring your creativity to complete the breath-taking drawings and find hidden treasures and creatures scattered throughout the pages of Animorphia.

Fantomorphia contains 19 intricate images of stunning fantastical creatures morphing and shapeshifting into Kerby's signature, breath-taking scenes. The world that he imagines will excite and transport drawers, as he brings this beautiful fantasyscape and its creatures to life.
About the Author
---
Philippines-based illustrator Kerby Rosanes runs the popular Sketchy Stories blog. He works mainly with ordinary black pens to magically illustrate his "doodle" world. Most of his works are characterized by whimsical lines, patterns, characters and little elements that are spontaneously combined to create massive compositions depicting his everyday experiences or anything that inspires him.
Praise For…
---
"If God, as they say, is in the details, then Kerby Rosanes's art is indeed heavenly. His mesmerizing imagination and how he translates it onto the page with breathtaking draughtsmanship is truly astonishing."—Chip Kidd, graphic designer 

"Follow your imagination with these intricate and surreal illustrations by Kerby Rosanes. Animals morph into one another, and tons of tiny details all add up to make a leopard's head. Sharpen your pencils, and your wits."—BuzzFeed