The Unwanted: America, Auschwitz, and a Village Caught in Between (Paperback)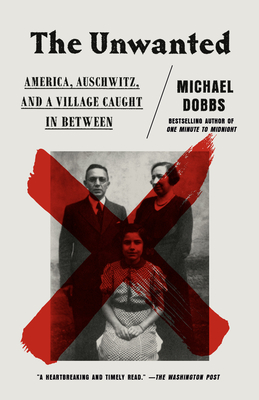 $17.95
ON HAND in at least ONE of our stores. Click through or call for up-to-the-minute availability.
Description
---
Published in association with the United States Holocaust Memorial Museum, a riveting story of Jewish families seeking to escape Nazi Germany.

In 1938, on the eve of World War II, the American journalist Dorothy Thompson wrote that "a piece of paper with a stamp on it" was "the difference between life and death." The Unwanted is the intimate account of a small village on the edge of the Black Forest whose Jewish families desperately pursued American visas to flee the Nazis. Battling formidable bureaucratic obstacles, some make it to the United States while others are unable to obtain the necessary documents. Some are murdered in Auschwitz, their applications for American visas still "pending."
     Drawing on previously unpublished letters, diaries, interviews, and visa records, Michael Dobbs provides an illuminating account of America's response to the refugee crisis of the 1930s and 1940s. He describes the deportation of German Jews to France in October 1940, along with their continuing quest for American visas. And he re-creates the heated debates among U.S. officials over whether or not to admit refugees amid growing concerns about "fifth columnists," at a time when the American public was deeply isolationist, xenophobic, and antisemitic.
     A Holocaust story that is both German and American, The Unwanted vividly captures the experiences of a small community struggling to survive amid tumultuous world events.
About the Author
---
MICHAEL DOBBS was born and educated in Britain, but is now a U.S. citizen. He was a long-time reporter for The Washington Post, covering the collapse of communism as a foreign correspondent. He has taught at leading American universities, including Princeton, the University of Michigan, and Georgetown. He is currently on the staff of the United States Holocaust Memorial Museum. His previous books include the bestselling One Minute to Midnight on the Cuban missile crisis, which was part of an acclaimed Cold War trilogy. He lives outside Washington, D.C.
Praise For…
---
"A captivating, remarkably well-documented book that tells the little-known story of German Jews deported by the Nazis to unoccupied France in October 1940. Shuttled from one terrible camp to another, they desperately sought American visas to avoid an even more awful fate, deportation to the East. The author keeps the reader breathless as he relates, with great precision, the history of U.S. diplomacy toward the Jews of the Third Reich. I know this subject intimately, yet I read this book in one sitting, without skipping a line. A great achievement!." —Serge Klarsfeld, Historian and Nazi Hunter
 
"A heartbreaking and timely read. . . . [Dobbs has] a reporter's eye for narrative and a historian's attention to detail and context. . . . He follows these Jewish families through harrowing cycles of deportation and desperation as they attempt to flee to safety." —The Washington Post

"[W]eaves a devastating tapestry of too many hopes wrecked and too few lives saved. . . . [Dobbs] chronicles in meticulous, suspenseful detail the desperate perseverance of one Kippenheim family after another to find an escape from Nazi Europe." —The Wall Street Journal

"Too often when we speak of atrocities, mass murder, crimes against humanity, or genocide we think in terms of hundreds of thousands, if not millions. The Unwanted reminds us that the victims of each atrocity are individuals with their own story and their own particular tragedy. Michael Dobbs has written a compelling history of the Jewish community of one town. We come to know these individuals in a deeply personal way. He brings us into their lives and we experience their desperate struggle to survive at a time when they were abandoned by the world." —Deborah E. Lipstadt, Ph.D., author of Antisemitism Here and Now

"Michael Dobbs has written a moving and powerful book that delves into detailed historical records of a single German town to offer a vivid portrait of the human costs of Nazi antisemitism and the tragic consequences of an unresponsive refugee policy. A compelling read for anyone concerned about the effects of refugee policy in the face of contemporary episodes of persecution and ethnic violence." —Michael Chertoff, U.S. Secretary for Homeland Security, 2005–2009