Small Mercies: A Novel (Hardcover)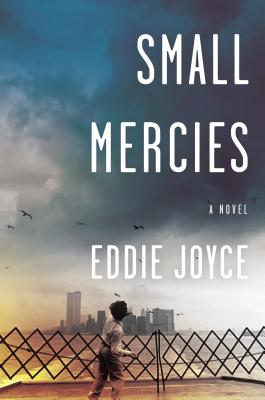 $30.75
Temporarily Unavailable
Description
---
"An intimate family portrait."
—The New York Times
 
"Eddie Joyce's terrific first novel is so American that the story might as well have taken place at the base of the Statue of Liberty."
—Richard Russo
 
"An inside look at one Staten Island family's struggle with grief . . . [A] poignant, deeply affecting tale." 
—Martha Stewart Living, a Book Club selection
 
"[A] terrific debut novel. . . . Joyce layers . . . different characters' perspectives nimbly and skillfully, infusing his portrait of a messy, complicated, loving family with heartfelt emotion."
—Sara Vilkomerson, Entertainment Weekly, A-
 
A startling and tender portrait of one family's struggle to make peace with their son's death

An ingeniously layered narrative, told over the course of one week, Eddie Joyce's debut novel masterfully depicts an Italian-Irish American family on Staten Island and their complicated emotional history. Ten years after the loss of Bobby—the Amendola family's youngest son—everyone is still struggling to recover from the firefighter's unexpected death. Bobby's mother, Gail; his widow, Tina; his older brothers Peter, the corporate lawyer, and Franky, the misfit; and his father, Michael, have all dealt with their grief in different ways. But as the family gathers together for Bobby Jr.'s birthday party, they must each find a way to accept a new man in Tina's life while reconciling their feelings for their lost loved one.

In unflinching but lyrical prose, Joyce shows us one mother's struggle to keep her family together and preserve the memory of her son. Following Gail as she moves from the corner offices of white-shoe Manhattan law firms to the blue-collar gin mills of the outer boroughs, Small Mercies reveals a different New York, one that exists in the hearts and minds of its inhabitants.

Presented through multiple points of view, Small Mercies explores the conflicts and deep attachments that exist within families. Heart-wrenching and profoundly relatable, Joyce's debut is a love letter to Staten Island and a deeply affecting portrait of an American family.
About the Author
---
EDDIE JOYCE was born and raised on Staten Island. A graduate of Harvard University and Georgetown Law Center, he practiced law in Manhattan for ten years. When his twin daughters were born in 2009, he left the legal profession to stay home and help raise them while pursuing his dream of being a writer. He lives in Brooklyn with his wife and three daughters. Follow @eddiejjoyce on Twitter.
Praise For…
---
"Joyce's first novel is a paean to his native borough, Staten Island, and the resilience of the Italian- and Irish-Americans who call it home . . . The book revitalizes the once widely discussed idea of the 'Sept. 11 novel,' making that communal horror a pivotal part of an intimate family portrait."
—The New York Times
"[A] terrific debut novel. . . . Joyce layers … different characters' perspectives nimbly and skillfully, infusing his portrait of a messy, complicated, loving family with heartfelt emotion."
—Sara Vilkomerson, Entertainment Weekly, A-


"An inside look at one Staten Island family's struggle with grief . . . [A] poignant, deeply affecting tale." 
—Martha Stewart Living, a Book Club selection


"The story is all Staten Island, but the themes are universal."
—Staten Island Advance
"An intergenerational story of family dynamics that's layered, complicated and intensely readable. . . . Staten Island features as more than a setting. It's the heart of the family. . . . Firefighting was a family business, and the idea that you can save others but you can't save yourself is a metaphor that informs the rest of the book. . . . This isn't a novel that paints people as saints and sinners; every character here comes complete with individual triumphs and failures. We see in detail the way coping mechanisms drive the Amendolas apart and bring them back together in a way that, far from being unique to them, is part of the fabric of every close family."
—BookPage
"Sense of place is as strong here as any character in
Small Mercies
– with Staten Island representing a neighborhood-and-tradition-oriented lifestyle seldom found anymore on the East Coast. . . . There is a marvelous thread of March Madness woven throughout the novel as each member of the Amendola family, during 'Bobby's favorite week' – the book's seven-day time line – gear up for the annual 'Cody's Pool' at Staten Island's fictional Cody's Tavern. Author Joyce, an attorney who like Bobby was once a Staten Island basketball phenomenon, uses the sport to inject just the right amount of humor cum passion here."
—The Buffalo News
"A sharp portrait of a family's history and its pain. . . . Joyce has a keen eye for the familial culture of Italian/Irish tribes on Staten Island and how it informs his characters' development. He has an insightful and descriptive touch. . . . An intimate, familiar, and appealing story of tribal longing for safety, fealty, and permanence."
—Washington Independent Review of Books
"
Small Mercies
is the story of a family and of a tragedy, but it is also a story about 'place' in the best tradition of American literature. . . . There are dazzling, revelatory lines throughout."
—The Portland Press Herald
"A realistic portrait of everyday Staten Island life—basketball pools, local bars and pizzerias, high school basketball games, and big Sunday dinners. . . . An empathetic and honest account of an imperfect, believable family. . . . Fully realized characters that we genuinely care about."
—The Berkshire Eagle
"An emotionally rich debut novel about family dynamics in the wake of tragedy. If Staten Island were Asbury Park, this former lawyer-turned-novelist could be its literary Springsteen. He was born and raised in the borough, which one of his characters calls 'the servants' quarters of the city,' and he has a deep affinity for the ethnic assimilations, class struggles, marital discontents and larger ambitions of those who share his roots. . . . Readers will get to know these characters and care about them to the very last page."
—Kirkus Reviews


"This assured debut novel is an insightful psychological tale of family and of love and loss. . . . Joyce gets the quotidian details of this family's life exactly right: the ever-present aromas of pasta and meatballs; the high-school athletic trophies still on display. He also pens a love letter to the forgotten borough of Staten Island, evoking its deep community ties with heartfelt emotion."
—Booklist


"Joyce writes with sensitivity about his grief-stricken characters. . . . It's clear that Joyce, a native of Staten Island, has deep affection for his characters and the pride they feel in their local rituals."
–Publishers Weekly


"Eddie Joyce's terrific first novel is so American that the story might as well have taken place at the base of the Statue of Liberty. His Amendola family and their beloved Staten Island may be flawed, but they represent what's best and most necessary in the American character, what our tired and poor still yearn for."
—Richard Russo, Pulitzer Prize-winning author of Empire Falls
"Eddie Joyce's triumphant first novel rings like a bell: for Staten Island, for husbands and wives, for mothers and sons. This is a beautiful book, and Joyce's deep, complicated love for his characters makes them seem like they could amble off the page and into the nearest bar, where it would be a joy to sit beside them and have a cold beer."
—Emma Straub, New York Times bestselling author of The Vacationers
"A warm and absorbing family saga from Staten Island—'this forgotten place,' as one character thinks of it, 'this fifth of five boroughs.' With its focus on one tightknit clan's loves and hates and births and deaths and joys and sorrows, Small Mercies recalls the work of Alice McDermott and Colum McCann. Eddie Joyce's big-hearted generosity is apparent in every word. He cares deeply about his people, so we will too." 
—Stewart O'Nan, author of West of Sunset

"Small Mercies isn't just the best Staten Island novel ever written; it's also the best novel yet at capturing the human suffering that resulted from the 9/11 attacks on the World Trade Center. Joyce tells the story of all New York during that heartbroken, haunted period. His understanding of the role a hometown plays in the development of character rivals William Kennedy's, and his gift for choosing resonant details and peeling back the layers of emotion in ordinary moments recalls Alice McDermott's. A kaleidoscopic novel of a people in grief, Small Mercies paints a winning portrait of the loyal, tribal souls of Staten Island. The high-spirited characters in this book have such a good time even when grieving that they may almost make you think about moving there if they aren't careful."
—Matthew Thomas, New York Times bestselling author of We Are Not Ourselves

"The Staten Island family whose voices tell this story in turns are so real I feel like I've been to their house and eaten their baked ziti. Yes, it's a 9/11 novel, but maybe it's exactly the right kind of 9/11 novel: earnest, unabashedly sentimental, real and not manipulatively tear-jerking. SI native Joyce knows what he's talking about, and how to talk about it."
—Emily Gould, Paper
"Small Mercies, a first novel that does not read like a first novel, tells the story of the Amendolas, a working-class, Staten Island family trying to remain a family in the wake of some terrible bad luck. It's a very good book, with a texture of reality, a sense of place, and a genuine warmth and seriousness that is rare in contemporary fiction." 
—Keith Gessen, author of All the Sad Young Literary Men

"It's been a long time since I've read a debut as good as Eddie Joyce's Small Mercies. His knack for inhabiting the lives of these vivid characters from New York City's 'forgotten borough'—getting inside their minds, capturing the crucial subtleties of each glance and glare and grasp—marks him as a writer to watch. This is the sort of debut William Trevor might have written had he been born a writer from The Rock, a wised-up kid dreaming of the glittering island waiting just across the water."
—Keith Dixon, author of This Is How You Fall and The Art of Losing