Straits: Beyond the Myth of Magellan (Hardcover)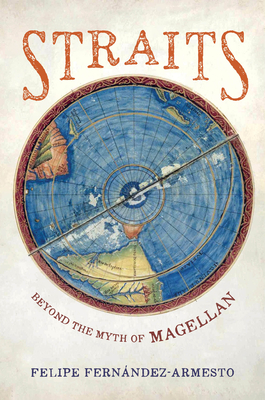 Description
---
An uncompromising study of the fictions, the failures, and the real man behind the myth of Magellan.

With Straits, celebrated historian Felipe Fernández-Armesto subjects the surviving sources to the most meticulous scrutiny ever, providing a timely and engrossing biography of the real Ferdinand Magellan. The truth that Fernández-Armesto uncovers about Magellan's life, his character, and the events of his ill-fated voyage offers up a stranger, darker, and even more compelling narrative than the fictional version that has been celebrated for half a millennium.

Magellan did not attempt—much less accomplish—a journey around the globe. In his lifetime he was abhorred as a traitor, reviled as a tyrant, self-condemned to destruction, and dismissed as a failure. Straits untangles the myths that made Magellan a hero and discloses the reality of the man, probing the passions and tensions that drove him to adventure and drew him to disaster. We see the mutations of his character: pride that became arrogance, daring that became recklessness, determination that became ruthlessness, romanticism that became irresponsibility, and superficial piety that became, in adversity, irrational exaltation. As the real Magellan emerges, so do his real ambitions, focused less on circumnavigating the world or cornering the global spice market than on exploiting Filipino gold. Straits is a study in failure and the paradox of Magellan's career, showing that renown is not always a reflection of merit but often a gift and accident of circumstance.
About the Author
---
Felipe Fernández-Armesto holds the William P. Reynolds Chair of Mission in Arts and Letters at the University of Notre Dame, where he is a professor in the Departments of History and Classics and the Program in the History and Philosophy of Science. His work on exploration and related subjects has won the John Carter Brown Medal, the Caird Medal of the National Maritime Museum in the UK, the Premio Nacional a Investigación of the Sociedad Geográfica Española, and the World History Association Prize (for Pathfinders: A Global History of Exploration), among other prizes. In 2017, the King of Spain awarded him the Gran Cruz de la Orden de Alfonso X el Sabio for services to education and the arts. His most recent books are Out of Our Minds and, as editor, The Oxford Illustrated History of the World.
 
Praise For…
---
"Revelatory. . . . A meticulous indictment of one of the Age of Exploration's biggest names."
— Publishers Weekly

"This book helps to put Magellan in his proper place. . . . Readers will learn a lot not only about the man, but also what drove the people who backed such projects."
— Manhattan Book Review

"Fernández-Armesto has cracked open a window onto a complicated and surprisingly influential life and has told a riveting story to boot!"
— The Explorer's Journal

"Fernández-Armesto is a celebrated historian who has intently studied the surviving sources. . . to provide readers with what may be considered the most reasoned and detailed account of Ferdinand Magellan's life and thought. . . . . Highly recommended."
— CHOICE

"The careful, well-organized discussion of the people, deeds, and contexts of Magellan's voyage makes Straits a valuable contribution to understanding not only the circumnavigation but also the geopolitics of the early sixteenth century."
— Hispanic American Historical Review