The Hum of the World: A Philosophy of Listening (Paperback)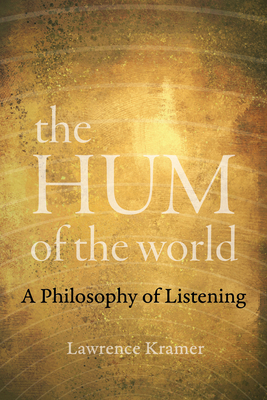 $22.95

ON HAND in at least ONE of our stores. Click through or call for up-to-the-minute availability.
Description
---
The Hum of the World is an invitation to contemplate what would happen if we heard the world as attentively as we see it. Balancing big ideas, playful wit and lyrical prose, this imaginative volume identifies the role of sound in Western experience as the primary medium in which the presence and persistence of life acquires tangible form. The positive experience of aliveness is not merely in accord with sound, but inaccessible, even inconceivable, without it. Lawrence Kramer's poetic book roves freely over music, media, language, philosophy, and science from the ancient world to the present, along the way revealing how life is apprehended through sounds ranging from pandemonium to the faint background hum of the world. This warm meditation on auditory culture uncovers the knowledge and pleasure waiting when we learn that the world is alive with sound.
About the Author
---
Lawrence Kramer, Distinguished Professor of English and Music at Fordham University, is an award-winning composer and the author of fifteen previous books including The Thought of Music, winner of the 2017 ASACP Virgil Thomson Award for Outstanding Music Criticism.
 
Praise For…
---
"Summing Up: Recommended." 
— CHOICE

An Alex Ross "Bookshelf" recommendation 
— The Rest is Noise

"The Hum of the World is a more-than-intriguing read and definitely one that will get you thinking about the role of sound within a cosmic context. . . . Recommended."
— Journal of the Association of Anglican Musicians