The Final Pagan Generation: Rome's Unexpected Path to Christianity (Transformation of the Classical Heritage #53) (Hardcover)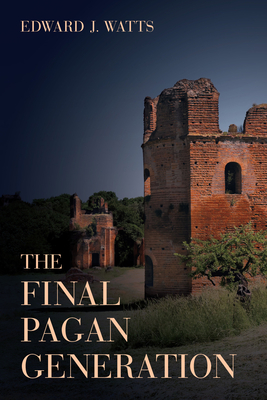 Description
---
The Final Pagan Generation recounts the fascinating story of the lives and fortunes of the last Romans born before the Emperor Constantine converted to Christianity. Edward J. Watts traces their experiences of living through the fourth century's dramatic religious and political changes, when heated confrontations saw the Christian establishment legislate against pagan practices as mobs attacked pagan holy sites and temples. The emperors who issued these laws, the imperial officials charged with implementing them, and the Christian perpetrators of religious violence were almost exclusively young men whose attitudes and actions contrasted markedly with those of the earlier generation, who shared neither their juniors' interest in creating sharply defined religious identities nor their propensity for violent conflict. Watts examines why the "final pagan generation"—born to the old ways and the old world in which it seemed to everyone that religious practices would continue as they had for the past two thousand years—proved both unable to anticipate the changes that imperially sponsored Christianity produced and unwilling to resist them. A compelling and provocative read, suitable for the general reader as well as students and scholars of the ancient world.
About the Author
---
Edward J. Watts is Alkiviadis Vassiliadis Endowed Chair and Professor of History at the University of California, San Diego. He is the author of Riot in Alexandria and City and School in Late Antique Athens and Alexandria, both from UC Press.
Praise For…
---
"A fantastic slice of classical history."
— Foreword Reviews
"Well researched and proficient . . . awash with well-organized historical information."
— Library Journal
"Accessible and engaging for students and general readers."
— Bryn Mawr Classical Review
"Watts builds his case through literary evidence such as letters, orations, poems, and contemporary historical accounts. What emerges is a vivid account of the final pagan generation and a detailed view of their social and professional environment."
— Journal of Late Antiquity
"Accessible to non-specialists and useful as an undergraduate text in courses...an absorbing, erudite, and highly useful book from which anyone studying late antiquity or early Christianity will profit."
— Journal of Early Christian Studies
"Edward Watt's
The Final Pagan Generation
is among the best works of academic history I've ever read."
— Yuval Levin,
"Watts demonstrates his mastery of both primary and modern sources . . . The text is virtually flawless."
— The Classical Journal
"The Final Pagan Generation
offers an innovative, beautifully written, and meticulously up-to-date social and political history of the fourth century." 
— Phoenix, Journal of the Classical Association of Canada
"Watts undertakes a forensic examination . . . seeking to understand what it was like to live through a moment of profound social and political transformation that leaves your world an entirely different place by the end of your life. It's a question with profound implications for the present. . . . a fascinating chronicle."
— PopMatters
"Its carefully detailed and intriguing exploration of generational perspectives toward and within a major cultural shift makes the study a historiographical tour de force. . . .everything comes together so well in this book in a way that is as bold in its uniqueness as beautiful in its exposition."
— Journal of Church and State