Wines of South America: The Essential Guide (Hardcover)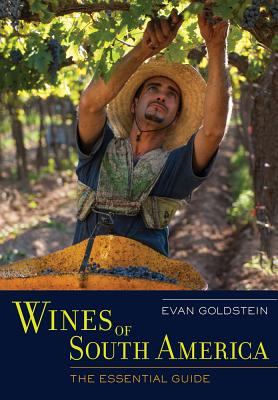 $39.95
NOT on our shelves now. Usually ships from warehouse in several days.
Description
---
The most comprehensive guide to the wines of the entire continent, Wines of South America introduces readers to the astounding quality and variety of wines that until recently have been enjoyed, for the most part, only locally. Master Sommelier Evan Goldstein leads wine enthusiasts on an exciting geographical journey across ten countries, describing the wines, grapes, and regions of each.

Goldstein begins the tour with a continental overview, discussing the arrival of the vine and wine culture, surveying the range of grapes planted and cultivated, and summarizing the development of modernday viticulture and winemaking. He explores the two giants of the continent, Argentina and Chile, in expansive chapters that cover their unique histories, wine regions, wine styles, prominent grapes, and leading producers. Goldstein covers the evolving industries of Brazil and Uruguay and discusses the modern-day activities in Bolivia, Colombia, Ecuador, Paraguay, Peru, and Venezuela.

Up-to-date maps, several engaging photos, and pertinent statistics support each section, which also feature lively profiles of key individuals and wineries that have influenced the development of the craft. A closing chapter is devoted to food in South America, with specific information on wine country dining and leading chefs and restaurants. The author provides practical advice for travelers, an appendix of available resources for learning more about the wines of each region, and lists of 'top 10' wine recommendations for quick reference.
About the Author
---
Master Sommelier Evan Goldstein is President and Chief Education Officer at Full Circle Wine Solutions in San Francisco. He is the author of Perfect Pairings: A Master Sommelier's Practical Advice for Partnering Wine with Food and Daring Pairings: A Master Sommelier Matches Distinctive Wines with Recipes from His Favorite Chefs, both published by UC Press.
Praise For…
---
"Takes aficionados on an exciting journey through the geography, grapes, and wines of the continent's different wine-growing regions."
— Santé
"California-based Master Sommelier Evan Goldstein spent nearly five years researching, traveling and tasting to write this book. Mr. Goldstein's diligence—and mileage—paid off with a highly readable and thorough reference book and travel guide with no contemporary equal. . . . Fans of South American wine will likely consult this source over and over again."
-Lettie Teague's Six Favorite New Wine Books
— Wall Street Journal
"A precise and concise guide to South American wine . . . . The book is a clear and entertaining read, but also with informed opinions from an author who seems to know the region well - the tourism and food sections at the end of the book are both fun and very instructive."
— Patricio Tapia
"Well-designed, well-written, and easy-to-read. . . . Highly recommended."
— Vins & Vignobles
"Pulling together this amount of information is quite an accomplishment. . . . earning this volume a place on the wine geek bookshelf."
— The Wine Economist
"This latest book by Evan Goldstein is just brilliant. . . . Wines of South America is now the most essential guide on this region, eclipsing any other bodies of work in my wine (book) library to this point in time, if not forever."
 
— JUICY TALES BY JO DIAZ
"[Goldstein] is a superb researcher, providing precise and detailed descriptions of wineries and regions."
— Jon Bonné
"If you're thinking about travelling to South America to visit the many wine regions throughout the continent, Wines of South America: The Essential Guide, by Evan Goldstein is THE book to get."
— Becca Yeamans
"Shines an enlightening spotlight - with economical style and considerable authority - on a heretofore under-reported but extremeley important wine-producing region."
— SOMM Journal Review
"A tour de force. . . . No other book that I know comes close to providing the breadth and quality of analysis as this Essential Guide to the Wines of South America. ¡Felicitaciones, Señor Goldstein!"
— Donald Winkler
"A handy guidebook you can throw into your backpack or suitcase as a ready reference when traveling the wine roads of South America."
— Gerald D. Boyd
"Writing with enthusiasm and detail, his coverage of places like the mountainous and foggy vineyards of Boyacá in Columbia, or the chardonnay growing on the limestone hills of Guayas, off the coast of Ecuador, might provoke a visit."
— Wine & Spirits
"One can't help but be impressed with the on-going development that Goldstein uncovers and presents. . . . A very useful, benevolent and up-to-date overview of the South American wine scene.
— Raymond Chan
"Goldstein, master sommelier and wine author, takes us through 10 winemaking South American countries with interesting statistics and colorful descriptions. I learned things I hadn't known; I believe you will too."
— Fred Tasker
"Top 10 Wine Books for Christmas . . . Goldstein's anecdotes and experiences inflect the whole book, giving a flavour of the whole continent as well as being a definitive account of South America's wines."
— The Drinks Business
"Wines of South America: The Essential Guide is an amazing tour de force with an immense amount of information available no other place."
— Wayward Tendrils
"Goldstein has gifted us with a thoroughly authoritative, reader-friendly, and, yes, essential exposition of a current and future source of fabulous wines of all styles. Even if you have no travel plans, his wisdom will guide you to a whole continent of wholly contented drinking possibilities."
— Journal of Wine Economics