France is a Feast: The Photographic Journey of Paul and Julia Child (Hardcover)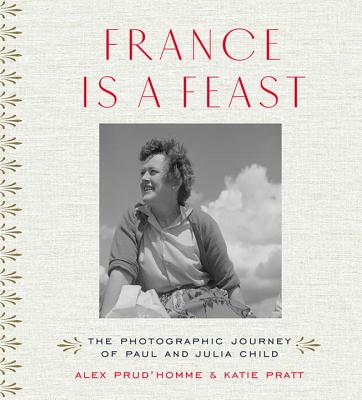 $35.00
ON HAND in at least ONE of our stores. Click through or call for up-to-the-minute availability.
Description
---
From the coauthor of My Life in France, a revealing collection of photographs taken by Paul Child that document his and Julia Child's years in France
Through intimate and compelling photographs taken by her husband Paul Child, a gifted photographer,
France is a Feast
documents how Julia Child first discovered French cooking and the French way of life. Paul and Julia moved to Paris in 1948 where he was cultural attaché for the US Information Service, and in this role he met Henri Cartier-Bresson, Robert Capa, Brassai, and other leading lights of the photography world. As Julia recalled: "Paris was wonderfully walkable, and it was a natural subject for Paul."
Their wanderings through the French capital and countryside, frequently photographed by Paul, would help lead to the classic Mastering the Art of French Cooking, and Julia's brilliant and celebrated career in books and on television. Though Paul was an accomplished photographer (his work is in the collection of the Museum of Modern Art), his photographs remained out of the public eye until the publication of Julia's memoir, My Life in France, in which several of his images were included. Now, with more than 200 of Paul's photographs and personal stories recounted by his great-nephew Alex Prud'homme, France is a Feast not only captures this magical period in Paul and Julia's lives, but also brings to light Paul Child's own remarkable photographic achievement.
About the Author
---
Alex Prud'homme, the grandnephew of Paul Child, is the coauthor with Julia Child of the New York Times #1 bestseller My Life in France. He is also the author of The French Chef in America.

Katie Pratt is a photography curator. Her parents were among Paul and Julia Childs's closest friends.
Praise For…
---
A labor of love, about a love affair... It's extraordinary to see a collection of photographs in which a fiercely talented and accomplished woman is presented with humor, admiration, and love. Julia called Paul 'the man who is always there.' He took pictures at every turn, leaving a record of the streets of Paris and Marseille, of his wife, and of his own ghostly, beloved presence, reflecting the light that she cast.

While it seems we've already seen photographs of every centimeter of Paris from every angle, it's a pleasure to look at the postwar city through Child's viewfinder. A trained draftsman, painter and lithographer, he had strong theories about composition and light, as well as a desire to distill 'some aspect of each place,' whether it be fishermen on the Seine, geometrically framed by the overlapping arches of a bridge, or an old woman unwittingly anchoring an angular shadow in the South of France. As accomplished as the photographs are, and as engaging a character as Paul Child is revealed to be, the real draw here will undoubtedly be his intimate portraits of Julia Child before she was, well, Julia Child. What ultimately makes this enjoyable celebration of his work an important part of the Child archive is that it illuminates the third side of that fabled triangle, connecting us to his love of Julia – and France.

[Paul Child] was a master of light, capturing the subtle details of shadows and highlights, creating photos rather than taking them… Julia makes many appearances in the book and is clearly his muse.

To see [Julia Child's] bare legs splayed on a rooftop, eating and laughing with friends, felt like meeting an entirely different person—a person you immediately want to get drunk and make a clafoutis with... But the book is so much more than black and white slides of a family vacation... Through Paul's photographs you see Julia 'before she was Julia,' and it's tons of fun.

Before Julia Child became Julia Child, she and her husband, Paul, a career diplomat, lived from 1948 until 1954 in Paris and Marseille. In addition to his work in the civil service, Paul was an accomplished photographer who continually documented his surroundings. France Is a Feast… captures the bygone world the couple inhabited.


Full of illuminating photographs, the book is also suffused with personal insight into the couple. The volume is written by Alex Prud'homme, Paul's great-nephew, and the man who coauthored Julia's famed My Life in France. And what's more, Katie Pratt, photo curator of the book… is the daughter of dear friends of the couple. So from text to photographic vignettes, this publication is an intimate look inside the life of one extraordinary couple living in 1950s France.


Fans of Julia Child will certainly enjoy this intimate view of the French Chef and her earliest years in the kitchen. Photographers may appreciate Paul Child's work as it captures midcentury France with charming simplicity. Carefully composed and with a photographer's keen eye, Paul's black-and-white photos illustrate the personal stories of the couple's adventures. More than 200 images of architecture and city street life are shown alongside pictures of Julia and their friends.

[Paul's] black-and-white images show Julia atop Parisian staircases, and cooking among friends. He also took pictures of Paris's landscape — rooftop views and picturesque city storefronts… The intimate images chronicle Julia's discovery of French cooking and the French way of life, and show candid moments of the chef at work in the kitchen.

Thoroughly delicious… Comprised of 225 black-and-white photographs by Paul Child, the husband of Julia Child, taken during the couple's time in France beginning in 1948, this intimate photo album delivers mesmerizing visual addenda to Julia Child's memoir, My Life in France. Zeroing in on postwar Paris, the book covers the couple's early years in France and yields a unique perspective on postwar Europe as well as on the backstory of the woman whose name is synonymous with French cuisine in 20th-century America. The collection includes photos of Julia's days at the Cordon Bleu with fellow chefs, as well as snapshots of her at work amid pots and pans in the tiny kitchen of the couple's Paris apartment. In other photos, Paul plays with shadows and angles while shooting the streets of Paris or the fields of the French countryside. There are also the more everyday traveler's shots featuring a leggy Julia that illuminate the love story between the photographer and his muse.


France Is a Feast showcases Paul Child's black-and-white photography, and offers the most complete biography of Julia Child's husband to date… A "visual extension" of Julia's memoir… [France is a Feast] features more than 220 black and white photos from Paul's lens, plus the most detailed biography to date about the man behind Julia Child.


Before she was the renegade chef, maven of the kitchen, and beloved culinary icon, Julia Child was simply… herself. [France is a Feast] offers an intimate insight into the chef's time in the country she came to love.


Paul's photographs of their years in France are included in France is a Feast: The Photographic Journey of Paul and Julia Child, a handsome, large-format book... Author Alex Prud'homme writes about Paul (his great uncle), Paul's passion for photography, and for his wife, Julia.


Few food icons have maintained a hold on culinary obsessives' imaginations like Julia Child… For a more intimate portrait of Child's real life, look to this new collection of rarely-before-seen black-and-white photographs taken by her husband Paul that chronicles their adventures in Paris and the French countryside, culinary and otherwise.

France is a Feast shows off Paul Child's accomplished photos of Julia Child and postwar Paris.

France is a Feast lives up to its name, presenting a rich treasure-trove of photography, biography, history and culinary lore… While Paul's arresting, artful images offer a fascinating glimpse of the couple's life in France between 1948 and 1954, it's the photos of Julia that are strikingly intimate: Julia kneeling near her cat in the couple's apartment; her nude silhouette in front of a sunlit window in Florence; Julia talking on the phone, with only her long, outstretched legs visible, but her warm, hearty laugh so easy to imagine.