You Can't Win: A Story from Life (Paperback)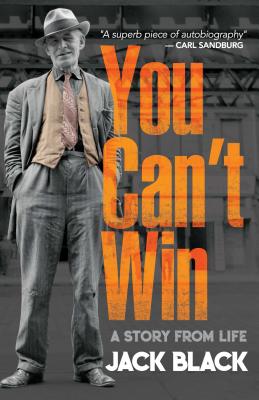 $14.95
NOT on our shelves now. Usually ships from warehouse in several days.
Staff Reviews
---
At last! My bookselling days are now complete! With AK Press reissuing my favorite book of all time, I can ride the rails into the sunset, as my "want list as long as my arm" customers can buy a new copy of this and not have to wait for a rare, OP copy to stumble in. Much more than crime, much more than an autobiography of San Francisco's greatest hobo thief, You Can't Win is an entertaining, engrossing testament to an era very long gone. Masterful!
— Kevin H.
Description
---
"Much of this book is about loneliness. Yet its pages are bracingly companionable. It is one of the friendliest books ever written. It is a superb piece of autobiography, testimony that cannot be impeached. While it is a statement of an American tragedy, it has laughter, brevity, style; as a book to pass the time away with, it is in a class with the best fiction." -- Carl Sandburg, New York World
"Nothing half as rewarding has come down the highway of books about thieves, tramps, murderers, bootleggers and crooks in years " -- New Republic
"I believe Jack Black has written a remarkable book; it is vivid and picturesque; it is not fiction; it is a book that was needed and it should be widely read." -- Clarence Darrow, New York Herald Tribune
A major influence on William S. Burroughs and other Beat writers, this lost classic was written by Jack Black, a drifter and small-time criminal. Born in 1872, Black hit the road at the age of 16 and spent most of his life as a vagabond. In this plainspoken but colorful memoir, he recaptures a hobo underworld of the early twentieth century, a time when it was possible to pass anonymously from town to town. Black's firsthand accounts of hopping trains, burglaries, prison, and drug addiction offer a compelling portrait of life outside the law and honor among thieves.
About the Author
---
The traveling criminal known as Jack Black was born in 1872 and disappeared in 1932. Black spent most of his life as a petty thief, opium addict, and convict. His matter-of-fact autobiography, You Can't Win, was published in 1926, and its stranger-than-fiction accounts of hobo life exercised an enormous influence on William Burroughs and other Beat novelists.