Marcus Off Duty: The Recipes I Cook at Home (Hardcover)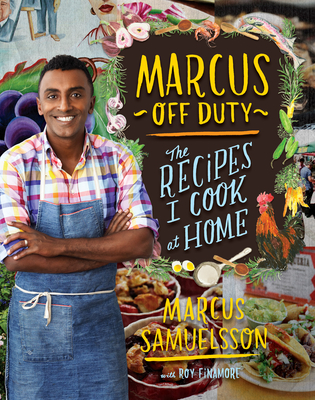 $35.00
Temporarily Unavailable
Description
---
The award-winning celebrity chef and New York Times best-selling author unwinds at home, sharing 150 relaxed, multicultural dishes
 For two decades, Marcus Samuelsson has captivated food lovers with his brilliant culinary interpretations. Born in Ethiopia, raised in Sweden, and trained in European kitchens, he is a world citizen turned American success story. Not only was Samuelsson the youngest chef ever to receive three stars from the
New York Times,
he is also a five-time James Beard Award recipient, a winner of
Top Chef Masters,
and a judge on
Chopped.
Chosen by President Obama to cook the first state dinner, he is now a charismatic TV host.
In this book, the chef who former President Bill Clinton says "has reinvigorated and reimagined what it means to be American" serves up the dishes he makes at his Harlem home for his wife and friends. The recipes blend a rainbow of the flavors he experienced in his travels—Ethiopian, Swedish, Mexican, Caribbean, Italian, and Southern soul. His eclectic, casual food includes dill-spiced salmon; coconut-lime curried chicken; mac, cheese, and greens; chocolate pie spiced with Indian garam masala; and for kids, peanut noodles with slaw. This is an inside glimpse into how one of the world's top chefs cooks in his home kitchen for those nearest and dearest to him.
About the Author
---
MARCUS SAMUELSSON owns Red Rooster Harlem, Ginny's Supper Club, and Street Bird. He is the author of Marcus Off Duty; the New York Times bestseller Yes, Chef; the James Beard Award-winning Soul of a New Cuisine; and Aquavit. He frequently appears as a judge on Chopped and lives with his wife in Harlem.
Praise For…
---
"In doable dishes that favor bold spices, such as the garam masala and serranochiles in habesha lamb chops with apple-mango chutney, and crunchy and creamy components, such as the fried pickles served with fish & chips and the shrimp salad atop corn dogs, ­Samuelsson deliciously showcases his knowledge of global flavors and talent for combining them in unexpected ways. VERDICT Highly recommended for adventurous and well-traveled home cooks, as well as fans of Susan Feniger's Street Food." —Library Journal "Marcus is a great chef, a great cook, and a transformative figure in the landscape of American food. Seeing his style and his interests change over the years has been fascinating. I've watched him first hand as he eats his way through a city, soaking it all up, mind whirring. I guess this is what he's been doing with all that information and experience: Marcus Off Duty. It's fair to say you would always be a very lucky person if you were invited over to Marcus's house for dinner. Now, with this book, everyone can join the party." —-Anthony Bourdain   "With Marcus Off Duty, Marcus Samuelsson steps out of the restaurant kitchen and shows you how to cook the global, casual, flavorful food he loves most. Every recipe, story, and tip is not only thoughtful and imaginative, but also completely accessible. It's like having your own private cooking lesson and fabulous dinner party, hosted by one of the country' s greatest culinary stars!" —- Gail Simmons, food expert, TV personality, and author of Talking with My Mouth Full   "Marcus has a gift to take unexpected flavor combinations and make them sing on a plate. His exploration of other cultures outside his own makes this book an adventure to read at home and in the kitchen." —-Zarela Martinez, chef and author   "Marcus is the most interesting cook I know. He possesses a unique ability to bring the cuisine of the world to our family table. And here is the magical touch: He has the love to make it happen. Whether it's a perfect poached egg, a biscuit, or a spicy grilled fish, he elevates all to an amazing level. Marcus is truly that cook who can transform the basics into the stellar, yet keep it real at the same time." —-Jonathan Waxman, chef and author   "Marcus teaches us inspired recipes that are approachable yet rich with the style and finesse that's been his trademark. What I love the most about Marcus Off Duty is that he not only gives great recipes, but arms us with the tools and tricks to tackle them all." — John Besh, restaurateur, author, and philanthropist —