First Bite: How We Learn to Eat (Paperback)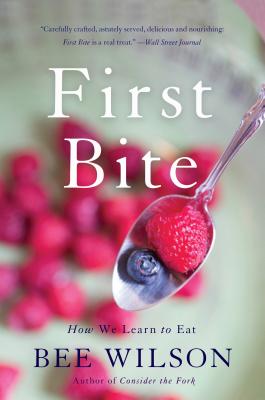 $17.99
ON HAND in at least ONE of our stores. Click through or call for up-to-the-minute availability.
December '15 Indie Next List
---
"Food scholar Wilson explores not only how our food habits are shaped and the origins of our tastes, but also the problems we have with our present diet and how we can change our palates to lead healthier lives. Entertaining, informative, and packed with food wisdom, First Bite belongs on the shelves of food lovers, history buffs, and all fans of good writing."
— Linda Bond (E), Auntie's Bookstore, Spokane, WA
Description
---
We are not born knowing what to eat; as omnivores it is something we each have to figure out for ourselves. From childhood onward, we learn how big a "portion" is and how sweet is too sweet. We learn to enjoy green vegetables -- or not. But how does this education happen? What are the origins of taste?

In First Bite, award-winning food writer Bee Wilson draws on the latest research from food psychologists, neuroscientists, and nutritionists to reveal that our food habits are shaped by a whole host of factors: family and culture, memory and gender, hunger and love. Taking the reader on a journey across the globe, Wilson introduces us to people who can only eat foods of a certain color; prisoners of war whose deepest yearning is for Mom's apple pie; a nine year old anosmia sufferer who has no memory of the flavor of her mother's cooking; toddlers who will eat nothing but hotdogs and grilled cheese sandwiches; and researchers and doctors who have pioneered new and effective ways to persuade children to try new vegetables. Wilson examines why the Japanese eat so healthily, whereas the vast majority of teenage boys in Kuwait have a weight problem -- and what these facts can tell Americans about how to eat better.

The way we learn to eat holds the key to why food has gone so disastrously wrong for so many people. But Wilson also shows that both adults and children have immense potential for learning new, healthy eating habits. An exploration of the extraordinary and surprising origins of our tastes and eating habits, First Bite also shows us how we can change our palates to lead healthier, happier lives.
About the Author
---
Bee Wilson is a celebrated food writer, food historian, and author of five books, including First Bite: How We Learn to Eat and Consider the Fork: A History of How We Cook and Eat. She has been named BBC Radio's food writer of the year and is a three-time Guild of Food Writers food journalist of the year. She writes a monthly column on food in the Wall Street Journal. She lives in Cambridge, England.
Praise For…
---
A Wall Street Journal Book of the Year
—
-
"
First Bite
is a feast of a book."—
Financial Times
"An anthropological category killer on the topic of how we learn to eat."
—
New York Times Book Review
"A fascinating new book.... [Bee Wilson's] message is a hopeful, even liberating, one."
—
Washington Post
"A brilliant, heartfelt book about [the] crisis in our contemporary diet.... Wilson is intelligent, passionate, sincere, tirelessly curious and endlessly willing to admit mistakes and learn from experience."
—
London Review of Books
"Delightful.... The well-meaning experts lecture us about what we ought to eat; Wilson wants to understand why we eat what we do."
—
Guardian (UK)
"Wilson sprinkles just enough personal narrative through First Bite to establish her as a sympathetic figure without turning the book into a memoir.... Her tone is refreshingly loose and friendly; she's one of the few scholars I can think of who can effectively quote both Margaret Mead and Homer Simpson."
—
Washington Post
"Wilson lays out her discoveries in a series of easily digestible chapters that balance science and anecdote with short interludes on various foods.... Her tone is down-to-earth and research-based at once, gentle, encouraging, no-nonsense."
—
Boston Globe
"Absorbing read...timely."
—
Los Angeles Review of Books