Voices of the Pacific: Untold Stories from the Marine Heroes of World War II (Paperback)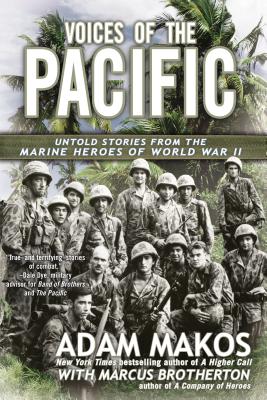 $17.00
Temporarily Unavailable
Description
---
From the New York Times bestselling author of Spearhead and A Higher Call comes an unflinching, brutal, and relentless firsthand chronicle of United States Marine Corps' actions in the Pacific during World War II.

Following fifteen Marines from the Pearl Harbor attack, through battles with the Japanese, to their return home after V-J Day, Adam Makos and Marcus Brotherton have compiled an oral history of the Pacific War in the words of the men who fought on the front lines. With unflinching honesty, these Marines reveal harrowing accounts of combat with an implacable enemy, the friendships and camaraderie they found—and lost—and the aftermath of the war's impact on their lives.

With unprecedented access to the veterans, rare photographs, and unpublished memoirs, Voices of the Pacific presents true stories of heroism as told by such World War II veterans as Sid Phillips, R. V. Burgin, and Chuck Tatum—whose exploits were featured in the HBO® miniseries, The Pacific—and their Marine buddies from the legendary 1st Marine Division.

Includes rare photos!
About the Author
---
Hailed as "a masterful storyteller" by the Associated Press, Adam Makos is the author of the New York Times bestseller A Higher Call, Spearhead, and the critically-acclaimed Devotion. Inspired by his grandfathers' service, Adam chronicles the stories of American veterans in his trademark fusion of intense human drama and close-up military action, securing his place "in the top ranks of military writers," according to the Los Angeles Times. In the course of his research, Adam has flown a WWII bomber, accompanied a Special Forces raid in Iraq, and journeyed into North Korea in search of an MIA American serviceman.  

Marcus Brotherton is a journalist and professional writer known internationally for his literary collaborations with high-profile public figures, humanitarians, inspirational leaders, and military personnel. He has authored or coauthored more than twenty-five books including We Who Are Alive and Remain, A Company of Heroes, and Shifty's War, and is a coauthor of Call of Duty with Lt. Buck Compton.
Praise For…
---
Praise for Voices of the Pacific

"True—and terrifying—stories of combat."—Dale Dye, military advisor for Band of Brothers and The Pacific

"First-person accounts of war with the same gut-level realism as the opening scene in Saving Private Ryan."—Bob Welch, author of Resolve
 
"Imagine a last conversation with your father or grandfather who fought in WWII, only this time he tells you the stories he always held back. That's Voices of the Pacific."—Larry Alexander, New York Times bestselling author of Biggest Brother

"An impressive array of personal stories from the nightmarish fights on islands such as Guadalcanal, Peleliu, and Iwo Jima, all delivered in a simple, poignant narrative that readers will adore."—Ian Gardner, author of Tonight We Die as Men
 
"Reading Voices of the Pacific is like listening in on a conversation between war buddies at a reunion—honest, unsanitized, and deeply humbling."—Justin Taylan, historian, founder of Pacific Wrecks