Parked (Hardcover)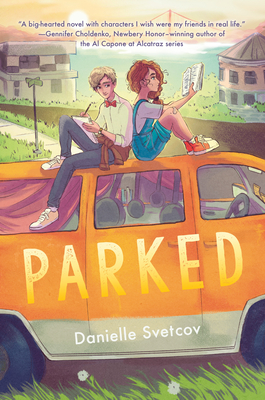 $17.99

NOT on our shelves now. Usually ships from warehouse in several days.
Description
---
For fans of Rebecca Stead and Joan Bauer comes a scrappy, poignant, uplifting debut about family, friendship, and the importance of learning both how to offer help and how to accept it.

"A big-hearted novel with characters I wish were my friends in real life." --Gennifer Choldenko, author of the Al Capone at Alcatraz series

Jeanne Ann is smart, stubborn, living in an orange van, and determined to find a permanent address before the start of seventh grade. Cal is awkward, sensitive, living in a humongous house across the street, and determined to save her. Jeanne Ann wants Cal's help just about as much as she wants to live in a van.

As the two form a tentative friendship that grows deeper over alternating chapters, they're buoyed by a cast of complex, oddball characters, who let them down, lift them up, and leave you cheering. Debut novelist Danielle Svetcov shines a light on a big problem without a ready answer, pulling it off with the perfect balance of humor, heartbreak, and hope.

"Insightful [and] touching...Not to be missed." --Karen Cushman, author of The Midwife's Apprentice
"You won't be able to put it down. Trust." --ScaryMommy.com
"For readers of Dan Gemeinhart [and] Katherine Applegate." --The Children's Book Review
"Relatable and beautifully told." --Commonsense Media
"Pertinent....Honest...Uplifting...Fresh." --PW
"Utterly of this moment." --Jack Cheng, author of See You in the Cosmos
"Absorbing and warmhearted." --Annie Barrows, author of the Ivy & Bean series
"Realistically hopeful...Recommended." --SLC
"Sharp...Perceptive." --BCCB
"Unforgettable." --Brightly
About the Author
---
An impatient chef once told author Danielle Svetcov, "You talk too much, you move too slow!" when she was peeling onions in his restaurant kitchen. He was right. So she doubled down on writing, which rewards thinking (and talking) and going slow. Danielle wrote for The New York Times, U.S. News & World Report, The Chicago Tribune Magazine, and others before becoming a literary agent and, now, an author. With her debut novel, Parked, she writes her way back to her first loves--food and friendship. You can find Danielle across the Golden Gate Bridge from San Francisco with her salami-loving family.
Praise For…
---
"Pertinent . . . Honest . . . Uplifting . . . Fresh." —Publishers Weekly

"A rich, warm story about family, friendship, and community. Insightful, touching, compelling, and timely, Parked is a terrific book—not to be missed." —Karen Cushman, Newbery Award-winning author of The Midwife's Apprentice 

"This middle grade book is perfect for parents and tweens/teens to read together. It puts a face on homelessness and is a testament to the power of friendship. You won't be able to put it down. Trust." —ScaryMommy.com

"Offers readers alternating and affecting perspectives on the social issues of poverty and homelessness. Parked will appeal to readers of Dan Gemeinhart's The Remarkable Journey of Coyote Sunrise and Katherine Applegate's Wishtree [and will] make an impact on young readers . . . [They] will readily nibble away bit-by-bit at the story until they reach the coveted tender heart of things." —The Children's Book Review

"Relatable and beautifully told . . . Romanticizing or criticizing the burden that Jeanne Ann and her mom face would cut into the momentum of the story, but it stays real [and] age-appropriate. Parked explores the sacrifice people make to realize their American dreams." —Commonsense Media

"An absorbing and warm-hearted read that explores what happens when homelessness and helpfulness collide. Readers will be transported while parked. —Annie Barrows, New York Times bestselling author of the Ivy & Bean series

"Danielle Svetcov has written a novel that's utterly of this moment. It's a book about generosity—not just toward others, but toward oneself. Parked is a reminder that we don't have to feel alone in the world, because we're not." —Jack Cheng, Golden Kite Award-winning author of See You in the Cosmos

"[Through] alternating viewpoints, the reader gets a clear idea of the strife and embarrassment of those facing homelessness and the desperate need of some people to help and want to fix things. Realistically hopeful [and] quirky . . . Recommended." —SLC

"Poignant and full of big-hearted characters, Parked is an unforgettable novel about poverty and friendship." —Brightly 

"Svetcov explores homelessness without it feeling purposeful. Her characters develop gradually, gaining strength in the process. . . . Absorbing." —Booklist

"A sharp look at the economic realities of housing, [and] the fraught nature of white-knighting gets some perceptive treatment ("Don't you want to be rescued?" asks a heedless Cal) . . . Readers will get a deeper look at some hard class and financial truths, and they'll be glad to see Jeanne Ann and her mother get a happy ending." —BCCB

"A big-hearted novel with characters I wish were my friends in real life." —Gennifer Choldenko, author of the Al Capone at Alcatraz series