Mouthful of Birds: Stories (Hardcover)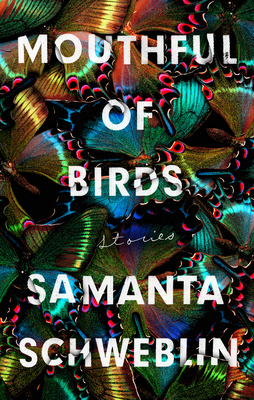 $26.00
On Our Shelves Now. Call store for up-to-the-minute availability.
Staff Reviews
---
Samanta Schweblin's Mouthful of Birds brings the same stunning strangeness we came to expect of her in Fever Dream. Arresting and peculiar, these short stories will engross you in their brutal irony, restored hope, and magical logic. Schweblin's work carries the deftness and surrealist satisfaction of writers like Julio Cortázar and Kelly Link. Eerie and enticing, Mouthful of Birds might necessitate that you close the book, if only for a moment, before reaching for it again.
January 2019 Indie Next List
---
"Samanta Schweblin set a high standard with her translated debut novel Fever Dream, a standard she has now miraculously surpassed with this unnerving new collection of short stories, a must-read for anyone who doubts the written word's ability to touch reality. Mouthful of Birds will rattle your bones, infiltrate your mind, and engulf you in a surreal dream-state of bewilderment and ferocity that will leave you fearing to turn the page, even as you beg for more."
— Tianna Moxley, The River's End Bookstore, Oswego, NY
Description
---
"Superb" -- Vogue

"What makes Schweblin so startling as a writer, however, what makes her rare and important, is that she is impelled not by mere talent or ambition but by vision." -- New York Times

A powerful, eerily unsettling story collection from a major international literary star.

The brilliant stories in Mouthful of Birds burrow their way into your psyche and don't let go. Samanta Schweblin haunts and mesmerizes in this extraordinary collection featuring women on the edge, men turned upside down, the natural world at odds with reality. We think life is one way, but often, it's not -- our expectations for how people act, love, fear can all be upended. Each character in Mouthful of Birds must contend with the unexpected, whether a family coming apart at the seams or a child transforming or a ghostly hellscape or a murder.

Schweblin's stories have the feel of a sleepless night, where every shadow and bump in the dark take on huge implications, leaving your pulse racing, and the line between the real and the strange blurs.
About the Author
---
Samanta Schweblin is the author of the novel, Fever Dream, a finalist for the Man Booker International Prize and her first book translated into English. She was chosen as one of the twenty-two best writers in Spanish under the age of 35 by Granta and is on the Bogotá39-2017 list. Her stories in Spanish have won numerous awards, including the prestigious Juan Rulfo Story Prize, and in English have appeared in The New Yorker, Harper's, and elsewhere. Her work has been translated into twenty languages. Originally from Buenos Aires, she lives in Berlin.

Megan McDowell has translated books by many contemporary South American and Spanish authors, and her translations have been published in The New Yorker, Harper's, The Paris Review, McSweeney's, Words Without Borders, and Vice, among other publications. She lives in Chile.
Praise For…
---
"Schweblin is among the most acclaimed Spanish-language writers of her generation.... [H]er true ancestor could only be David Lynch; her tales are woven out of dread, doubles and confident loose ends.... What makes Schweblin so startling as a writer, however, what makes her rare and important, is that she is impelled not by mere talent or ambition but by vision, and that vision emerges from intense concern with the world, with the hidden cruelties in our relationships with all that is vulnerable — children, rivers, language, one another." —New York Times

"The author's flair for intertwining surrealism with delicate emotionality is again on full display in Mouthful of Birds, a collection of short stories that sit somewhere between miniature mysteries and fairy tales. In this slim and superb book, Schweblin takes on the desire to love, to parent, and to care for one's own body—hardly extraordinary themes—and invests them with a fresh poignancy." —Vogue

"Admirers of Schweblin's work will be delighted to learn that she hasn't lost any of the atmospheric creepiness that made Fever Dream such an unsettling ride. Mouthful of Birds, is just as ethereal and bizarre as its predecessor, and it proves that Schweblin is a master of elegant and uncanny fiction.... Schweblin is gifted at treating the otherworldly with a matter-of-fact attitude, writing about the surreal as if it were unremarkable.... And her writing, beautifully translated by Megan McDowell, is consistently perfect; she can evoke more feelings in one sentence than many writers can in a whole story. Fans of literature that looks at the world from a skewed point of view will find much to love in Schweblin's book, and so will anyone who appreciates originality and bold risk-taking. Mouthful of Birds is a stunning achievement from a writer whose potential is beginning to seem limitless." —NPR

"[T]he stories cumulatively summon a world in which the civilized is constantly receding and to be a human is to live in a state of desperation." —The New Yorker

"Strange and beautiful." —Tommy Orange, The Guardian

"Chilling.... confirm her as a master of the macabre.... [T]his collection of short stories brings to life vivid worlds of terror and unease. Her particular genius lies in the fact that there's something inherently savage and ungovernable about her work: each of these eerie, shocking stories crouches like a tiny feral beast, luring you in with false promises of docility, only to then sideswipe you with sharpened claws and bared fangs." —Financial Times

"Surreal, disturbing, and decidedly original." —Library Journal, starred review

"Schweblin once again deploys a heavy dose of nightmare fuel in this frightening, addictive collection…canny, provocative, and profoundly unsettling." —Publishers Weekly, starred review

"The Grimm brothers and Franz Kafka pay a visit to Argentina in Samanta Schweblin's darkly humorous tales of people who have slipped through cracks or fallen down holes into alternate realities." —JM Coetzee

"The way Schweblin writes is luxurious, and also incredibly direct.... One of the routine pleasures of Schweblin's storytelling, in both Fever Dream and in these stories, is getting swept up in her mad effects. While each story immerses and orients the reader, it also keeps them guessing.... While Schweblin executes each narrative move with propulsive confidence, as though of course it would not go any other way, it is also impossible to guess where a Schweblin story is going. One of the greatest effects of Schweblin's writing is the sensation of having a trapdoor kicked open in your own mind — of not knowing this weird space even existed, but of course. There you are." -- Los Angeles Review of Books

"Schweblin's imagination seemingly knows no bounds." —Refinery29

"Like her previous work and her award-nominated novel Fever Dream, Mouthful of Birds blurs the line between what is reality, what is fantasy, and what is madness." —Bustle

"Schweblin is back with this book of short stories, each more unnerving than the last, and all with the unique ability to leave you with that throbbing, pulsing feeling following an electric shock or a sleepless night or a solid scare or all of the above." —Nylon

"Schweblin builds dense and uncanny worlds, probing the psychology of human relationships and the ways we perceive existence and interpret culture, with dark humor and sharp teeth. An assemblage of both gauzy and substantial stories from an unquestionably imaginative author." —Kirkus Review

"Intense… [has] a visceral effect as Schweblin navigates the extremes of her characters' actions and thoughts, both healing and destructive." —Booklist

"In simple, uncluttered prose, these stories manage to dismantle society's accepted norms then prompt you wonder how to navigate morality without them and question why we ever accepted them in the first place." —Broadly

"[E]xplores the delicate line between real life and fantasy to devastating effect.... Each story's disorienting effect lies in its ability to waver between the concretely real and the hazily unreal. There's a sense of the paranormal—rather than the magic—at play." —Paste