The Speaker (The Reader #2) (Hardcover)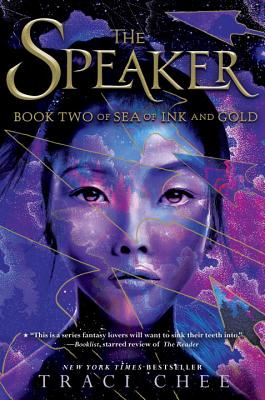 $19.99
Temporarily Unavailable
Description
---
The sequel to the critically-acclaimed New York Times bestselling fantasy The Reader, "highly recommended for fans of Cornelia Funke's Inkheart and female-powered adventures."—School Library Journal

Having barely escaped the clutches of the Guard, Sefia and Archer are back on the run, slipping into the safety of the forest to tend to their wounds and plan their next move. Haunted by painful memories, Archer struggles to overcome the trauma of his past with the impressors, whose cruelty plagues him whenever he closes his eyes. But when Sefia and Archer happen upon a crew of impressors in the wilderness, Archer finally finds a way to combat his nightmares: by hunting impressors and freeing the boys they hold captive.

With Sefia's help, Archer travels across the kingdom of Deliene rescuing boys while she continues to investigate the mysterious Book and the secrets it contains. But the more battles they fight, the more fights Archer craves, until his thirst for violence threatens to transform him from the gentle boy Sefia knows to a grim warrior with a cruel destiny. As Sefia begins to unravel the threads that connect Archer's fate to her parents' betrayal of the Guard so long ago, she and Archer must figure out a way to subvert the Guard's plans before they are ensnared in a war that will pit kingdom against kingdom, leaving their future and the safety of the entire world hanging in the balance.
About the Author
---
Traci Chee is an all-around word geek, she loves book arts and art books, poetry and paper crafts. She studied literature and creative writing at the University of California, Santa Cruz, and earned a master of arts degree from San Francisco State University. Traci grew up in a small town with more cows than people, and now feels most at home in the mountains, scaling switchbacks and happening upon hidden highland lakes. She lives in California with her fast-fast dog. The Speaker is the second book in the trilogy that began with The Reader.
Praise For…
---
Praise for The Speaker:

★ "Filled with even more magic and intrigue than its predecessor, this is a gripping follow-up that will leave readers speculating and wanting more."—Kirkus Reviews, starred review

★ "Strategically written with elements from the previous volume, this entry is rich with twists and turns that will leave readers in constant shock while reminding them that there are no coincidences in this narrative."—School Library Journal, starred review 

"Fans will be knocking down the door to read this exciting sequel."—Booklist 

"Chee has once again created an unforgettable story. Filled with secrets and surprises, this fast-paced storyline draws readers in and keeps them on their toes."—VOYA


Praise for The Reader:

A School Library Journal Best Book of the Year – 2016
Finalist for the 2016 Kirkus Prize
A Kirkus Best Book of the Year – 2016 
An NPR Best Book of the Year – 2016 

"I was spellbound from the first page. An utterly transportive tale of swashbucklers and sharpshooters, masterfully written. Traci Chee has penned a beautiful novel about the power of story, complete with a fantastic cast of characters and an expertly rendered fantasy landscape. This is a book you will not soon forget."—Renée Ahdieh, #1 New York Times bestselling author of The Wrath and the Dawn


★ "Deftly rendered in beautiful prose, narrated through three shifting time lines woven into an interconnected history of duty, honor, and magic. . . . This is a must-have for all those who value a good read with genuine character growth, mystery, unique world-building, adventure, unyielding bonds of loyalty, and pirates. . . . A fresh, diverse fantasy; highly recommended for fans of Cornelia Funke's Inkheart and female-powered adventures."—School Library Journal, starred review


★ "Commanding storytelling and vivid details, particularly of the magical process of reading, bring the story to life… the first of what promises to be an enchanting series."—Kirkus Reviews, starred review


★ "Chee's debut is an intricate, multilayered reading experience… An exploration of self-determination and the magic of the written word, Sefia's story is an absorbing introduction to the Sea of Ink and Gold series."—Publishers Weekly, starred review 


★ "With evocative language, fascinating world building, multifaceted characters, and a compelling plot, this is a series fantasy lovers will want to sink their teeth into."—Booklist, starred review


"Most world-building shies away from tackling the question of literacy within fantasy cultures, but here it serves as the beating meta-heart."—NPR