The Therapist in the Real World: What You Never Learn in Graduate School (But Really Need to Know) (Paperback)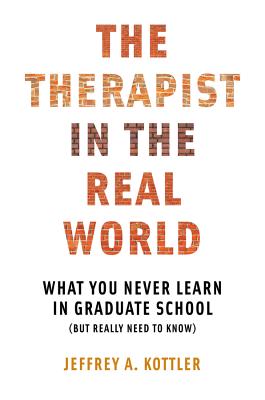 $37.73

NOT on our shelves now. Usually ships from warehouse in several days.
(This book cannot be returned nor exchanged.)
Description
---
Advice and inspiration for the real-life challenges of being a mental health professional.
Graduate school and professional training for therapists often focus on academic preparation, but there's a lot more that a therapist needs to know to be successful after graduation. With warmth, wisdom, and expertise, Jeffrey A. Kottler covers crucial but underaddressed challenges that therapists face in their professional lives at all levels of experience.
PART I , "More Than You Bargained For," covers the changing landscape of the mental health profession and the limits and merits of professional training.
PART II , "Secrets and Neglected Challenges," explores important issues that are often overlooked during training years, including the ways our clients become our greatest teachers, the power of storytelling, and the role of deception in psychotherapy.
And in PART III , "Ongoing Personal and Professional Development," Kottler focuses on areas in which even the most experienced therapists can continue to hone their talents and maximize their potential, laying out effective tips to navigate organization politics, write and publish books and articles, cultivate creativity in clinical work, maintain a private practice, present and lecture to large and small audiences, sustain passion for the work of helping others, plan for the future, and much more.
As honest and inspiring as it is revealing, this book offers therapists and counselors at all levels of experience key ideas for thriving after formal education.
About the Author
---
Jeffrey A. Kottler, PhD, is one of the most prolific authors in the fields of psychology and education, having written over 80 books about a wide range of subjects, many of them featuring his lifelong interest in therapists' inner experience and path to excellence. Jeffrey has authored more than a dozen texts for counselors and therapists that are used in universities around the world and a dozen books each for practicing therapists and educators, many of which represent stories of seminal change. His books have been translated into more than two dozen languages. Some of Jeffrey's most popular books include On Being a Therapist, Learning Group Leadership, Change: What Leads to Personal Transformation, Divine Madness, The Therapist's Workbook, and On Being a Master Therapist: Practicing What We Preach.

Jeffrey has served as a Fulbright Scholar and senior lecturer in Peru (1980) and Iceland (2000), as well as worked as a visiting professor in New Zealand, Australia, Hong Kong, Singapore, and Nepal. He has taught counseling and therapy in universities and workshops throughout the world. Jeffrey is professor of counseling at California State University, Fullerton and the University of St. Thomas (Houston), and the founder of Empower Nepali Girls, an organization that provides educational scholarship for at-risk children in Nepal.
Praise For…
---
[A]n excellent resource for those in graduate school or early career professionals who want to be exposed to issues, concepts, conflicts, and challenges that they had not previously considered. . . . The settings and the scenarios presented are quite varied, and this is a strength of the book. . . . It is not possible in graduate school to learn everything you need to know to be an excellent helping professional. With this volume, Kottler provides graduate students and early career professionals with a look at what might lie ahead and a way to think about what may lie ahead that cannot currently be imagined.
— PsycCRITIQUES

Kottler sets out to provide the unfiltered truth about being a therapist — even if it alarms us. . . . [F]rank, but also encouraging. . . . Kottler offers useful strategies for survival . . . . [H]e shows us how to get the most out of supervision, use creativity to facilitate breakthroughs, admit when we are lost, express curiosity rather than doubt, and teach people to help us when we are stuck — all pivotal skills of effective therapists in the real world.
— PsychCentral

In his most recent book, The Therapist in the Real World, the prolific Jeffrey Kottler offers therapists an amazing amount of useful and practical information. In recommending this practical book, I conclude with Kottler's code: That we do not leave our graduate training behind (nor should we!) when we go out into the real world. And, that we continue to be passionately committed to learning and becoming the best we can be, not just with our clients, but in our everyday lives.

— The Milton H. Erickson Foundation Newsletter

Professional therapists, particularly those newer to their practice, will find the book highly accessible in its writing and presentation of what to expect in the therapeutic experience. Students of clinical psychology will also especially benefit from the frank analysis undertaken to explain where training falls short, why, and what to do to find greater fulfillment in the field. . . . [H]ighly recommended for those students and practitioners experiencing burnout or who are otherwise unable to receive meaningful vocational advice from mentors.
— Somatic Psychotherapy Today