Friendship: The Evolution, Biology, and Extraordinary Power of Life's Fundamental Bond (Paperback)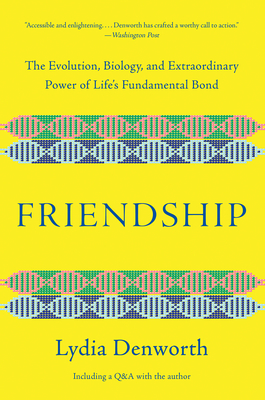 $16.95
Coming Soon. Pre-Order Now!
Description
---
A Next Big Idea Club Must-Read Nonfiction Book of Winter 2020 and a Real Simple Best Book of 2020 (So Far)
A revelatory investigation of friendship, with profound implications for our understanding of what humans and animals alike need to thrive across a lifetime.
In this revelatory investigation, science journalist Lydia Denworth takes us in search of friendship's biological, psychological, and evolutionary foundations. She weaves past and present, field biology and neuroscience, to show how our bodies and minds are designed for friendship across life stages, the processes by which healthy social bonds are developed and maintained, and how friendship is changing in an age of unprecedented use of virtual technologies and social media.
Friendship
is a clarion call for putting positive relationships at the center of our lives.
About the Author
---
Lydia Denworth is the author of two previous books, as well as a contributing editor for Scientific American and blogger for Psychology Today. Her work is supported by the Alfred P. Sloan Foundation, and she lives in Brooklyn, New York.
Praise For…
---
Accessible and enlightening...By highlighting the importance of human connection, Denworth has crafted a worthy call to action.
— Barbara King

[Denworth] has a solid command of the complex material before her and a seemingly effortless ability to make it not just digestible but engaging... [She] sticks to the science, calmly telling us the truth no matter what we need to hear. What else are friends for?
— Daniel Akst

The power of friendship—in many ways the most essential of our relationships—has long been underestimated. It's an absolute pleasure to see Lydia Denworth do it justice in this lovely, insightful, and important book.
— Deborah Blum, Pulitzer Prize-winning author of The Poison Squad

Friendship was once mocked as a naive notion, irrelevant in our species and nonexistent in others. In her lively, personable style, Lydia Denworth reviews what we know about the benefits of close relationships and their long evolutionary history
— Frans de Waal, author of Mama's Last Hug

The science of friendship has grown remarkably rich in recent years, with scientists studying everything from the chemicals that create bonds in our brains to the friendships animals make for years on end. There's a deep evolutionary story to friendship now, and Lydia Denworth tells it in clear, lyrical prose.
— Carl Zimmer, author of She Has Her Mother's Laugh

Critical and convincing... Denworth's work achieves the best of science writing by making complicated concepts clear. She uses intelligent observation, empathy, and curiosity to offer a friendship manifesto that will absolutely affect readers' own personal approaches to friendship.

In addition to examining the scientific underpinnings of friendship, Denworth capably demonstrates how loneliness...is truly a health- and life-threatening condition, and there are things to be done to avoid it. Convincing evidence that evolution endowed us with a need for friends, support, comfort, stimulation, and, ultimately, happiness.

Denworth draws several striking conclusions...[Friendship] provide[s] an effective introduction to its subject.


A sweeping, precise, and engaging narrative about our primordial capacity for friendship. If you care about what really matters in life, read this fantastic natural history of human friendship.
— Nicholas A. Christakis, author of Blueprint: The Evolutionary Origins of a Good Society

I can think of no better rebuke to today's success-obsessed brand of parenting than Denworth's clarion call for friendship. Her convincing narration of the science shows that for our kids to live happily ever after, and successfully too, we must let them spend many more afternoons with friends.
— Julie Lythcott-Haims, author of How to Raise an Adult