Click Here to Kill Everybody: Security and Survival in a Hyper-connected World (Paperback)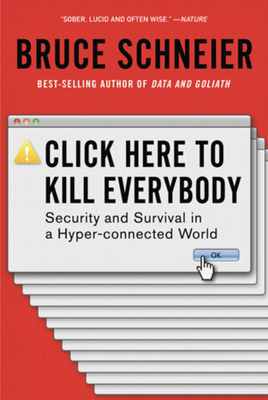 $17.95
ON HAND in at least ONE of our stores. Click through or call for up-to-the-minute availability.
Description
---
"Sober, lucid and often wise." —Nature



The Internet is powerful, but it is not safe.



As "smart" devices proliferate the risks will get worse, unless we act now.
From driverless cars to smart thermostats, from autonomous stock-trading systems to drones equipped with their own behavioral algorithms, the Internet now has direct effects on the physical world. Forget data theft: cutting-edge digital attackers can now literally crash your car, pacemaker, and home security system, as well as everyone else's.
In Click Here to Kill Everybody, best-selling author Bruce Schneier explores the risks and security implications of our new, hyper-connected era, and lays out common-sense policies that will allow us to enjoy the benefits of this omnipotent age without falling prey to the consequences of its insecurity.
About the Author
---
Bruce Schneier is "one of the world's foremost security experts" (Wired), a "security guru" (Economist), and the best-selling author of thirteen books. He is a Fellow and lecturer at the Harvard Kennedy School and the Berkman Klein Center for Internet and Society and a board member of the Electronic Frontier Foundation, Access Now, and the Tor Project.
Praise For…
---
Schneier, more than the average policymaker or marketing blowhard, has a pretty good idea of what the actual benefits of these systems can be. He avoids the twin temptations of wholesale dismissal and breathless hype, and charts a course that manages the tricky business of being both nuanced and exciting.
— Cory Doctorow

Schneier skillfully guides readers through serious attacks that have happened already—and moves on to those he believes are just over the horizon.… Schneier sets out detailed solutions that should be required reading for politicians across the world.