The UnAmericans: Stories (Paperback)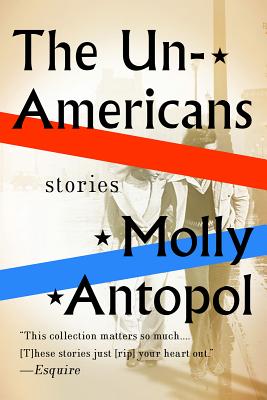 $16.45

NOT on our shelves now. Usually ships from warehouse in several days.
February 2014 Indie Next List
---
"Antopol has written a pitch-perfect collection of stories that capture the essence of human survival and triumph: a grandmother sharing the tale of her harrowing sewer-line escape from the Nazis and her rescue by a young resistance worker who ultimately becomes her husband; an aspiring actor of Russian descent jailed during the McCarthy era, who is attempting to build a relationship with his son after his prison term is over; another father, this one a struggling, middle-aged adjunct professor, who worries that the play his daughter is producing may expose the secrets of his escape from Czechoslovakia. Each story is a gem to be savored and each demonstrates that a new American talent has emerged."
— Nancy Simpson-Brice, The Book Vault, Oskaloosa, IA
Description
---
A stunning exploration of characters shaped by the forces of history, the debut work of fiction by a National Book Foundation "5 Under 35" Honoree.
Moving from modern-day Jerusalem to McCarthy-era Los Angeles to communist Prague and back again, The UnAmericans is a stunning exploration of characters shaped by the forces of history. Molly Antopol's critically acclaimed debut will long be remembered for its "poise and gravity" (New York Times), each story "so full of heartache and humor, love and life…[it's] as though we're absorbing a novel's worth of insight" (Jesmyn Ward, Salon).
About the Author
---
Molly Antopol teaches writing at Stanford University, where she was a recent Wallace Stegner Fellow. A recipient of the National Book Foundation's 5 Under 35 award, she holds an MFA from Columbia University and lives in San Francisco.
Praise For…
---
[Will] make you nostalgic, not just for earlier times, but for another era in short fiction. A time when writers such as Bernard Malamud, and Issac Bashevis Singer and Grace Paley roamed the earth.
— Meg Wolitzer - NPR

Fresh and offbeat… memorable and promising.
— Dwight Garner - New York Times

A memorable collection of melancholic vignettes about identity, place, and coupling.
— Ann Hulbert - The Atlantic

The Unamericans is poised to be this year's sensation… the layered riches and historical sweep of its stories make them feel grand, like novels writ small.

— Esquire Magazine

Antopol writes convincingly and with great empathy.
— Carmela Ciuraru - San Francisco Chronicle

[Antopol] is a wry, occasionally funny writer, with an unerring grasp on human nature.
— Laura Moser - Jewish Daily Forward

[Antopol] is a wry, occasionally funny writer, with an unerring grasp on human nature.
— Laura Moser - Jewish Daily Forward

A writer of seismic talent…Not since Robert Stone has a writer so examined the nature of disillusionment and the ways in which newfound hope can crack the cement of failed dreams.
— Adam Johnson, Pulitzer Prize-winning author of The Orphan Master's Son

A writer of seismic talent…Not since Robert Stone has a writer so examined the nature of disillusionment and the ways in which newfound hope can crack the cement of failed dreams.
— Adam Johnson, Pulitzer Prize-winning author of The Orphan Master's Son

Beautiful, funny, fearless, exquisitely crafted, and truly novelistic in scope…It's clear we're in the hands of a master storyteller—a writer with the emotional heft of Nicole Krauss, the intellectual depth of Saul Bellow, and the penetrating wit of Philip Roth. This book isn't simply powerful and important—it's necessary.
— Jesmyn Ward, author of Sing, Unburied, Sing

Beautiful, funny, fearless, exquisitely crafted, and truly novelistic in scope…It's clear we're in the hands of a master storyteller—a writer with the emotional heft of Nicole Krauss, the intellectual depth of Saul Bellow, and the penetrating wit of Philip Roth. This book isn't simply powerful and important—it's necessary.
— Jesmyn Ward, author of Sing, Unburied, Sing

Molly Antopol's stories display that wonderful combination of an original voice with settings that are masterfully rendered. A rich collection, a great read.
— Abraham Verghese, author of Cutting for Stone

Molly Antopol's stories display that wonderful combination of an original voice with settings that are masterfully rendered. A rich collection, a great read.
— Abraham Verghese, author of Cutting for Stone

This is deeply humane fiction, coursing with the heat of a passionate, sympathetic heart.
— Ken Kalfus, author of A Disorder Peculiar to the Country and Equilateral

This is deeply humane fiction, coursing with the heat of a passionate, sympathetic heart.
— Ken Kalfus, author of A Disorder Peculiar to the Country and Equilateral

A brave, generous, and effortlessly smart story collection by a young writer with talent to burn.
— Lauren Groff, author of Fates and Furies

A brave, generous, and effortlessly smart story collection by a young writer with talent to burn.
— Lauren Groff, author of Fates and Furies

Allegiances are not always what they seem, in these wonderfully engrossing stories of Old- and New-World Jews cast on the sometimes rough waters of history. Molly Antopol is a vivid chronicler of the good intentions and big misapprehensions of her characters, as we intently watch them try to get it right.
— Joan Silber, author of Improvement

Allegiances are not always what they seem, in these wonderfully engrossing stories of Old- and New-World Jews cast on the sometimes rough waters of history. Molly Antopol is a vivid chronicler of the good intentions and big misapprehensions of her characters, as we intently watch them try to get it right.
— Joan Silber, author of Improvement

An exceptional collection of wide-ranging, powerful, and nuanced stories…You come away with an ache in your soul for all her people and what they were up against, how they triumphed, how they failed, and how they managed, somehow, to endure.
— Peter Orner, author of Last Car Over the Saramore Bridge and Love and Shame and Love

An exceptional collection of wide-ranging, powerful, and nuanced stories…You come away with an ache in your soul for all her people and what they were up against, how they triumphed, how they failed, and how they managed, somehow, to endure.
— Peter Orner, author of Last Car Over the Saramore Bridge and Love and Shame and Love

Deeply satisfying stories…morally complex and emotionally instructive.
— Christine Schutt, author of Florida and All Souls

Deeply satisfying stories…morally complex and emotionally instructive.
— Christine Schutt, author of Florida and All Souls

Antopol accomplishes in each of these stories what would take most writers an entire novel to achieve: a fully imagined world.
— Dara Horn, author of Eternal Life

Antopol accomplishes in each of these stories what would take most writers an entire novel to achieve: a fully imagined world.
— Dara Horn, author of Eternal Life