Packing for Mars: The Curious Science of Life in the Void (Paperback)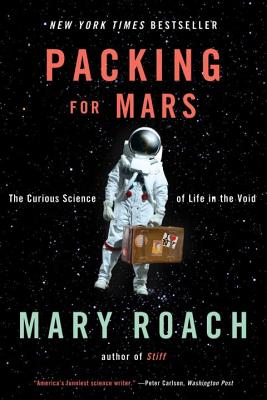 $15.95
ON HAND in at least ONE of our stores. Click through or call for up-to-the-minute availability.
Description
---
"America's funniest science writer" (Washington Post) explores the irresistibly strange universe of life without gravity in this New York Times bestseller.
The best-selling author of Stiff and Bonk explores the irresistibly strange universe of space travel and life without gravity. From the Space Shuttle training toilet to a crash test of NASA's new space capsule, Mary Roach takes us on the surreally entertaining trip into the science of life in space and space on Earth.
About the Author
---
Mary Roach is the author of Grunt: The Curious Science of Humans at War, Packing for Mars: The Curious Science of Life in the Void, Bonk: The Curious Coupling of Science and Sex, Spook: Science Tackles the Afterlife, and Stiff: The Curious Lives of Human Cadavers. Her writing has appeared in Outside, Wired, National Geographic, and the New York Times Magazine, among others. She lives in Oakland, California.
Praise For…
---
[Roach's] style is at its most substantial—and most hilarious—in the zero-gravity realm that Packing for Mars explores.

— Janet Maslin

The book is an often hilarious, sometimes queasy-making catalog of the strange stuff devised to permit people to survive in an environment for which their bodies are stupendously unsuited. With an unflinching eye, [Roach] launches readers into the thick of spaceflight's grossest engineering challenges.
— M. G. Lord

Truly funny…Roach's writing is supremely accessible, but there's never a moment when you aren't aware of how much research she's done into unexplored reaches of space travel.

This is the kind of smart, smirky stuff that Roach does so well.
— Geoff Nicholson

Roach deftly guides her readers…They never completely lose sight of the accomplishments of space travel, even as they take delight in the absurdities that, in the end, make those successes all the more sublime.

[Roach] has once again discovered a winner of a subject…Roach's strange enthusiasm for all things oddball…makes Mars a more than worthy destination.


An utterly fascinating account, made all the more entertaining by the author's ever-amused tone.

Roach provides a highly readable, often hilarious, guide.

Cool answers to questions about the void you didn't even know you had.

A more realistic view of life in space than we have ever gotten from a NASA broadcast.

It's all about those things NASA doesn't delve into at press conferences.

Over the course of several frank chapters, Roach explores the nitty-gritty details of life in space that filmmakers and historians tend to gloss over…Roach's wide-eyed wonder…sets Packing for Mars apart from the galaxy of space travel histories