Bonk: The Curious Coupling of Science and Sex (Paperback)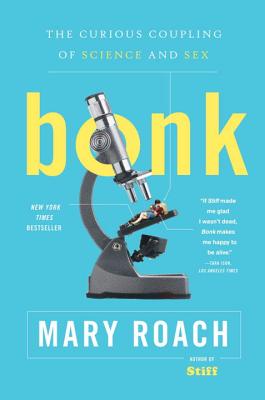 $16.95
ON HAND in at least ONE of our stores. Click through or call for up-to-the-minute availability.
Description
---
A New York Times Bestseller



"Rich in dexterous innuendo, laugh-out-loud humor and illuminating fact. It's compulsively readable." —Los Angeles Times Book Review
In
?Bonk,
?the best-selling author of
Stiff
turns her outrageous curiosity and insight on the most alluring scientific subject of all: sex. Can a person think herself to orgasm? Why doesn't Viagra help women-or, for that matter, pandas? Can a dead man get an erection? Is vaginal orgasm a myth? Mary Roach shows us how and why sexual arousal and orgasm-two of the most complex, delightful, and amazing scientific phenomena on earth-can be so hard to achieve and what science is doing to make the bedroom a more satisfying place.
About the Author
---
Mary Roach is the author of Grunt: The Curious Science of Humans at War, Packing for Mars: The Curious Science of Life in the Void, Bonk: The Curious Coupling of Science and Sex, Spook: Science Tackles the Afterlife, and Stiff: The Curious Lives of Human Cadavers. Her writing has appeared in Outside, Wired, National Geographic, and the New York Times Magazine, among others. She lives in Oakland, California.
Praise For…
---
Roach ferrets out basic truths and endless absurd details amid mountains of dry science on her chosen subject. . . . It's a wonderful read, sprinkled with facts you can quote to amaze your friends.

[Mary Roach] is a bold, tenacious, and insatiable reporter. . . . A greatly satisfying romp.

Roll over, Kinsey. Mary Roach has done it again.... Bonk proves that full-bodied research can be riveting.


Roach is a fearless and witty reporter.

[An] account that is at once revealing—alarmingly so—and very very funny. She studs (forgive me) her journey with a multitude of knee-crossing bits of fact that will enliven bedtime conversation everywhere.
— Erik Larson, author of Devil in the White City